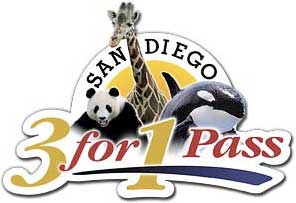 The 3 for 1 Pass is a product that provides admission to three top San Diego attractions: the San Diego Zoo, San Diego Zoo Safari Park, and SeaWorld San Diego. These are some of the most popular attractions in the region for families, and with this product, you have unlimited visits to each park during the seven consecutive calendar days the pass is valid. The 3 for 1 is an attractive option for those looking to make the most of these major parks – without having to pay expensive admission separately for each visit. Kids especially will enjoy the opportunity to explore their favorite parks.
Included San Diego Attractions                                    
San Diego Zoo
San Diego Zoo Safari Park
SeaWorld San Diego
How the 3 for 1 Pass Works
The 3 for 1 Pass is a digital pass that provides unlimited admission to the three included attractions over the course of seven consecutive calendar days. Simply present the pass to the appropriate admissions counter or turnstile, where it will be scanned and you'll be let into the park. SeaWorld San Diego also employs "Touch-n-Go" finger scan technology, which requires your fingerprint to verify that the pass is yours during each use.
The pass is good for admission any time the parks are open, and can be used as many times as you'd like during those seven days. The pass does not include any additional special exhibits, shows, or other extra activities that take place within the park unless otherwise indicated on the product page. These extras can all be purchased within the parks themselves, however.
Additional Benefits: Instant Delivery
This is a digital product, so it's certainly very easy to acquire and convenient to use. It's useful for those who don't have the time to plan ahead, or for anyone who just appreciates the simplicity of purchasing your ticket online and then using the digital pass for admission.
Keep in mind that you will need to verify your fingerprint at SeaWorld San Diego to use this product. While that may sound intimidating, what the technology is really doing is assigning a numerical value to your measurements and saving that number in their internal system only. They don't have access to any personal records and don't share the information outside of the park, so there's no security worries here. It's just the park's way of ensuring that this valuable pass doesn't get into the wrong hands.
Get Your Money's Worth: Save up 10% on Regular Admission Prices
Their website advertises that the product saves visitors 10% off regular ticket prices. They calculate this information based on the total cost of the product versus the total cost of what it would be to purchase each pass individually from each of the three attractions. This is a pretty accurate estimate for the baseline of savings with this product.
That said, you'll actually save more the more times you visit the park. Because the basic level of ticket to the parks only includes admission for one day, by visiting more than once you're already getting a great value out of the product. Of course, because each park is pretty large and a single visit can take a significant amount of time, it's hard to budget time for more than one park per day (especially given transit time between the parks). If you do want to try to visit one in the morning and one after lunch, be sure to account for travel time and for time spent eating lunch, etc.