With so much to see and do everywhere you look in San Diego, many visitors decide that the best way to try and see it all is by going on a guided tour. From the educational to the entertaining and everything in between, San Diego is full of enlightening guided tours sure to appeal to a diverse array of audiences. Want to learn about San Diego's history? Consider an informative walking tour of its oldest neighborhoods. Want to see the entire city while for the most part staying off your feet? A bus or trolley tour might be just the thing. Want to observe San Diego's waterfront from a distinctive perspective? A kayaking tour will make for an afternoon you'll never forget. Throw any number of boat tours, harbor cruises, and whale-watching adventures into the mix, and you name it, you'll find it here in San Diego.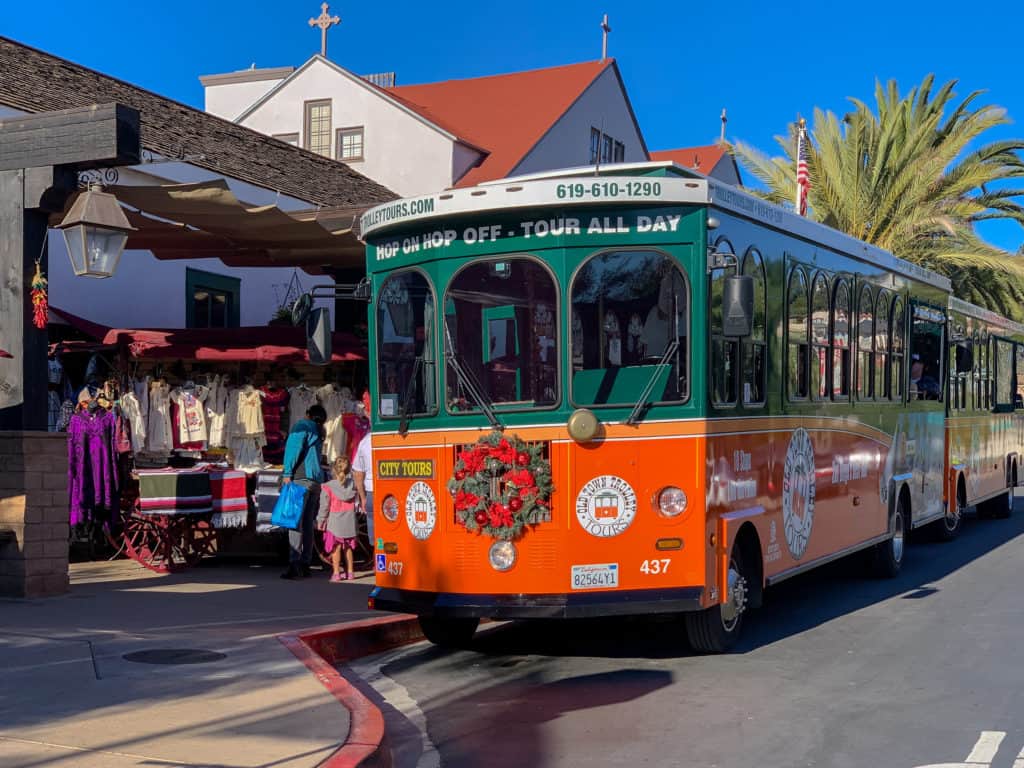 Popular San Diego Tour Types
While there are plenty of popular bus, trolley, walking, and kayaking tours out there, many visitors to San Diego choose to take a boat tour of the beautiful seaside city. If this sounds like fun to you, you'll be spoiled for options. One especially well-regarded boat tour is the San Diego Seal Tour, which spends part of its time on land and the rest of it in the water. It's a terrific opportunity for those who want to experience San Diego's coastline, but don't really need to spend too much time too far ashore.
Another popular type of tour available in the San Diego area involves whale watching. These unique experiences offer guests the opportunity to cruise out to sea on a large yacht in search of spectacular views of San Diego's diverse marine wildlife. Along the way you'll be able to enjoy an illuminating, real-time narration by a trained professional guide as you catch glimpses of everything from dolphins to sea lions to—fingers crossed—the largest mammal found anywhere on Earth, the majestic blue whale. As you keep your head on a swivel, you can take your pick of indoor or outdoor seating and dine on treats from the on-board snack bar and souvenir stand.
The harbor cruise is a terrific choice for those folks who want to experience San Diego from the water but don't necessarily desire to travel too far from the shore or learn as much about marine life native to the area—though the subject of San Diego's natural beauty and its animal inhabitants will certainly still be covered. One of these popular harbor cruises usually lasts around 90 minutes or so, and takes you past all the most famous landmarks of the city. It's a fun way to see San Diego from a different vantagepoint.
There's a San Diego Tour Company for Everyone
It's difficult to go wrong with any one of the popular tours described above. However, depending on what exactly what you want from your San Diego tour experience—and depending on who exactly you're visiting San Diego with—some tours might prove a better fit for your needs and desires than others.
If you're completely new to the city, you can't go wrong starting your visit with a guided bus or trolley tour of San Diego. These classic excursions are a great way to get your bearings while seeing all the major attractions in one comfortable outing. Plus, you can use this type of tour as a means for getting around—or, if you're traveling with kids, you can hop on and hop off at various stops whenever suits your crew.
If you're the outdoorsy type looking to get in some fresh air, sun, and exercise while taking in the scenery, you'll probably want to look into one of the fine walking, biking, or kayaking tours available to you. These engaging tours come in a variety of lengths and difficulties—designed for participants of all ages, skills, and experiences—but are ultimately best enjoyed by those guests who don't mind working up a bit of a sweat during their sightseeing.
Of course, this being San Diego, there's also exciting tours out there that involve snorkeling and even fishing. As a result, if there's one thing to take away from this discussion of all your different San Diego tour options, it's this simple fact: there's a San Diego tour out there that's perfect for you.
The San Diego branch of Speed Boat Adventures offers almost a dozen different tours. All San Diego Speed Boat Adventures water tours are conducted via F13 mini speed boats that can hold up to three passengers.
Five Star Tours has been running guided bus tours in, around, and beyond San Diego since the early 1970s. The signature guided bus tour of Five Star Tours is the San Diego City Tour. Five Star Tours also runs holiday-themed tours, brewery tours, theme park tours, and tours of Las Vegas and the Grand Canyon.
The Coronado Ferry is a charming and affordable way of familiarizing yourself with San Diego's beautiful waterfront. There are two kinds of ferry service available to passengers: a daily route that travels between Broadway Pier and Coronado Ferry Landing, and a daily route back and forth from the San Diego Convention Center and Coronado Ferry Landing.
The Patriot Jet Boat Thrill Ride is one of San Diego's most exciting and adventurous tours. The tour combines a guided narration with electrifying boat tricks to present passengers with a one-of-a-kind experience. All the while your jet boat will be hitting speeds of 50 mph and treating you to a full array of unforgettable tricks and turns.
Start at the William Heath Davis House and explore Old City Hall, The Keating Building, Louis Bank, and more. Spend the day exploring, touring, shopping, and eating!
The San Diego branch of the popular Old Town Trolley Tours sightseeing company offers 1-Day and 2-Day versions of its famous Hop-On, Hop-Off service. Along the way you'll be able to experience San Diego landmarks like Balboa Park, Hotel del Coronado, Petco Park, and more.
Learn about the storied past of this majestic Victorian beach resort by partaking in a walking tour. Shop the upscale, boutique shops for apparel, jewelry, or home decor.
San Diego Seal Tours provide visitors with a unique San Diego tour experience. Their special amphibious vehicles let guests take a single tour that spends time on both land and water, combining the best of San Diego into one exciting excursion.
GoCars are storytelling cars that follow GPS-guided routes and talk about the scenic overlooks, attractions, and great places to stop along the way.
Kayak the Caves fro the beachfront office, Bike the backstreets to Windandsea beache or swim with leopard sharks on a snorkeling tour.
Flagship Cruises & Events has been operating in San Diego for over 100 years. Flagship Cruises offers a wide range of sightseeing excursions, headlined by its popular harbor tours, which are available in one-hour or two-hour-long formats.
Petco Park is the stylish home of Major League Baseball's San Diego Padres. A magical place to catch a baseball game, Petco Park is lively when the team is out of town, too, hosting concerts, viewing parties, guided tours, and more.