San Diego has been an international tourist destination since 1915 when the Panama-California Exposition put it on the map, and with nearly perfect weather year-round, it's still hard to resist. A big city without the feel of a big city, San Diego offers visitors a taste of everything they would want from a SoCal getaway. Enjoy the laid-back surfer vibe of San Diego beaches, the funky hipster atmosphere of Hillcrest, and the sophistication of downtown all in one vacation. One day may find you hitting the beaches working on your tan, and the next strolling through a community farmers' market or local art festival. At night you may be dressed to the nines enjoying Baja Med cuisine at an upscale Tijuana restaurant, taking in a theater production in La Jolla, or hitting one of the many popular night spots in the Gaslamp. San Diego is wrapped in rich history, swirled in diverse culture, and sprinkled with fun in the sun. With over fifty local attractions and neighborhoods to experience, you will never run out of exciting things to do.
San Diego is a place to slough off life's stresses, where the only blues you'll feel come from the stages of Humphrey's Backstage Lounge or House of Blues. Outdoor enthusiasts will love the relaxing beach life, fascinating aquatic activities, and hiking and biking trails all under the warm Southern California sun. If it's a dose of culture you're looking for, the museums of scenic Balboa Park will enthrall and educate. Animal lovers will find their piece of heaven on Earth at the famous San Diego Zoo, and those with a penchant for the sea will be mesmerized by all the Pacific Ocean has to offer. Visitors who just want to have fun can spend playful days at San Diego amusement parks, and history buffs can immerse themselves in the cultural, military, and marine experiences of San Diego's early days. A plethora of San Diego activities await every visitor from the inquisitive to the adventurous to the free-spirited. Whether you're coming for a honeymoon, family vacation, or weekend getaway, come prepared to give yourself over to the exuberance of San Diego.
Outdoors
 Though the saying San Diego: always sunny and 72 may not be 100% accurate, you'll be hard pressed to find more perfect weather year-round anywhere else in the country. In San Diego, you really can play outside all year long. Lounge on area beaches, stroll through manicured gardens, enjoy mountaintop vistas, bike, hike, kayak, snorkel, fish, and sail; the list of outdoor activities is endless. Make your great escape any time of year to sunny San Diego and experience nature's spectacular gifts.
Amusement Parks
 San Diego's historic Belmont Park has been entertaining families since 1925. Visitors can ride the original wooden roller coaster that reaches a peak of 73 feet before a high speed plunge to the bottom. Get wet on a hot summer afternoon on SeaWorld's Journey to Atlantis splashdown and roller coaster rolled into one, or Shipwreck Rapids whitewater rafting ride. Thrill to the twists and turns of the Dragon roller coaster, race down Dune Raiders, the ultimate 50-foot-long slide, or slip and slide down the 130-foot Twin Chasers water slides of LEGOLAND.
Zoos/Aquariums
 San Diego's Pacific Coast offers visitors some of the most exceptional aquatic experiences imaginable. This area, rich in marine life, can be explored through the exceptional aquariums of SeaWorld, LEGOLAND, and the amazing Birch Aquarium, all of which give visitors unprecedented glimpses into life underwater. The San Diego Zoo showcases exotic animals from around the world like pandas from China and Koalas of Australia. The San Diego Safari Zoo presents Some of the most magnificent animals on Earth are displayed in a completely outdoor environment at the San Diego Zoo Safari.
Museums
 Most come to San Diego for the beaches and fun in the sun, but it's also a great place to experience a robust cultural scene. The best variety of museums in one location is at historic Balboa Park, with a wide array of permanent and visiting exhibitions. San Diego harbor also boasts two of the most exceptional military and marine museums in the world. Other fascinating museums grace downtown, La Jolla, and Coronado. Most museums are interactive, many world renowned, and all bucket list worthy.
Activities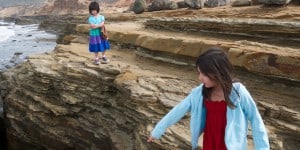 The delightful adventures and unique experiences of San Diego will dazzle you. Be inspired by an overview of San Diego attractions with the Old Town Trolley Tour, or a narrated tour of San Diego with GoCar Tours. Flip over the inside skinny on PETCO Park, or get your Zen on in the Japanese Friendship Garden. Savor one of the many Flagship cruises around San Diego Bay. Check out Cabrillo National Park's lighthouse and tide pools. These are just a few of the exceptional activities offered all over San Diego for your enjoyment.
Historical
 There are so many ways to dive into the history of San Diego and Southern California. The Model Train Museum is rich with the railroad history of the area. The Maritime Museum, Midway Tour, and Mount Soledad all celebrate San Diego's military history. Old Town and Presidio Park educate visitors on the Kumeyaay, Mexican, and first European cultural influences that shaped San Diego. The Coronado Heritage Walking Tour honors the island's past. The San Diego History Center downtown and several Balboa Park museums are all dedicated to preserving the past.
Save on the Best Chicago Attractions with Go City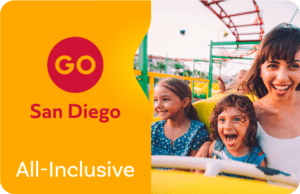 Buy A Go San Diego Pass
SAVE AN ADDITIONAL 10% OFF! Even if the Go San Diego Pass is already on sale. Extra 10% only good on All-Inclusive Passes
If you are seeing many sites and tours in San Diego, get a Go San Diego Pass. It includes the Best Chicago Attractions as well as many more. Most buyers save about 35% off the retail price.
San Diego Theme Parks
LEGOLAND California
SeaWorld San Diego
Belmont Park
San Diego Tourist Attractions
San Diego Zoo
San Diego Zoo Safari Park
Midway Aircraft Carrier Museum
Natural History Museum
Fleet Science Center
Air and Space Museum
Birch Aquarium
San Diego Automotive Museum
Model Railroad Museum
San Diego Museum of Man
San Diego Museum of Art
Japanese Friendship Garden
San Diego Sports Museum
Museum of Photographic Arts
Museum of Contemporary Art
San Diego Art Institute
New Children's Museum
Mingei International Museum
Museum of History & Art
Museum of Making Music
San Diego History Center
Maritime Museum of San Diego
Botanical Building and Lily Pond
Living Coast Discovery Center
San Diego Tours/Things to Do
San Diego Seal Tours
Old Town Trolley
PETCO Park Tour
GoCar Tours
Flagship Cruises & Events
Kayak, Bike, or Snorkel in La Jolla
Hotel del Coronado Walking Tour
Gaslamp Quarter Tours
Parks and Nature Reserves
Point Loma and Cabrillo National Monument
Torrey Pines State Park
La Jolla Caves
Mount Soledad
Shopping