Southern Californians would think there was something seriously wrong with you if you visited San Diego and didn't participate in some sort of activity on the ocean. After all, that's why you're visiting, right? The sun and the ocean? Get just the right combination of each with biking, snorkeling, and kayaking tours from Bike and Kayak Tours in La Jolla.
The La Jolla Kayak tour starts at their La Jolla Shores beachfront office with new tours leaving every hour from 9AM until sunset. This tour is appropriate for all ages, six and up, and no previous kayaking experience is necessary. The 90-minute kayak tour is led by kayaking experts whose philosophy is safety first, fun second, and education third. The adventure carries you across the La Jolla Ecological Reserve to the seven caves of La Jolla. The tour focuses on Sunny Jim's Cave, one of the only known sea caves that is also accessible by land, the Arch Cave, and the Clams' Cave, but visitors will see all seven caves. The tour offers an opportunity to observe abundant sea life as well.
Bike and Kayak Tours offers Freefall Bike Tour, a premier bike tour that starts at the top of Mount Soledad, cruises the premier beach communities of Pacific Beach and Mission Beach, circles back to take in the Pacific Beach Boardwalk and Crystal Pier, before making its way through Bird Rock and back through La Jolla. You'll bike through the back streets of La Jolla to the Children's Pool, La Jolla Cove, the popular Windandsea surf beach, and back to the La Jolla Shores beachfront office. For those who prefer their independence, you can rent bikes and follow the tour map or go your own way. Bike rentals can be dropped off right at your hotel.
Another popular tour by Bike and Kayak Tours is their Swim With The Sharks Tour. This is a 50-minute snorkeling tour where guests are given the opportunity to swim among leopard sharks along La Jolla Shores. Even if you've never snorkeled before, you can have a great time on this tour. Bike and Kayak Tours provides guests with a wetsuit, fins, and a snorkel and mask. Think of all the cool points you'll get when you tell your friends you swam with the sharks – even if they are harmless. Also, you'll get up close and personal with stingrays, shovelnose guitarfish, and more. If you're looking for amazing San Diego outdoor activities on land, on water, or underwater, Bike and Kayak Tours have you covered.
Save on the Bike and Kayak La Jolla with Go City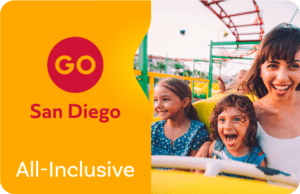 Book the Full Day Snorkel
Book the One Hour Bike Rental
Book the Surf Board Rental
Book the 90 Minute Kayak Rental
Book the Stand Up Paddle Board Rental
Book online for the best prices. To save an additional 20%, add a second San Diego Attraction to your cart. You will instantly see a 20% savings. Savings are only available online at GoCity.
Get all the above and more included in a Go San Diego Pass
SAVE AN ADDITIONAL 10% OFF! Even if the Go San Diego Pass is already on sale. Extra 10% only good on All-Inclusive Passes
If you are seeing many sites and tours in San Diego, get a Go San Diego Pass. It includes the Bike and Kayak La Jolla as well as many more. Most buyers save about 35% off the retail price.
General Info
2222 Avenida De La Playa
La Jolla, CA 92037
Phone: (858) 454-1010
Website: hikebikekayak.com