One of the most magnificent aspects to San Diego is the nature that surrounds it. You can enjoy a light or rigorous hike up one of the many mountain tops, take a bike ride along the bays and oceans, or spend a few hours whale and dolphin watching, The natural treasures are bountiful and this has never been truer than at the Living Coast Discovery Center, founded and located in the city of Chula Vista. This non-profit zoo and aquarium stands by their mission to inspire care and exploration of the living earth by connecting people with coastal animals, plants, and habitats. It is uniquely positioned on the Sweetwater Marsh National Wildlife Refuge, a three hundred and sixteen acre piece of land.
There are many exciting things to do at LCDC; as soon as you enter this site you will be welcomed by endangered sea turtles swimming around their lagoon. Once inside, head to the Discovery Center Gallery. Here you will get a chance to be face to face with some truly exceptional creatures from the salt water marsh, deep bay waters, and drier upland habitats. With over twenty exhibits you will see all the local water creatures San Diego has to offer such as garibaldi, sea stars, eels, lobsters, and more.
Check out the sharks and rays in the underwater viewing areas of their 21,000 gallon tank, with shovel-nose guitar fish, bat rays, horn sharks, diamond rays, and more. You can also visit the underwater viewing area for the endangered sea turtles you saw on the way in, try and plan your visit when you can see the sharks, turtles, and rays during their separate feeding hours for a truly unforgettable experience.
Next head over to the Shorebird Aviary where you can stroll through the natural habitat of shorebirds, while learning about the light footed clapper rail that is currently endangered. Learn about the breeding program used to get them back on track; the truly lucky may even witness a chick clapper rail being released back into the wild salt marshes. Black oyster-catchers, hooded mergansers, and many more shorebirds also roam this tranquil habitat, so be on the lookout for these San Diego locals.
Just when you think this place couldn't have more spectacular creatures, it does. The Eagle Mesa is filled with magnificent birds from both the U.S. and Mexico. Here you can see golden eagles, bald eagles, and ferruginous hawks, while learning how they catch prey, take off, and home in on their prey using their superb eyesight. Raptor Row is next on your journey where you will meet hawks, owls, osprey, and more.
Lastly, visit the Native Plant Garden and enjoy the walking trails; the garden has more than 2100 different plant types and is a fabulous setting to relax and enjoy the wonders of nature. The walking trails are perfect for those who like to get out and explore. There are one and one-half miles of trails where you can come across all sorts of interesting things. The Living Coast Discovery Center is a naturalist's dream, you could easily get enraptured here for a day. For those looking for a little something extra, try the overnight adventures and children's day camps. You can also upgrade your visit by adding a VIP animal encounter where you can choose from one of five animals; spend 30 minutes up close and interacting with your animal of choice. Visiting LCDC is an experience that any age will enjoy and it's a great way to connect with San Diego's native creatures.
Save on the Living Coast Discovery Center with Go City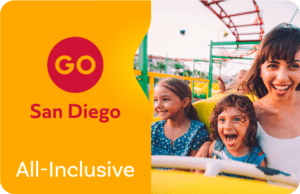 Buy a Go San Diego Pass
SAVE AN ADDITIONAL 10% OFF! Even if the Go San Diego Pass is already on sale. Extra 10% only good on All-Inclusive Passes
If you are seeing many sites and tours in San Diego, get a Go San Diego Pass. It includes the Living Coast Discovery Center as well as many more. Most buyers save about 35% off the retail price.
General Info
1000 Gunpowder Point Dr.
Chula Vista, CA 91910
Phone: (619) 409-5900
Website: thelivingcoast.org