With a motto like Tacos, Tunes, & Tequila you know you've come to the right spot not only for delicious Mexican food, but a truly enjoyable dining experience at La Puerta Restaurant and Tequila Bar. As soon as you walk in, you get the urban bar feel with deep rich colors from the walls to the furniture, dim lighting throughout, and strings of colorful lights hanging from above. There is a cozy Cheers feel that says "come on in, we're all friends here." The vibe reflects the experience you'll have. Located in the Gaslamp District of San Diego, La Puerta strives to offer guests a high level of hospitality with their delicious Sinaloa-inspired family recipes.
La Puerta Ambiance
The first thing you'll notice about La Puerta is the friendly energy circulating through this funky and modern restaurant. A few tables both short and tall sit at the front of the dining area; on the left is a long, imposing full bar with overhead televisions directly across from a wall lined with plush, dark brown booths; a large flat screen television is straight ahead opposite the entrance. It's one part dark corners and mystique, and one part let's shoot some tequila and cheer on our favorite sports team. Located on 4th Avenue in downtown, this is definitely a place for grown-ups; in fact, no one under 21 is allowed in after 3 p.m. unless accompanied by an adult.
La Puerta Food
At La Puerta, the family recipes require that the chefs use only the freshest ingredients. They turn their noses up at artificial flavorings and enhancers, and these top-notch recipes require neither to reach perfection. This goes for everything, right down to the juice; there is no limeade here, only fresh squeezed limes will do. At La Puerta you are guaranteed fresh, delicious, and authentic Sinaloa Mexican food that's made to order.
Dining at La Puerta can be a three course meal or just a few appetizers and some street tacos; the choice is yours. Start off with their Potato or Cochinita Flautitas – mini rolled tacos with lettuce, pico de gallo, crema, and cojita. Add the Tijuana Caesar, a classic with lettuce, spicy croutons, cotija, and their house made Caesar dressing. For the main event, choose from their street tacos, gourmet tacos, one-pound Burritos Tradicionales, or one-pound Burritos Especiales. The Surf 'n' Turf burrito is a favorite of many with Arranchera steak, shrimp, tomato, grilled onion and poblano, cheese guacamole, and chipotle crema. Just want a snack to go along with one of their famous specialty drinks? Order the Papas Fritas La Puerta – fries topped with cheese, grilled onion and poblano, crema, guacamole, pico de gallo, and your choice of steak, chicken, or pork. If your mouth just watered, imagine tasting the real thing.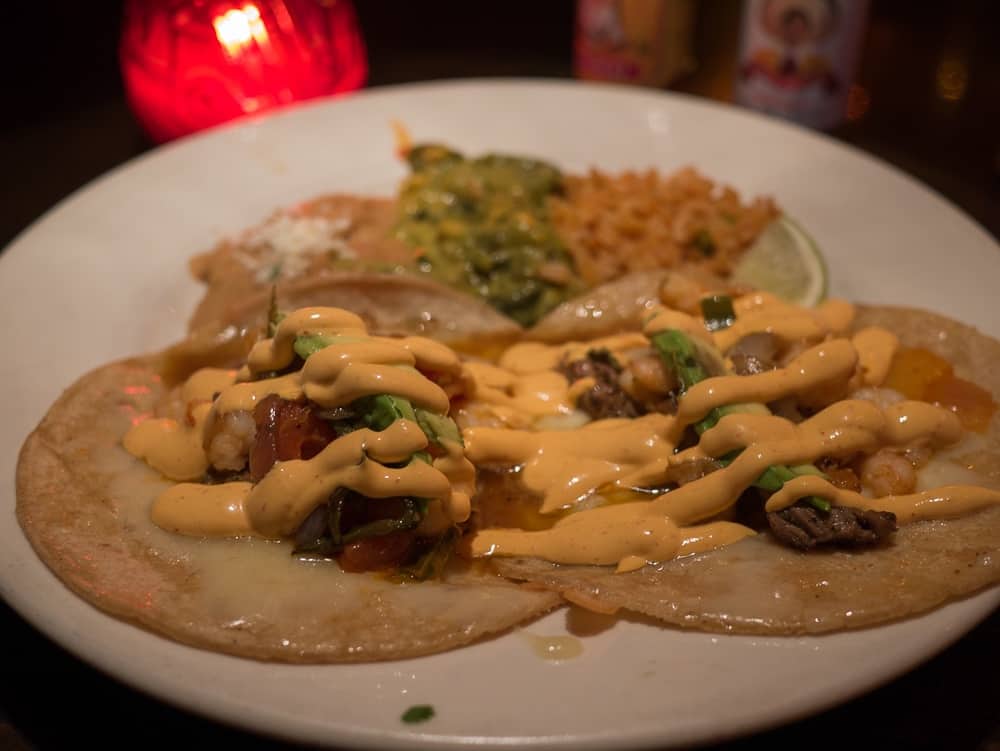 La Puerta Details
There is no outside patio at La Puerta, but why would you want one when all the action is inside. There is no kids' menu here, but they'll enjoy the delicious food and are welcome as long as there is an adult with them. La Puerta has great specials and happy hour deals every single day of the week. Don't miss out on Taco Tuesday where you can get $2 TJ Dawgs, $2 Street Tacos, and $3 Tecate beer from 3 p.m. to close. There are also late night deals Tuesday through Friday where you get $5 select appetizers and $5 sangrias, frozen margaritas, and mojitos. Saturday and Sunday is brunch time from 10 a.m. to 3 p.m. with $3 mimosas. La Puerta's kitchen doesn't close until 1 a.m. on the weekends. You can call ahead to reserve seating, or if you just swing by anytime. When the place is packed, they use a mobile app that texts you when your table is ready so that you can explore downtown while you wait.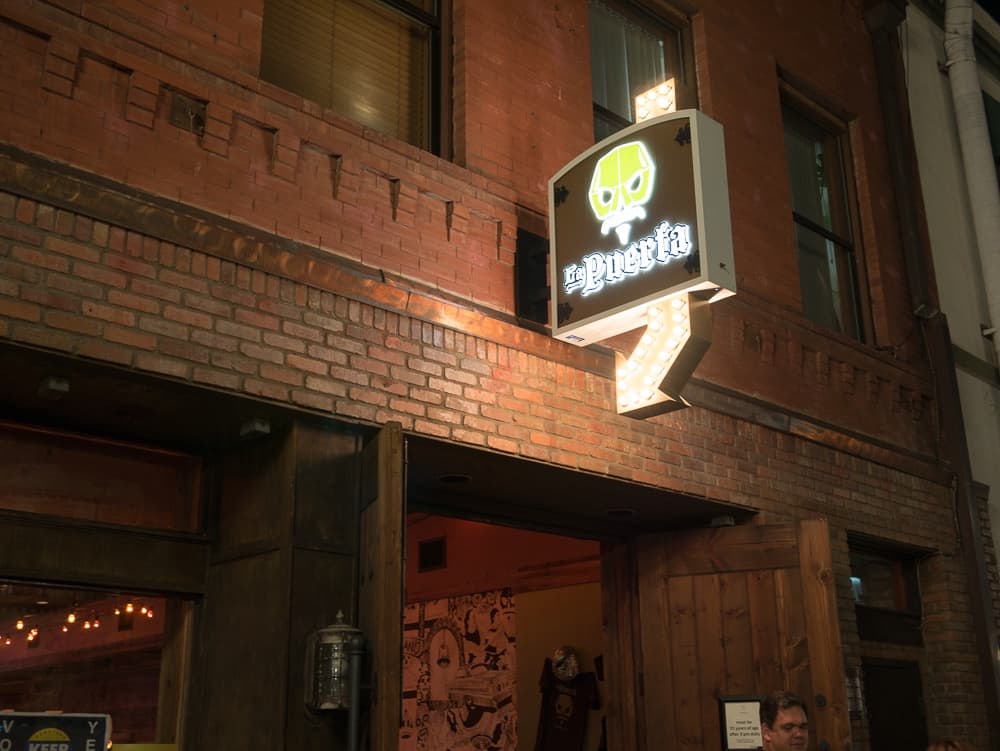 La Puerta Neighborhood
The Gaslamp Quarter of San Diego is one of the most interesting areas of the city. Just walking around exploring the shops and architecture is a good time, but for those looking for more, there are also quite a few fun museums nearby to check out. The San Diego Model Railroad Museum, the USS Midway Museum, and the Maritime Museum of San Diego are all within two miles of La Puerta. All of these museums will give you an in-depth look at San Diego's history on both land and sea. La Puerta is a ten minute walk to the iconic House of Blues where you can take in live shows.