Given its stunning stretches of coastline, breathtaking beaches, and unbeatable proximity to the Pacific Ocean, San Diego is the ideal seaside city if there ever was one. So it comes as no surprise that San Diego offers up a host of unmatched aquatic experiences perfect for visitors and residents interested in various aspects of marine life. In fact, it's tough to think of a destination with a more impressive collection of aquariums and zoos than San Diego. There you'll find multiple extraordinary aquariums where you can get closer than ever before to the many wonders of the deep blue sea, as well as a world-famous zoo home to exotic animals brought together from all over the globe. In addition to these spectacular animal-centric exhibits, San Diego's iconic zoos and aquariums also feature a mixture of theme park rides, conservation talks, and dining and shopping options. This diverse selection of attractions ensures that San Diego's zoos and aquariums have a little bit of something for everyone.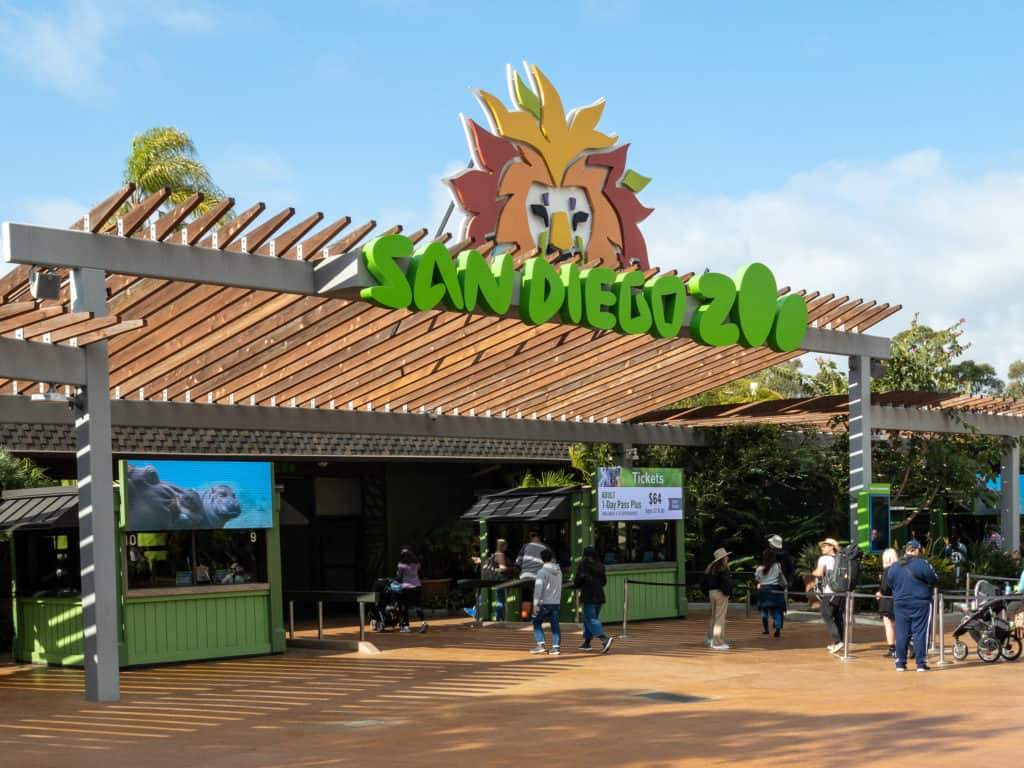 Things to Do at San Diego Zoos and Aquariums
Many visitors to San Diego seek out the city as a destination specifically because of its renowned zoos and aquariums. Part of this interest is fueled by the diverse array of programming offered by these attractions. For those visitors craving a true insider's perspective, there are behind-the-scenes tours available that grant ticketholders exclusive access to animals like polar bears, giraffes, and baboons. Fans of wildlife conservation efforts will likely want to book a spot on one of the many tours led by "wildlife behavior specialists." These one-of-a-kind excursions will put you up close and personal with unique animals, all while you learn from the experts about ongoing efforts to protect endangered species and their threatened habitats across the globe.
As a general rule, the different types of institutions found throughout San Diego tend to highlight different kinds of animals. For example, the San Diego Zoo Safari Park specializes in housing animals native to Africa, including elephants, lions, rhinos, dik diks, and the Egyptian vulture. Other popular attractions, like SeaWorld San Diego and the Birch Aquarium, are all about aquatic creatures. They are home to everything from sea turtles and orcas to leopard sharks, dolphins, and much, much more.
In addition to their regularly scheduled programming, San Diego's zoos and aquariums also present a variety of special events throughout the calendar year. From fall favorites like the "haunted aquarium" to "food, wine, and brew" celebrations at the zoo, no matter what time of year you're planning to visit San Diego you're liable to be in town for one of these unique experiences. You'll want to check each venue's calendar in advance of your trip to make sure you're up to speed on these sorts of special events—many of which will require advance reservations.
Zoo and Aquarium Activities for Everyone
San Diego's zoos and aquariums are remarkable for the sheer number of different unique experiences they offer visitors. In San Diego, going to the zoo or aquarium is not just only about walking from exhibit to exhibit, looking at one kind of animal after another—as much fun as that kind of adventure can be. You'll also encounter plenty of interactive activities and educational programs suitable for pretty much everyone ate San Diego's different zoos and aquariums. Families will love the opportunity to explore the local petting zoos, as well as the ever-popular Tide Pool Plaza at Birch Aquarium, where the kids can gain some hands-on exposure to hermit crabs, sea cucumbers, sea stars, sea anemones, and more. If you, or anyone in your group, has a special interest in a particular animal, you're likely to find that there's a keeper talk taking place on the subject of your favorite species. Or, if you and the gang just want to unwind at the end of a long day of sightseeing, San Diego's zoos and aquariums are beautiful, relaxing places to grab a refreshing drink and a snack while watching aquatic animals frolic and play.
Ultimately, if you've ever dreamed of coming face to face with an orca, watching a sea turtle chow down on some breakfast, or learning more about the many treasures of the natural world, then San Diego's zoos and aquariums are for you.