Buy a Go San Diego Pass. Save 10%!The Southern California CityPASS is now just a collection of individual tickets. We recommend a Go San Diego Pass if you are just visiting San Diego. It includes the 4 of the 6 attractions and more. Protect yourself from price increases and get a discount at the official site. Use the Buy Now button and get an additional 10% discount, even if they are having a sale. Purchase before May 31st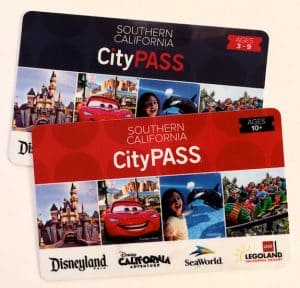 The Southern California CityPASS is a product that provides included admission to four different popular attractions in the region (two of which are Disney parks). You could also opt to add on a fifth included attraction for an additional $42, either the San Diego Zoo or San Diego Zoo Safari Park (although you cannot include both on your pass). Included attractions are almost exclusively theme parks, and appeal mainly to families, although adult travelers who enjoy Disney will appreciate the savings as well.
Included CityPASS Attractions
Disneyland Park and Disney California Adventure (3-Day Park Hopper)
SeaWorld San Diego
LEGOLAND® California
Optional add-ons:
San Diego Zoo OR
San Diego Zoo Safari Park
How the Southern California CityPASS Works
The Southern California CityPASS is a paper booklet of tickets that includes tickets to all included attractions and your optional addition (if valid). You can also opt for an e-ticket delivery if you need the pass sooner, although you will also need to print these tickets out at home.
When you visit an included attraction, admissions staff will scan or tear out the appropriate ticket, and hand the booklet back to you. The products are also sold at every included attraction, so you can even buy them at the first place you visit without needing to plan ahead. The pass is good for 14 consecutive days from the date of activation (from the first attraction you visit), and you can visit the attractions in any order, any time of day when they are operational.
The pass usually doesn't include special exhibits or shows at SeaWorld, although it does include a special "Magic Morning" at Disney California Adventure (early admission available at 1 hour and 15 minutes prior to regular opening). This is a nice advantage for families with children who want to maximize their Disney Park time.
One thing to keep in mind for families with older children is that they may find some of the attractions unsuitable for everyone in the family. LEGOLAND, for example, is really geared towards children under 12 and doesn't have much beyond nostalgia to offer older LEGO fans. SeaWorld, on the other hand, is exciting and has a lot of exhibits and shows for visitors of all ages. It's important to evaluate which attractions your family would honestly want to visit and enjoy before choosing to purchase this product.
Additional CityPASS Benefits: Skip the Line at all Included Attractions
This is a nice benefit, especially given the fact that all included attractions are theme parks or other parks that often have significant wait times. Some parks may ask that you scan your card to retrieve a separate express entry ticket from the park itself, which may be a hassle as an additional step but will certainly save you time.
Additional Benefits: 3-Day Park Hopper Pass for Disney Parks
This is an invaluable benefit for families with children. It allows everyone with a pass to visit both Disneyland Park and Disney California Adventure for up to three different days (your pass will need to be scanned all three times to track your visits). Because both of these parks are so massive, this helps you make the most of your time and really make sure the kids get to explore all the Disney and Pixar exhibits, rides, and shows they want to before moving on.
Additional Benefits: Optional Add-on Attraction
The Southern California CityPASS also allows you to add on an additional attraction choice for a mere $42 for adults and $34 for children: the San Diego Zoo and the San Diego Zoo Safari Park. These two attractions are both among the most popular in the San Diego area, and a chance to visit one of them at a discount is a great opportunity.
It is a little unfortunate that you can't choose to add both on for a higher price, because many visitors who love animals do enjoy visiting both, as each park offers different types of animals and exhibits. Other competitors' products do include admission to both, as well, so that may seem like a disadvantage. However, for most people, one animal park is enough and you certainly save big on admission regardless of which one you choose.
Get Your Money's Worth with a Southern California CityPASS
CityPASS advertises that you save 28% or $137 or more per person when you purchase their pass versus buying separate admission to each attraction individually. This is pretty accurate and is fairly straightforward, so you know what you're saving upfront. However, this is only true if you visit all four included attractions, so you have to be certain you're interested in and willing to visit everything on the pass.
The good thing about this is that you don't have to try to figure out how to make the most of your value – just go to everything, and you're maximized your savings. The bad thing is that the amount of savings isn't as high as some of the competitor products, so you may feel as though you aren't getting the best deal if you're doing some comparison shopping. That said, some other products require you to visit more than four attractions in fewer than 10 days, so it all depends on your style of travel.
The bottom line is that all of the included attractions (as well as the additional Zoo or Safari Park options) are big ticket attractions, and you're going to be paying a high price regardless. You're still getting significant savings on the really expensive stuff like Disney and SeaWorld, so it's a much better choice than paying individually.