Whether you have a big family or you're flying solo this Thanksgiving, you'll find a palate pleasing way to celebrate the day in San Diego. Indulge in a tasty Thanksgiving feast cooked up by some of the best chefs in the city. Whether you prefer the traditional turkey carving with all the trimmings or an impressive unique dish created by award-winning chefs, you can count on these top restaurants to present the perfect seasonal cuisine. Sit back, relax, and enjoy this special day in all its glory without having to wash a single dish at the end.
Addison
San Diego's one and only Michelin-star restaurant, Addison, invites you to join them this Thanksgiving for festive dining at its finest. You'll find this New French restaurant at the Fairmont Grand Del Mar Resort. Enjoy a stress-free Thanksgiving meal in the form of an eight-course extravaganza featuring Thanksgiving inspired dishes. Explore seasonal flavors in every dish and try out their luxurious wine list for a truly celebratory experience. Service is from 5:00 to 8:30 p.m.
Satisfy your taste buds with superb seasonal cuisine from renowned Executive Chef Jeff Jackson, brought to you during the holiday season. The prix fixe menu features four courses of both sweet and savory dishes paired with a tremendous wine list of worldly selections. Situated in Torrey Pines Lodge in La Jolla, a festive spirit flourishes inside the decorated, timbered dining room. Dinner seating is noon to 10:00 p.m. for a family Thanksgiving celebration to remember.
Celebrate Thanksgiving in style at the elegant Crown Room located inside the iconic Hotel Del Coronado. Feast under their famous crown chandeliers for a day of sophisticated dining with the whole family. Indulge in a luxurious buffet of the season's finest dishes and delicious desserts with live music all day long to accompany your lavish meal. Thanksgiving dinner seating is noon to 6:30 p.m. As an alternative, guests may reserved their Thanksgiving dinner at the oceanfront Ballroom.
George's California Modern welcomes all this Thanksgiving to enjoy their special three-course seasonal meal featuring all the traditional specialties with a modern twist. Fulfill your appetite with a Diestel turkey breast with mushroom stuffing, or try their lamb carpaccio with harissa yogurt. Vegetarian and vegan guests can enjoy a Thanksgiving feast cooked up especially for them. A warm chocolate tart pairs perfectly with roasted cherry ice-cream served as the final cherry on top. Thanksgiving dinner is served 3 p.m. to 8 p.m.
Think ricotta-stuffed figs made with local honey, bee pollen, and pistachio or roasted turkey breast with chestnut apple stuffing finished with pumpkin genocide, a combination of saffron buttercream, mustard curd, and cinnamon ice cream. All this and more is available on the heavenly Thanksgiving menu created by Chef John Duran at the Grant Grill in downtown San Diego' iconic US Grant Hotel.Take a trip with your loved ones this festive season for the ultimate, sophisticated and traditional Thanksgiving feast.
The Marine Room
Bring your appetite to La Jolla's iconic Marine Room on La Jolla Shores beach this Thanksgiving for an à la carte menu featuring the finest flavors of the season. Begin your meal with a tasty appetizer before indulging in a feast of the bird and all its trimmings or a vegetarian dish, depending on your choice. Of course, no Thanksgiving meal is complete without a luscious dessert, so make sure to try their sumptuous pumpkin pies. Seating for Thanksgiving dining is 11:00 a.m. to 7:30 p.m.
Award-winning JRDN Restaurant is located along the Pacific Beach boardwalk in the Tower23 Hotel. Chef Dave's passion for cooking shines through in this tasty Thanksgiving fare where he showcases an abundance of flavors from the season's tastiest ingredients. You'll give thanks for this traditional three-course turkey dinner with a special menu designed just for children on this special day. This trendy PB hot spot pairs traditional Thanksgiving fare with unbeatable Pacific Ocean views.
Mister A's
For Thanksgiving fine dining with spectacular views, Mister A's presents the perfect space. Admire San Diego's stunning skyline from a 360-degree view as you indulge in the best seasonal starters, traditional mains with all the dressings, and scrumptious desserts. Their Pumpkin cheesecake is a must. The three-course prix fixe meal has only two seating times left for Thanksgiving – 7:30 p.m and 7:45 p.m. After a satisfying meal, grab yourself a glass of wine and take in the glimmering San Diego cityscape below.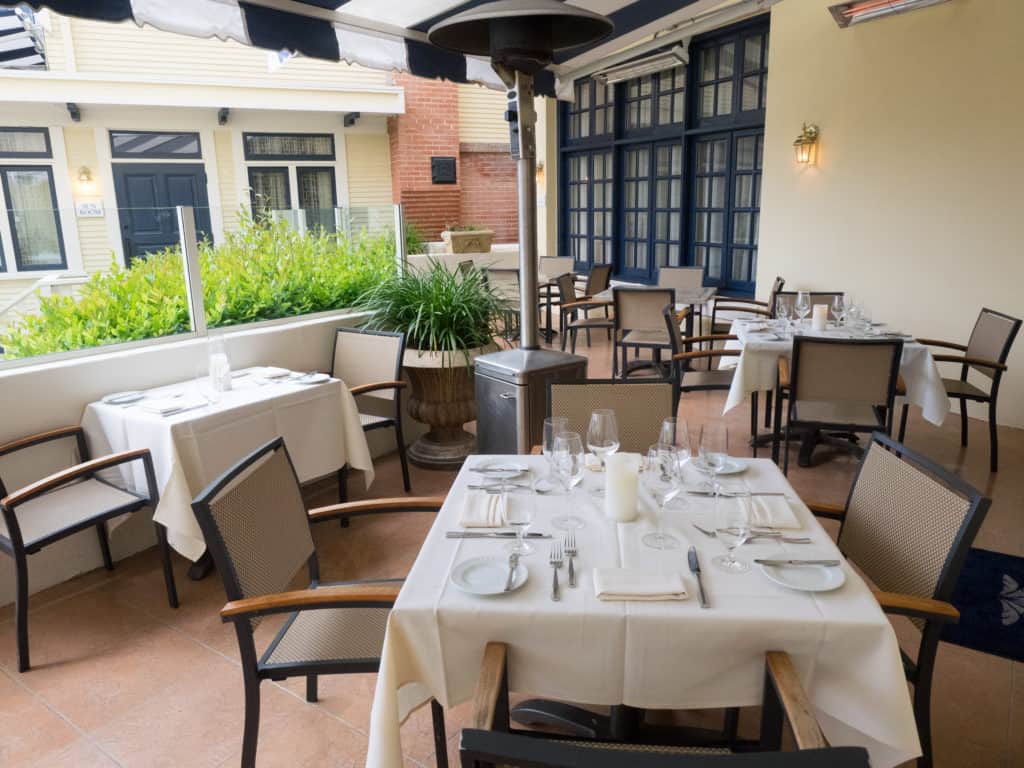 Nine-Ten delivers a glamorous affair this festive season in the heart of the Grande Colonial Hotel in La Jolla. Savor seasonal cuisine in a sophisticated and elegant setting with every plate baked, marinated, and garnished by award-winning Chef Jason Knibb. You can count on their specialist staff to choose the perfect wine from an extensive list of global bests to compliment your meal. Their three-course prix fixe Thanksgiving dinner is served 3:30 p.m. to 8:30 p.m. and includes special pricing for children under 12.
Opt for something a little different this Thanksgiving in dreamy Del Mar Village. The award-winning Pacifica Del Mar usually features sumptuous coastal cuisine. For Thanksgiving, you can expect a three-course prix fixe menu with choice of four starters, six main entrées, and four desserts. Mains include traditional turkey, prime rib, swordfish, and other choices. Give thanks and celebrate the festive season in this beautiful setting with expansive views of the Pacific Ocean. Dinner is served noon to 9:00 p.m.