Sunset Cliffs Park is a 68-acre park that extends 1.5 miles along Point Loma peninsula's western shoreline. The unique coastal park provides expansive views of the ocean, and is the place to watch a California sunset. It is comprised of striking cliff formations and caves, a captivating intertidal area, and the native sage shrub habitat. The park connects to neighboring Point Loma Ecological Reserve. Sunset Cliffs Park has two distinct sub-parks. Eighteen-acre Linear Park is an extremely narrow one-mile long tract bordered by the Pacific Ocean and Sunset Cliffs Boulevard. It extends from Adair Street to Ladera Street with several intermittent promontories with epic views.
The other side of Sunset Cliffs Park is Hillside Park is a 50-acre hillside that begins at Ladera Street. The cliffs continue southward into the surrounding residential area along the west facing slope of Point Loma Ridge. This entire park is 300 feet above sea level, and the drive into the park along Sunset Cliffs Boulevard has been officially designated as a scenic drive. The park's vision is to protect the unspoiled beauty of Point Loma and provide a place to contemplate the grandeur of the ocean.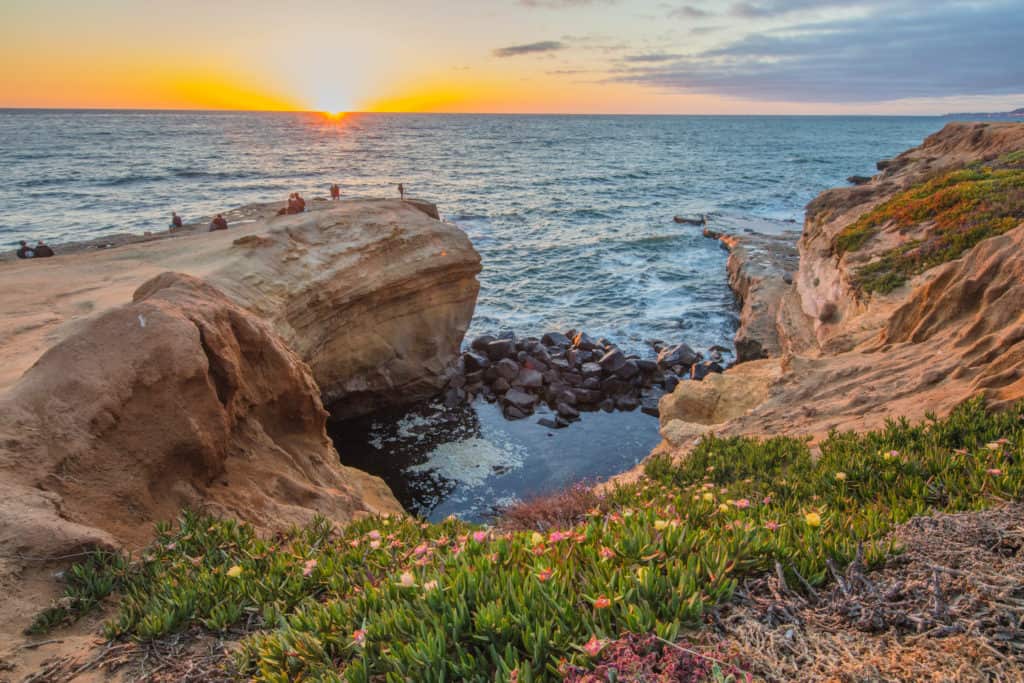 What to Do at Sunset Cliffs Park
As the name implies, the sunset is the biggest draw to Sunset Cliffs Park. Other park activities are both explorative and reflective. There are several informal paths throughout the park where visitors can jog, walk, or hike through native vegetation or down to the ocean. For many visitors, simply sitting on the benches atop the cliffs and enjoying the stunning views is enough. Guests will often see others painting or photographing the scenery, exploring the tide pools, sunbathing, bird watching, or studying native plants. Sunset Cliffs is also an ideal location to watch the California gray whale migrate from the Bering Sea to Baja California every year.
Sunset Cliffs Park is a favorite surf spot for the locals, although getting to the ocean can be quite precarious. There are man-made paths down to three small beaches – Garbage Beach, AB Reef Beach, and No Surf Beach. They are bordered on three sides by steep cliffs and difficult to see from above. Visitors who ignore signage warning not climb down the cliffs to the beaches do so at their own risk. Visitors should also be aware that twice a day at high tide, these beaches are completely submerged by waves crashing into the cliffsides.
Sunset Cliffs Park Essentials
Although there are several small parking lots along Sunset Cliffs Boulevard and street parking is available, there are so many daily visitors, especially at sunset that parking can prove difficult. Visitors should come early enough that the sun doesn't set while they're looking for parking. Ladera Street and Luscomb Street are good bets. There are no bathrooms at Sunset Cliffs Park. Bicycling on the paths, walking unleashed dogs, motor biking, and camping are all prohibited in the park. Visitors should heed all "unstable cliffs" signage. Small weddings are allowed at Ladera and Luscomb streets with park permits.
Near Sunset Cliffs Park
Ocean Beach neighbors Sunset Cliffs Park and has over 50 bars and restaurants. It's a great locale for surfing, shopping, and grabbing some delicious food. Hodad's cooks up some of the best burgers in San Diego, and the South Beach Bar & Grille is an excellent place to look out over the Ocean Beach Pier while enjoying shark tacos and a beer.
Downtown San Diego is just five miles west of Sunset Cliffs Park, an ideal neighborhood to choose your hotel. The Sophia Hotel near the Gaslamp Quarter is a historic boutique hotel, the US Grant is a grand hotel with luxury amenities. Several art galleries, museums, theatres, and symphony halls can all be found within blocks of these hotels. There are excellent dining options both within the hotels and the surrounding neighborhood. The Grant Grill or the Escape Fish Bar both great choices in the Gaslamp Quarter.