San Diego is home to numerous popular amusement parks offering a wide variety of games, rides, and attractions suitable for all sorts of visitors and residents alike. From historic amusement parks that have been a part of the fabric of San Diego for nearly 100 years, to newer parks featuring cutting-edge thrill rides, San Diego is a destination for thrillseekers from all over the world. Nature lovers will delight in the city's many animal exhibits and educational programs, while adrenaline junkies will revel in its assortment of rollercoasters, splashdown rides, and carnival games. What's more, San Diego's amusement parks also prioritize informative, interactive exhibits that cater to kids. These include petting zoos, guided tours, and a whole lot more. The biggest challenge you'll face when exploring San Diego's amusement parks is budgeting your time. That's because each and every one of its popular amusement parks is the sort of place where you can easily spend the entire day and still not come close to exhausting the fun possibilities!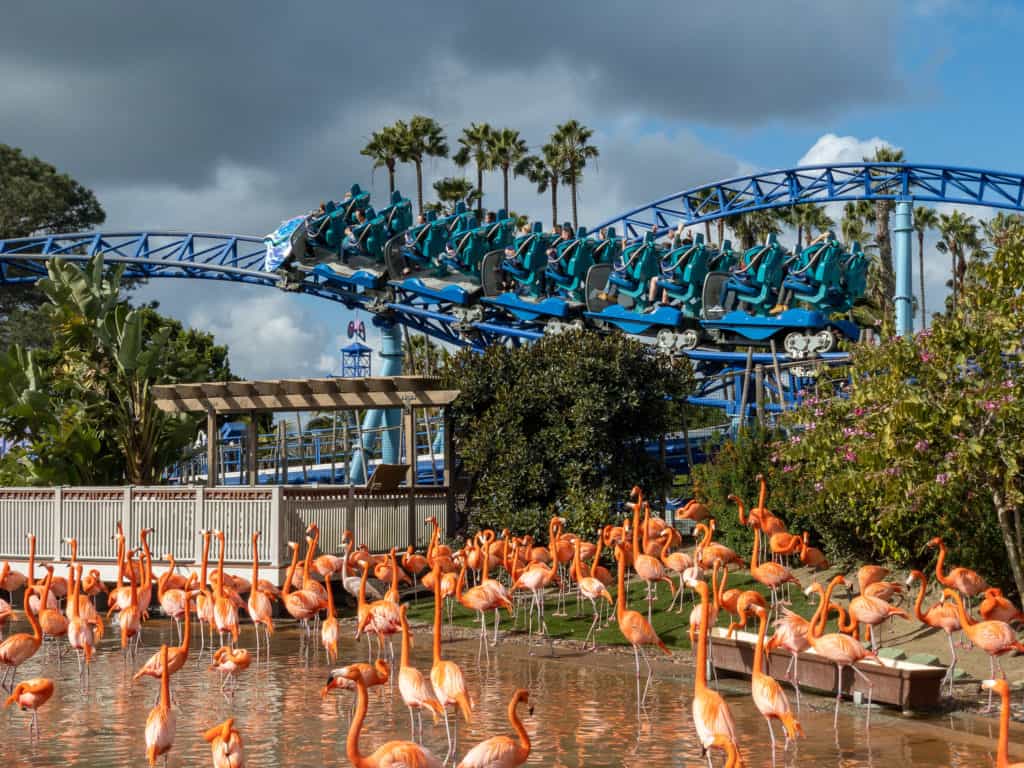 Things to Do at San Diego Amusement Parks
There's so much to see and do throughout San Diego's amusement parks that it's hard to know exactly where to start. Still, it's probably best to begin any discussion of San Diego's amusement park scene with Belmont Park. First opened way back in 1925, Belmont Park has been delighting guests from all over the world with its family-friendly activities and vintage rides for almost a century now. Belmont Park's iconic attraction is the Giant Dipper Roller Coaster, which has anchored the park since its opening day. However, the fun doesn't stop there—Belmont Park also houses a carousel, bumper cars, and a restaurant, as well as more modern rides like the Control Freak and Octotron.
There are a few other beloved amusement parks in the San Diego area that offer their unique take on the classic rides and slides experience. You'll find a range of options, like high-octane thrill rides that aren't for the faint of heart, or, gentler rides that entertain the littlest visitors without frightening. Given the temperate weather, many amusement parks also offer water slides or other aquatic attractions. And of course, San Diego is also home to one of the world's most unique amusement parks: SeaWorld San Diego. In addition to their roller coasters, water slides, and other exhilarating rides, SeaWorld San Diego is also home to a multitude of marine animals—including favorites like, beluga whales, sharks, dolphins, and penguins, just to name a few.
San Diego's top amusement parks also regularly host special events that take many different forms and are appropriate for a range of guests and their interests. They can include everything from summer fireworks extravaganzas to Halloween parties to craft beer tasting festivals. All you'll need to do to make sure you don't miss out on one of these spectacular special events is to consult the attraction's website in advance of your visit.
Amusement Park Activities for Everyone
San Diego's amusement parks are designed to appeal to the widest possible selection of guests. So whether you're visiting San Diego with your family, friends, as a couple, or just want to enjoy a carefree getaway adventure, you'll find something right for your tastes and interests. Take, for example, an attraction like LEGOLAND California. With its unique combination of games, rides, and interactive shows, LEGOLAND California is obviously perfect for the kids. Still, even LEGOLAND has several exhibits parents will find appealing, too—and not just for the nostalgia factor! This means that while the little ones might gravitate toward the Fun Town Driving School or the Explorer Island Dinosaur Dig (where they can get a head start on their career as a paleontologist), adults will get a kick out of attractions like Coastersaurus, MiniLand USA (with its LEGO replicas of American and world landmarks), and the various shopping and dining options located on site.
This all-ages dynamic repeats itself across San Diego's various amusement parks, because the city's amusement parks are ultimately about more than just fun and games. You'll find, across the board, that these destinations also offer a diverse selection of guided tours, lectures, live performances, and more, all designed to enlighten and entertain.
At the end of the day, it doesn't matter whether you want to learn more about marine wildlife, scream your lungs out as you thunder along a rollercoaster ride, or soak up some sunshine while strolling along a beachfront boardwalk. San Diego is a can't-miss destination for lovers of amusement parks.
This historic oceanfront amusement park has been delighting visitors for nearly 100 years now. Belmont Park is home to carousels, bumper cars, and thrill rides, including the famous Giant Dipper Roller Coaster. Restaurants and shopping round out the fun here.
No matter how many times you've visited this beautiful city, SeaWorld San Diego makes for a quintessential San Diego experience. The original SeaWorld location, SeaWorld San Diego features majestic marine wildlife, thrill rides, dining, shopping, and a Sesame Street theme park.
Located 35 miles north of downtown San Diego in Carlsbad, LEGOLAND California is home to a LEGO-centric theme park and water park, as well as a branch of the popular SEA LIFE Aquarium.