The San Diego History Center preserves the dynamic and diverse history of San Diego, binding together the past with the present. The History Center's vast permanent collections of textiles and historic clothing, artifacts, art, and photographs tell the story of the evolution of San Diego. The museum is located in historic Balboa Park and is free to San Diego residents and visitors with Go San Diego Cards on the second Tuesday of each month.
Save on San Diego History Center with a All-Inclusive Go San Diego Pass
San Diego History Center is included in the Go San Diego Pass. You can save a significant amount of money if you are going to multiple attractions and/or taking some tours. Use the Buy button below along with coupon code CMGOCITY10 to save an additional 10% on your purchase. Even if the pass is already on sale. Savings is good on the All-Inclusive option by clicking the green Buy button.
Place of Promise is San Diego History Center's permanent exhibition of San Diego history, it displays a rotation of its extensive collections of documents and artifacts including objects that are exclusive to the History Center. An array of photos are also on display including: San Diego's historic street cars, early amusement parks, and school children of 100 years ago. Also on display are early photos of the San Diego skyline, photos of Native Americans, and photos by famous San Diego photographers Ralph Stineman and Antony di Gesu. There are multiple collections on exhibit at any one time.
Visiting exhibitions are always intriguing perspectives of San Diego. Past exhibitions include Sin Diego – a collection showcasing Stingaree, San Diego's infamous waterfront red light district, Landscapes Rediscovered – a collection of depression era photos of San Diego, and Crossing Cultures – a collection of photos of the Indians of Mesa Grande. Check the museum's website for an update on current exhibitions; there are usually multiple visiting exhibitions at the same time.
At over 100 years old, the San Diego History Center has a premier research library that houses millions of documents and images detailing the history of the people, places, and events of San Diego. The document archives include everything from oral history interviews to unpublished manuscripts to architectural records. Their vast collection numbers docs at over 45 million. The artifacts collection contains over 15,000 objects of daily life, fine art, decorative art, costumes, and textiles. The photograph collection is the largest in the Western United States.
The San Diego History Center also manages the Junipero Serra Museum in Presidio Park, the birthplace of San Diego. Visitors can participate in free museum tours guided by a knowledgeable docent, with their paid museum admission. The Serra Museum was built over 100 years ago on the site of California's first mission built in 1769 by Franciscan Missionary, Father Junipero Serra. All collections displayed here are from the permanent collections of the San Diego History Center.
Save on the San Diego History Center with Go City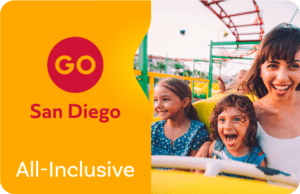 Buy a Go San Diego Pass
SAVE AN ADDITIONAL 10% OFF! Even if the Go San Diego Pass is already on sale. Extra 10% only good on all Passes with coupon code: CMGOCITY10
If you are seeing many sites and tours in San Diego, get a Go San Diego Pass. It includes the San Diego History Center as well as many more. Most buyers save about 35% off the retail price.
General Info
1649 El Prado #3, San Diego, CA 92101
Phone: (619) 232-6203
Website: sandiegohistory.org
0