Year in and year out, the USS Midway Museum is one of San Diego's most popular attractions. This unique destination is actually a United States naval aircraft carrier that has been decommissioned and turned into a museum. Visitors to the USS Midway Museum can peruse a series of exhibits that demonstrate what life was like for the crew in every aspect of their time in service, as well as explore the over 30 historic aircrafts that remain onboard the vessel.
Save on your visit to the USS Midway Aircraft Carrier Museum!
USS Midway Aircraft Carrier Museum is included on the Go San Diego Pass. Save an additional 5% on the Go City Pass with Coupon Code: GO5CMANTIS The discount stacks on top the current sale prices! Promo expires on December 31st.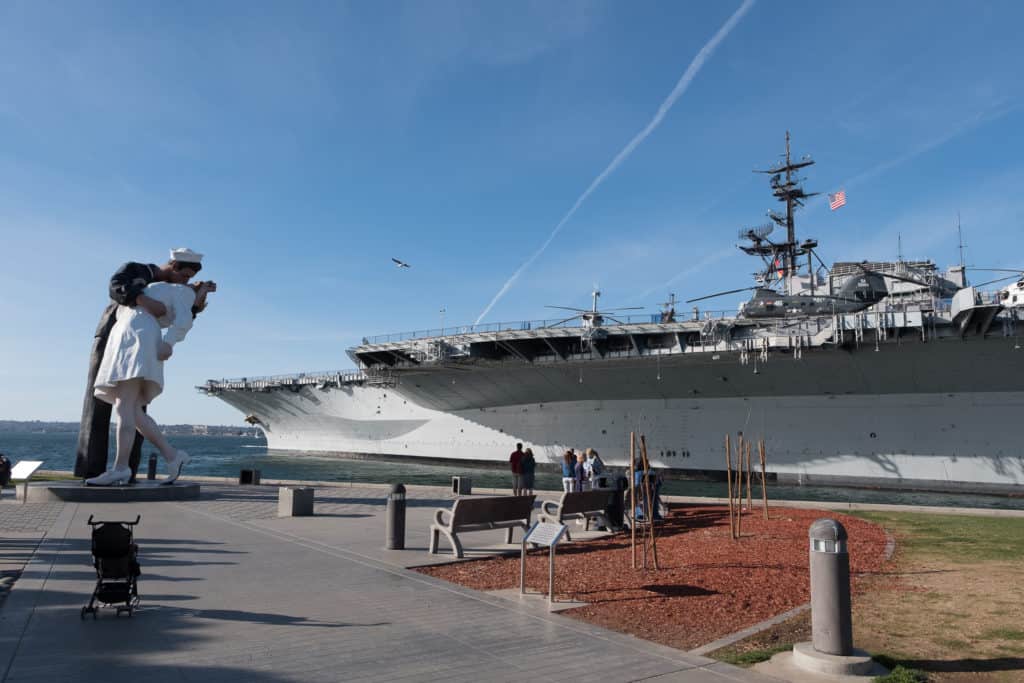 USS Midway History
Over the course of the 20th Century, no United States aircraft carrier was in active service for longer than the USS Midway. Named in honor of the Battle of Midway, a significant naval confrontation that took place in early June 1942, the USS Midway was launched in September 1945, just after the close of World War II. The USS Midway would go on to see action all over the world, engaging in deployments off the coast of Vietnam, joining in NATO exercises, and serving as flagship naval carrier during Operation Desert Storm.
The USS Midway was decommissioned in 1992, and spent the next decade in storage. In 2003, plans were made to transform Midway into a museum, and the ship was moved to San Diego Bay. The USS Midway Museum opened its doors in 2004, and millions of visitors have passed across its decks ever since.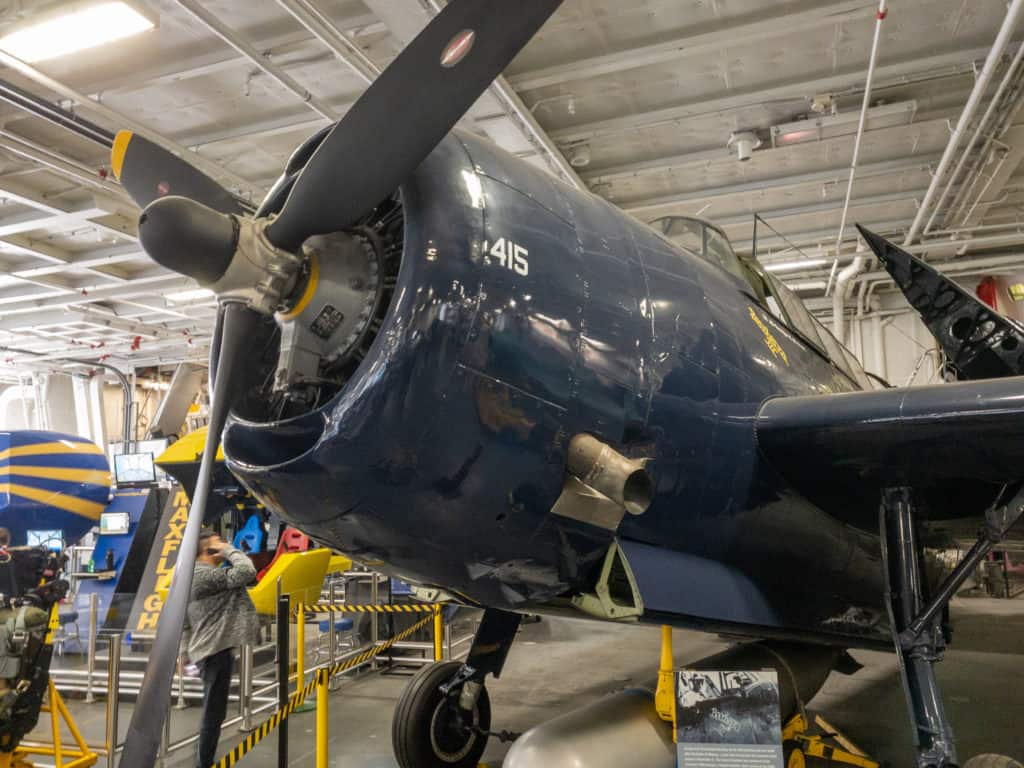 What's at the USS Midway Aircraft Carrier
There are four primary exhibit areas at the USS Midway Museum: Hangar Deck, Flight Deck, Below Decks, and the Aircraft Gallery. Each one of the deck exhibits contains a plethora of hands-on experiences that share the story of life on the Midway, details about its lengthy career, and historical artifacts pertaining to some of its many missions. Meanwhile, the Aircraft Gallery is home to over 30 historic aircrafts and helicopters. All of these aircrafts have been meticulously restored, and each one represents an important part of the Midway's service.
The Battle of Midway Theater is a 90-seat facility that shows a 15-minute film called "Voices of Midway." This riveting movie tells the story of the famous World War II battle that gave its name to the aircraft carrier, and is part of your general admission ticket. If you're willing to pay a bit extra, you won't want to miss going for a ride on one of the Midway's flight simulators, Air Combat 360 and Virtual Reality Flight Experience: Screaming Eagles.
The USS Midway Museum has its own dedicated, on-site gift shop. Known as the Jet Shop, it occupies a prominent spot on the ship's hangar deck, in the same location where jet engines were serviced by crew members when the vessel was on active duty. There you'll have your pick of Navy-related apparel, souvenirs, books, and USS Midway-themed memorabilia.
Not too far from the Jet Shop is Café 41, USS Midway's in-house restaurant. Café 41 has been recently renovated and now features an all-new menu. Favorites here include staples like sandwiches, burgers, salads, and more. There's usually a daily special or two available as well. If you're hungry but in a hurry, Jet Express is a "grab-n-go" option that might work best for you and your needs.
Tips for Visiting the USS Midway
If you are planning to visit many tourist attractions while in Sand Diego, think about buying a Go San Diego Pass. It includes admission to the Midway Aircraft Carrier as well as lot of other popular tourist attractions for one price.
The USS Midway Museum is a large site, where there's a lot to see and do. Therefore, it's recommended you budget three to four hours when planning to visit, and wear comfortable shoes—you'll be on your feet plenty!
Unlike most museums, the USS Midway Museum actually permits same-day re-entry. All you have to do is swing by the Visitors Information Center for more details.
All visitors are provided a self-guided audio tour with their admission. This terrific resource is divided into three parts covering the flight deck, hangar deck, and below-deck, and since it's self-guided, you can customize your listening experience to suit your interests. If you were to listen to the entire tour, it could take you upwards of four hours to complete. The museum recommends bringing your own headphones or earbuds.
There are plenty of museum docents situated throughout the museum just waiting to answer any of your questions. Many of these individuals have personal experience as navy veterans, and they can easily be identified by the yellow hats they wear.
Air Combat 360 is a two-person flight simulator. Both spots must be occupied by participants, each participant must be at least 48" tall, and it costs less than $10 per person. Virtual Reality Flight Experience: Screaming Eagles is similarly priced, and each participant must be at least 38" tall.
Traveling exhibitions and special events routinely stop at the USS Midway Museum. Make sure you consult the museum's calendar of events prior to your visit in order to be aware of any exciting, upcoming happenings that might be taking place around the time of your trip.