LEGOLAND California Resort is located just 30 minutes north of San Diego in beautiful Carlsbad. LEGOLAND captivates the imaginations of young and old alike. Boasting one of the world's most interesting hotels, an amusement park with over 60 shows, rides, and attractions, a water park, and a unique aquarium, LEGOLAND is a must visit San Diego destination. It also offers an eclectic mix of exciting shopping and dining options.
Save on Legoland California with a All-Inclusive Go San Diego Pass
Legoland California is included in the Go San Diego Pass. You can save a significant amount of money if you are going to multiple attractions and/or taking some tours. Use the Buy button below along with coupon code CMGOCITY10 to save an additional 10% on your purchase. Even if the pass is already on sale. Savings is good on the All-Inclusive option by clicking the green Buy button.
The amusement park at LEGOLAND has something for everyone, regardless of age or interest. There are countless rides ranging from roller coasters, boat journeys, and safari jeeps to the LEGOLAND Express Train. Kids love Driving School in Fun Town where they put on seatbelts in real electric cars and learn to signal, turn, stop, and go, earning their LEGOLAND driver licenses! Sky Cruiser, one of the Park's most popular rides, provides a whole new view from cars that zip along tracks high above Fun Town. Another Fun Town highlight is Skipper School, where parents and kids have a chance to maneuver their own LEGO boats through the water.
Probably the most fascinating aspect of the Park, and certainly the most appealing to adults, is Miniland USA. This area is the heart of LEGOLAND and can be seen from many points throughout the Park. Twenty million LEGO bricks were used to create seven popular spots in the US: the Las Vegas Strip, New England Harbor, New Orleans, New York City, San Francisco, Southern California, and Washington, D.C. at a scale of 1:20. The results are mesmerizing. Don't miss Miniland's Block of Fame, a fun LEGO 3-dimensional art gallery featuring the busts of pop icons and historical figures. For a delectable snack you can't get anywhere else in the Park, stop by Granny's Apple Fries in Castle Hill. It's a LEGOLAND signature treat that's fun to eat.
The innovative Duplo Village and Duplo Play Town will keep younger children captivated for hours. There are themes to fit all young adventurous tastes ranging from pirates, dinosaurs, fairy tales, and castles to Egyptian Pharaohs and safari treks. LEGOLAND offers the opportunity to go behind the scenes and see how the extraordinary LEGO movie was made and filmed; this is sure to be a huge hit with aspiring young filmmakers. Children can also come face to face with his or her favorite LEGO character.
The Sea Life Aquarium at LEGOLAND features a stunning array of over 200 species of aquatic animals that will most assuredly captivate and charm the whole family. Submerse yourself in interactive and engaging displays, like the daily feeding demonstrations of the Giant Pacific Octopus, and the various species of sharks that live here. Get up close and personal with hermit crabs, sea stars, and even limpets at the Discovery Zone touch pool. Besides the sea life, the aquarium offers delightful puppet shows and information about the world of scuba diving in their Scuba School. With a conservationist attitude, Sea Life Aquarium is committed to raising people's awareness of critical environmental issues that threaten sea life. (Sea Life Aquarium requires a $20 upgrade, Sea Life Hopper Ticket or Resort Hopper Ticket.)
The LEGOLAND Waterpark is a perfect way to spend a warm San Diego day with different rides and attractions for kids of all ages. Older children will get a thrill from the waterslides – Twin Chasers and Splash Out, or scream their way to the bottom of the Orange Rush, a 312-foot long twisting and churning raft ride. The Splash Zoo and Splash Safari are specifically designed for younger children, with small slides and characters taken from LEGO sets – alligators, polar bears and elephants. Kids of all ages will enjoy building their own foam LEGO rafts and floating down a gentle river, or heading over to the Imagination Station and conducting their own water music. Note that LEGOLAND Waterpark is closed during the winter, as are parts of Pirate Shores. (LEGOLAND Waterpark requires a $20 upgrade, Water Park Hopper Ticket, or Resort Hopper ticket.)
Conveniently located inside the LEGOLAND Resort, the LEGOLAND Hotel is all about kids. The 250 themed rooms represent three different LEGO lines from which to choose, Pirate, Kingdom, or Adventure. Kids begin their stays with a treasure hunt complete with LEGO prizes. They sleep on bunk beds in their own rooms, build with LEGOs, and relax with their personal TVs. Adults can unwind on their comfortable queen bed with On-Demand TV, or surf the Internet with complementary Wi-Fi. Hotel guests enjoy nightly children´s entertainment and exclusive early access to LEGOLAND Resort the following day.
A trip to San Diego would not be complete without experiencing the wide variety of activities at LEGOLAND, but don't leave Carlsbad without checking out LEGOLAND's neighbors The Crossings at Carlsbad and Carlsbad Premium Outlets. Visitors can take in a round of golf on a spectacular course at The Crossings at Carlsbad, adjacent to LEGOLAND, or dine in their upscale Canyons Restaurant, which also features Sunday brunches, Wine Lover Wednesdays, and daily Happy Hour. On the other side of LEGOLAND, Carlsbad Premium Outlets feature over 90 outlet stores from Barneys New York to Fossil to Adidas. Fun for the kids, and fun for mom and dad are all right there with these three vacation destination hot spots.
Save on the Legoland California with Go City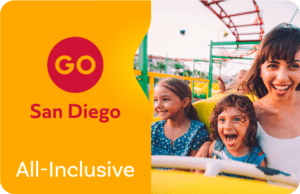 Buy a Go San Diego Pass. Save an extra 10%
SAVE AN ADDITIONAL 10% OFF! Even if the Go San Diego Pass is already on sale. Extra 10% only good on all Passes with coupon code: CMGOCITY10
If you are seeing many sites and tours in San Diego, get a Go San Diego Pass. It includes the Legoland California as well as many more. Most buyers save about 35% off the retail price.
General Info
1 Legoland Dr. Carlsbad, CA 92008
Phone: (760) 918-5346
Website: California.Legoland.com