Old Town Trolley Tours are a spectacular way to see San Diego on your next visit to America's Finest City. The best part about the tours is the hop on, hop off aspect, where visitors can get off the trolley at any of the eleven stops, spend as long as they want there, and hop back on the trolley when they're finished. One of the San Diego trolleys will be at your stop every thirty minutes, so if you miss one, it won't be long before another one comes by.
With over 100 points of interest along the way, you'll be grateful for the complimentary map and day planner to choose places you'll want to hop off and explore. Other great perks to Old Town Trolley Tours are the discount coupons and packages to attractions, tours, and restaurants near each of the trolley stops. Visitors also enjoy complimentary shuttle service from some hotels, and even a money back guarantee if you don't love your trolley tour.
The eleven stops on the Day Tour include Old Town San Diego State Park, San Diego Harbor, Seaport Village, Marriott Hotel and Marina, Horton Plaza Shopping Center, Gaslamp Quarter, Hilton San Diego Bayfront, Coronado Ferry Landing, McP's Irish Pub on Orange Avenue, Balboa Park, and Little Italy. Each stop on the map shows the activities near that stop. The conductors on each trolley are knowledgeable about all of San Diego and narrate the rides. You'll probably hear stories and trivia along the way that even the locals don't know.
Beach lovers can take the San Diego, La Jolla, Mission Beach Tour hopping on and off at San Diego's best beaches. The 90-minute tour stops at Mount Soledad, where you can enjoy the best views of San Diego; La Jolla, for great snorkeling, kayaking, and seal watching; Mission Beach, where the boardwalk stretches all the way to Pacific Beach; and back to Old Town and the Old Town State Park. Experience them all in one day, or spend the day at your favorite beach.
For the brave adventurer, Old Town Trolley Tours offer 90-minute Ghosts and Gravestones Frightseeing Tours. Stops include Pioneer Park, El Campo Santo Cemetery, and the Whaley House, all purported to be haunted. In fact, the Whaley House has so many documented paranormal experiences that the Travel Channel has named it the most haunted house in America. No matter which tour you choose, Old Town Trolley Tours won't disappoint.
Save on the Old Town Trolley Tours with Go City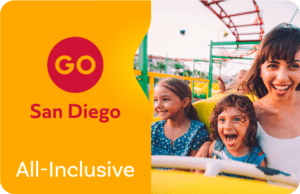 Book and Old Town Trolley Tour
Book online for the best prices. To save an additional 20%, add a second San Diego Attraction to your cart. You will instantly see a 20% savings. Savings are only available online at GoCity.
Buy a Go San Diego Pass
SAVE AN ADDITIONAL 10% OFF! Even if the Go San Diego Pass is already on sale. Extra 10% only good on All-Inclusive Passes
If you are seeing many sites and tours in San Diego, get a Go San Diego Pass. It includes the Old Town Trolley Tours as well as many more. Most buyers save about 35% off the retail price.
General Info
4010 Twiggs St, San Diego, CA 92101
Phone: (619) 298-8687
Website: trolleytours.com/san-diego/