Petco Park is home of Major League Baseball's San Diego Padres, who have competed in the National League's West Division since their establishment in 1969. Though they've never won the World Series, the Padres are still a beloved part of the San Diego community, and their home, Petco Park, is a treasure of the sports world. Widely rated one of the best ballparks out there, it's a wonderful place to take in a baseball game, go for a guided tour, or enjoy a live music concert.
Save on your visit to the Tour of Petco Park!
Tour of Petco Park is included on the Go San Diego Pass. Save an additional 10% on the Go City Pass with Coupon Code: CMGOCITY10 The discount stacks on top the current sale prices! Promo expires on August 31st.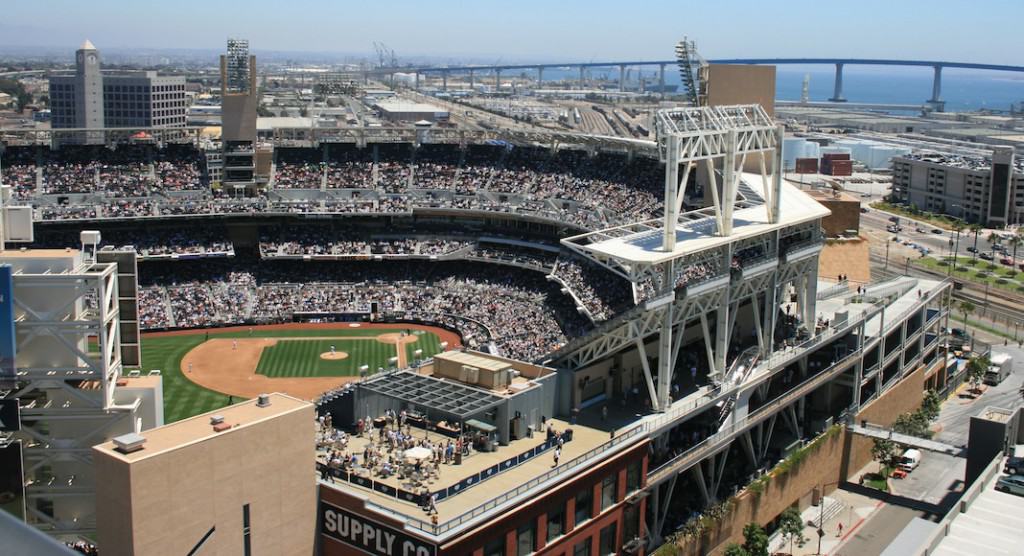 Petco Park History
When the San Diego Padres became an MLB franchise in 1969, they played their home games in Jack Murphy Stadium, and they would continue to do so (even as the stadium underwent a series of name changes due to shifting sponsorship rights) until 2003. In 2004, the Padres would move into shiny new Petco Park, which took over three years to build and cost just under $500 million to construct. Petco Park was designed by the architectural firm Populous (who were at that time known as HOK Sport), the company responsible for such legendary sports arenas as Oriole Park at Camden Yards, the new Wembley Stadium, and Fiserv Forum, just to name a few of their many acclaimed projects.
Petco Park is one of those special stadiums where the cliché is true: there really isn't a bad seat in the house. An intimate arena, Petco Park was designed so that many seats have not only terrific views of the field, but also the surrounding skyline, cityscape, and ocean.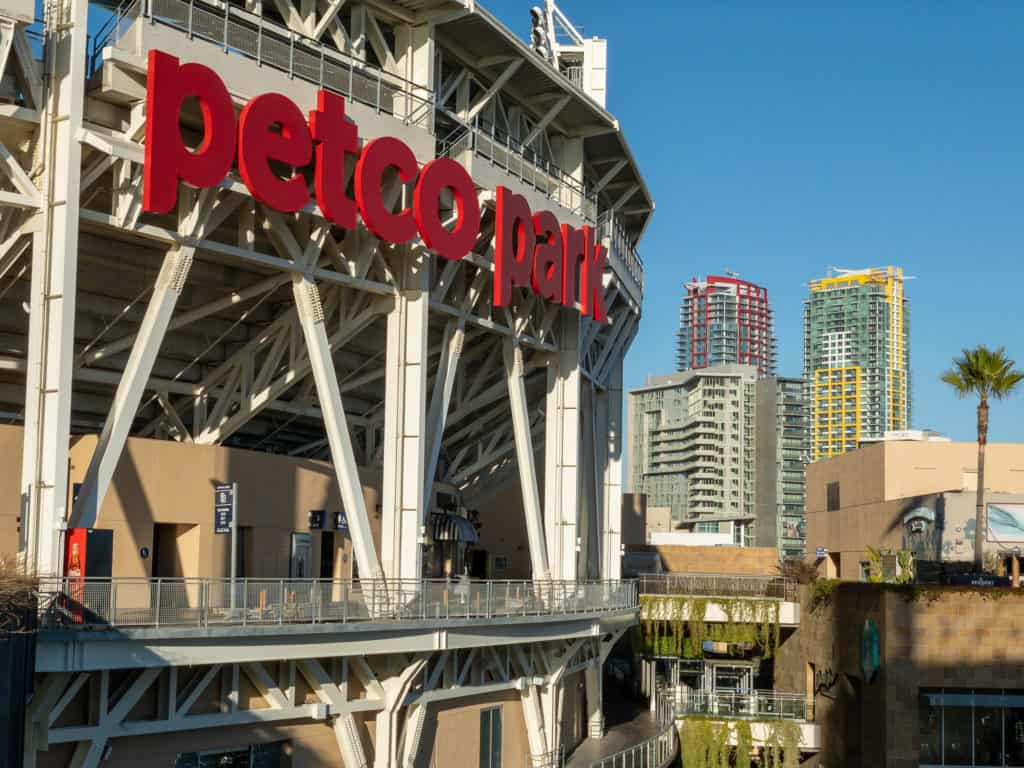 What's at Petco Park
Perhaps the most indelible feature of Petco Park's design is the iconic Western Metal Supply Building standing along the stadium's left-field foul line. This four-story building was the site of an actual local metal business that got its start in the late 19th Century, eventually opening this 50,000-square-foot headquarters during the first decade of the twentieth century. Instead of demolishing the elegant brick structure, which had been named a historic landmark in 1978, the architects incorporated the building into Petco Park's floorplan. Now, when baseball fans the world over picture the Padres' home stadium, this is often the first thing they think of.
Formerly known as Park at the Park, Gallagher Square is a nearly three-acre green space that's an essential part of the Petco Park experience. Located just beyond the outfield wall, Gallagher Square contains a little league-size infield and plenty of spots to spread out on a blanket and enjoy a beautiful San Diego afternoon. It's also where you'll find Tony Gwynn Plaza, the centerpiece of which is a statue of Mr. Padre himself. You'll definitely want to snap a selfie or two on this hallowed ground.
If the Padres are out of town when you're visiting San Diego—or your trip falls in the middle of baseball's five-month-long offseason—consider going on a tour of Petco Park. In fact, even though nothing compares to experiencing a live sporting event in person, a tour of Petco Park will grant you numerous unforgettable opportunities that you wouldn't otherwise have. These include the chance to see behind the scenes, walk on the outfield warning track, stroll through the press box, check out a luxury suite, and more.
Tips for Visiting Petco Park
If you are seeing other sights while in San Diego you can save some money if by getting a Go San Diego Pass. The Tour of Petco Park is included as are many other great San Diego Attractions.
For the record, tours are available on days when the Padres have a home game, too, you'll just find that certain parts of the stadium are off-limits due to the nature of it being a game day. This will cut down on the number of behind-the-scenes areas you can access.
Gallagher Square is free and open to the public when the Padres are not playing a home game. When the Padres are in town, Gallagher Square is transformed into a general admission seating area. Sightlines of the field aren't the greatest from here, but the vibe is amazing, the ticket prices aren't bad compared to more conventional seats, and there's a big-screen television showing the game.
There are three major parking areas just southeast of Petco Park that are affiliated with the Padres, where parking will cost you anywhere between $30 and $50 per vehicle. There are also a number of garages and lots within a several-block radius of the stadium. However, given that this is a densely populated area of the city, those options won't be cheap either. If you're staying in the area, consider walking to the game or riding public transportation. It'll save you money and be less of a hassle. If you must for any reason drive to the stadium on a game day, it's recommended you purchase your parking pass ahead of time online.
If you're interested in biking to Petco Park, be advised that there are bike stands available around the stadium at the following Gates: Home Plate, Park Boulevard, Gaslamp, Downtown, and Balboa.