Mission Bay Park is the largest aquatic park of its kind in the United States, sitting on more than 4,500 acres of land with over 25 miles of shoreline. It's almost equal parts land and water with 19 beautiful sandy beaches. A perfect locale for outdoor enthusiasts, this park draws in roughly 15 million visitors a year. Here guests can enjoy everything from biking 14 miles of pathways along Mission Bay to enjoying a day of sailing on the water. Due to its large size, it would benefit visitors to start their park exploration at the Mission Bay Visitors Information Center on the East end of the park.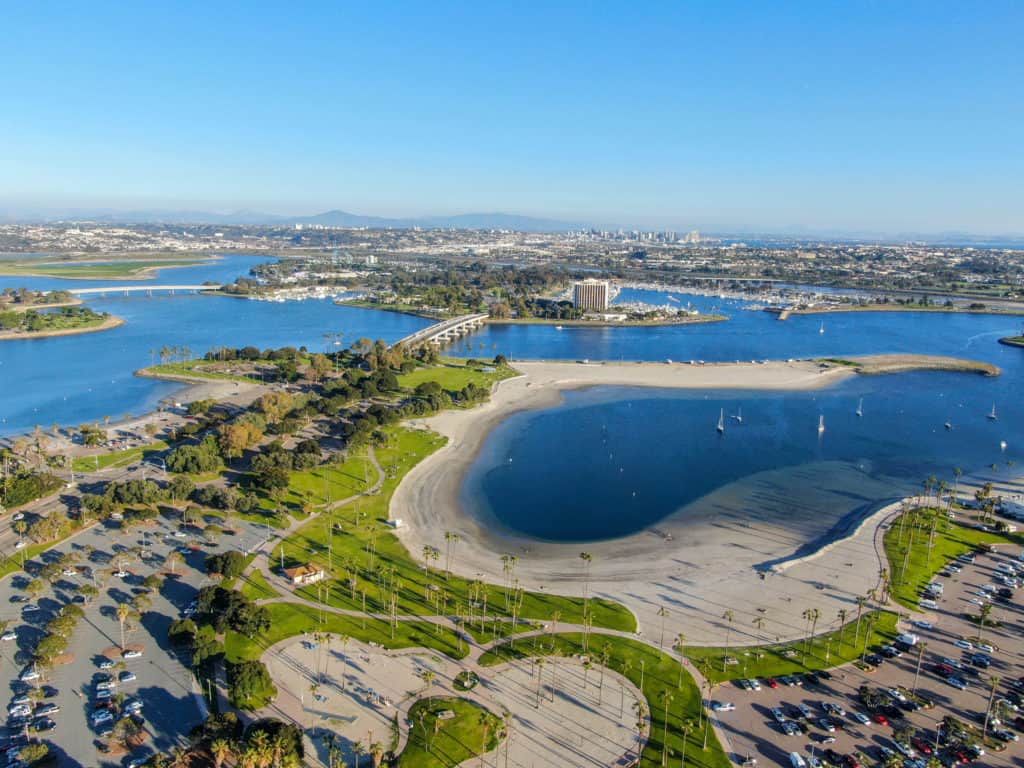 What to Do at Mission Bay Park
The west end of Mission Bay Park is made up of a network of channels and islands ideal for those who love windsurfing, water-skiing, boating, kayaking, and other aquatic activities. This area of the park is also ideal for swimming, just be sure to do so in the designated areas. Guests who prefer to stay on dry land also have a plethora of activities to choose from. Biking, walking, or running along the bay, playing a game of volleyball or basketball on their respective courts, flying kits on the grassy area, or simply enjoying a picnic are just a few ways to enjoy the day.
Visitors who enjoy birdwatching will discover many rare and endangered species that call this park home. Most notable is the California Least Tern, best seen in June and July. There are several designated fishing areas, an RV park for extended stays, and a Snack Shack, which sells beach supplies, food, and drinks. Fiesta Island is the best place for youth group camping led by one or two adults. Kids get a true camping experience. Only adults leading youth groups that have permits are allowed to stay the night in this area.
Mission Bay Park Essentials
Due to the size of Mission Bay Park, the areas are broken up and certain rules apply in each section. It is important for visitors to pay attention to posted signs displaying what is and is not permitted in the area they are occupying. There are several parking lots throughout the park, along with street parking. Lots are closed 2 a.m. to 4 a.m. No dogs are allowed in the park or on park beaches between 9 a.m. and 6 p.m. Dogs must be leashed during permitted hours. Fiesta Island allows dogs to be off leash during permitted hours.
No alcohol, smoking, littering, disturbing noise, or glass containers are allowed at the park. Bonfires, motorized vehicles, camping and overnight sleeping are also no permitted. Visitors can only have fires in permitted fire rings, and the coals must be dumped in the fire rings or concrete receptacles provided. There are several bathrooms, showers, and lifeguard stations throughout the park. During low season from November 1st to March 30th a little under half are closed. Check with the Visitors Center and acquire a map before you head into the park.
Near Mission Bay Park
For those looking for accommodations close to Mission Bay Park, the Hilton Resort Hotel would be a great choice, it is in the center of the action with two small beaches and watersports rentals for guests to enjoy. The Bahia Hotel and the Catamaran hotel, on the west end side of Mission Bay are also excellent choices. These resort hotels offer many amenities, and activities for the whole family to enjoy. Belmont Park, a historic amusement park, and the Wavehouse, a restaurant two with a wave simulators, are across the street from Mission Bay Park. SeaWorld, perhaps one of San Diego's most prized attractions, is located on the southern-most point of East Mission Bay Park. Enjoy an afternoon of aquatic animal shows, feeding turtles, and viewing sea creatures in underwater tunnels. End the night watching the SeaWorld fireworks show.