Presidio Park is a historic park that sits high on Presidio Hill behind and above Old Town Historic State Park. It was the location of Royal Presidio of San Diego, the first European settlement on the U.S. West Coast. Settled in 1769, it was the headquarters for Spain's colonization of California. Mission San Diego de Alcalá, now relocated to Mission Valley, was the first Spanish Mission in California and was also located here. Both the fort and mission were built on Kumeyaay Indian land. Today, the popular 40-acre park is a California Historical Landmark. The park is divided into four distinct areas, Inspiration Point, Palm Canyon, Padre Cross, and The Arbor. Junipero Serra Museum and Presidio Park Mormon Battalion Monument can both be found in Padre Cross.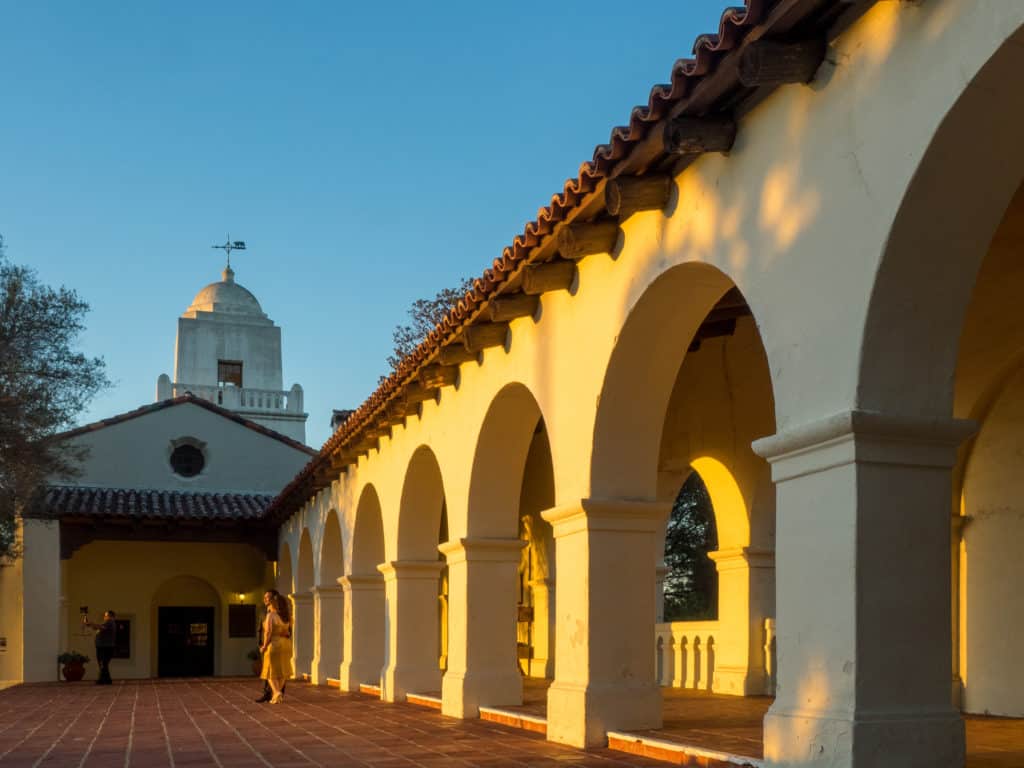 What to Do at Presidio Park
Inspiration Point in Presidio Park is a shaded area with mature trees, picnic tables, and panoramic views of the city, Mission Valley, and the Pacific Ocean. It is a popular wedding venue. Palm Canyon, accessible from Taylor Street by foot only, is a popular picnic area. Padre Cross is the largest open space in the park named after the 1913 Padre Cross at its north end. The Arbor is at the top of the hill and one of the prettiest areas of Presidio Park. The wide walkway with white pillars on both sides, and a vine-covered arbor is another perfect wedding location.
Visitors to Mormon Battalion Historic site get a one-of-a-kind interactive experience. They can see unique artifacts, take a free cinema tour, pan for gold, learn the art of brick making, and get a free photograph at the end. Mormon Battalion Monument, a colorful petrachrome mural commemorating the battalion, is part of the site.
Ghost-hunters will love Presidio Park. Pattie Memorial, known to locals as Witches Tower, used to be a Spanish guardhouse at the Presidio. Military prisoner, Sylvester Pattie, commemorated as the first American to be buried in California, died here. The building is purportedly haunted, and has a pentagram built into the roof alluding to occult practices.
Junipero Serra Museum, a Spanish Revival-style building, is symbolic of San Diego's past. It was built in the late 1920s by wealthy businessman and philanthropist George Marston after having purchased the land to restore its historical prestige. The museum holds artifacts from the San Diego History Center. The grounds around Junipero Serra Museum and the trails behind it are also thought to be haunted, according to urban legend.
Presidio Park Essentials
Presidio Park is open from 6 a.m. to 9 p.m. during summer, and until 7 p.m. during winter. San Diego Mormon Battalion Historic Site is open daily from 9 a.m. to 9 p.m. The last tour begins at 8 p.m. and admission is free. Junipero Serra Museum hours are weekends from 10 a.m. to 5 p.m. It closes an hour early from September to June. There is a small admission fee.
Presidio Park is one of 22 remaining San Diego parks where visitors and picnickers can drink alcohol in the park from 8 a.m. to 8 p.m. daily. Alcohol may be consumed at the park outside of these hours at permit-use events only. Smoking, open fires, glass containers picking flowers or disturbing plants, off-leash dogs, soliciting, sales or advertising, balloons of any kind, and remote-controlled crafts including drones are not allowed.
Parking lots are near Inspiration Point, Junipero Serra Museum, and Padre Cross. There is also street parking around the park's perimeter.
Near Presidio Park
Old Town and Old Town Historic State Park are at the foot of Presidio Hill. There is a profusion of Mexican-themed eateries and bars, interesting shops, and boutique and great value hotels in this historic neighborhood. In the other direction, visitors will find Hotel Circle a few blocks away with modern great value hotels. Fashion Valley Mall is behind Hotel Circle North, and has a multiplex with 18 screens, several restaurants, and upscale shopping. The Cosmo is a boutique hotel in Old Town that wows. Handlery Resort Hotel in Mission Valley gives guests a resort experience at affordable prices.