Peer through the front window of Old Town Mexican Café, and you'll see four robust women expertly patting fresh artisan tortillas into shape as they chat. If it weren't for the crisp white aprons, stainless steel countertops, and oversized flat cooking surface between them, you could imagine your tías gathered in the kitchen doing the same thing. In fact, two of the women have been making tortillas at this popular Mexican eatery for more than 30 years. Located in San Diego's Old Town neighborhood across the street from the Whaley House, this restaurant is a favorite of locals and tourists alike.
Old Town Mexican Cafe Ambiance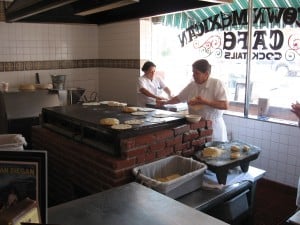 The ambiance at Old Town Mexican Café is, in a word, festive. There is rarely a time when this restaurant isn't filled with guests. Exuberant conversations and strolling mariachis make for a lively atmosphere. There is often a game on the TVs in the extensive bar area. The main dining area features large ornately painted booths, rustic wood finishes, and colorful artwork that combine to create a relaxed Mexican-themed décor. The outdoor Garden Room serves as a second dining area with tables surrounded by decorative wrought iron chairs with comfy seats, brightly painted accents, and large hanging plants. At night, strings of colorful lights crisscross overhead.
Old Town Mexican Cafe Food
Old Town Mexican Café has garnered countless accolades over the years. They've been voted the best tortillas in San Diego, they're Zagat rated, they're a Gold Medallion Award winner from the San Diego Restaurant Association, a Channel 10 A List winner, and they've been voted Best Margaritas and Best Mexican Food by the San Diego Reader, to name a few. Don't trust the experts though, ask the locals! This restaurant has been the place to be for consistently superb Mexican fare since the 1970s.
If you want to start your meal with a margarita, Old Town Mexican Café is the place to do it. Their extensive list of tequilas – Mezcal, Silver/Blanco, Reposado, and Añejo varieties with over 100 bottle choices, will satisfy even the most discriminating tequila connoisseur. Is it possible to have a bad margarita with this kind of tequila menu? Guests don't seem to think so, often saying they've just had the best margarita ever. The full bar also offers mixed cocktails, and several beers on tap.
Old Town Mexican Café is famous for their carnitas, but customers also rave about the Mexican-style rotisserie pork ribs. Molcajete – grilled shrimp, chicken breast, steak, and grilled cheese is another house specialty. Vegetarians should try the popular potato rolled taquitos. If you think you have what it takes, get the Spicy Tequila Ribs in their patented fire sauce for an appetizer. Be sure to try the Pozole, another favorite, with chunks of pork, hominy in a clear broth with oregano, cilantro, onion and lime, and served with hot tortillas. When it comes down to it, you can't go wrong no matter what you order from the menu.
Old Town Mexican Cafe Details
The first thing you need to know is that this casual, family-friendly restaurant sells both their homemade artisan tortillas and their patented fire sauce for you to take home. Menu prices are reasonable, especially for the high quality of food, with only a handful of entrées over $20. High chairs are available for the little ones. The restaurant opens at 7:00 a.m. for breakfast (which is also excellent) and closes at 11:00 p.m. Sunday through Thursday, and 2:00 a.m. Fridays and Saturdays. Located at 2489 San Diego Avenue, they offer both on street and a lot parking, along with bicycle parking.
Old Town Mexican Cafe Neighborhood
Right across the street from the restaurant is the Whaley House, which is alleged to be haunted. Even if you aren't into the paranormal, the historical house is worth a visit just to hear the stories. A block and a half away is Old Town San Diego State Historic Park. This is a must-see attraction with live entertainment, the unique Bazaar Del Mundo Shops, Ghost Tours, and Old Town Trolley Tours. Presidio Golf Course is adjacent to the park. Historic Presidio Park is above the golf course off Jackson Street, and offers some of the best views of the city. It's the perfect place for an afternoon stroll; highlights of the park include Inspiration Point, Palm Canyon, Padre Cross, Serra Museum, and the Mormon Monuments.
Thanks to Jim Moore for the photo.