Seagrove Park is an oceanfront park in Del Mar that sits high on a grassy bluff above two-mile long Del Mar beach. There is no beach access from the park. Seagrove is adjacent to Powerhouse Park, Del Mar's other well-known park, which does have beach access. Together, the two parks front a popular surf spot known as the 15th Street surf break. Powerhouse Park is on the north end of Seagrove, and a residential neighborhood is at the south end. An active railway runs along the park's beach side partway down the bluffs. This park is a popular venue for weddings and other events. With only one permit issued per day, it is often booked two years in advance. Visitors should expect to see wedding ceremonies and other permit-use events at the park, particularly on summer weekends.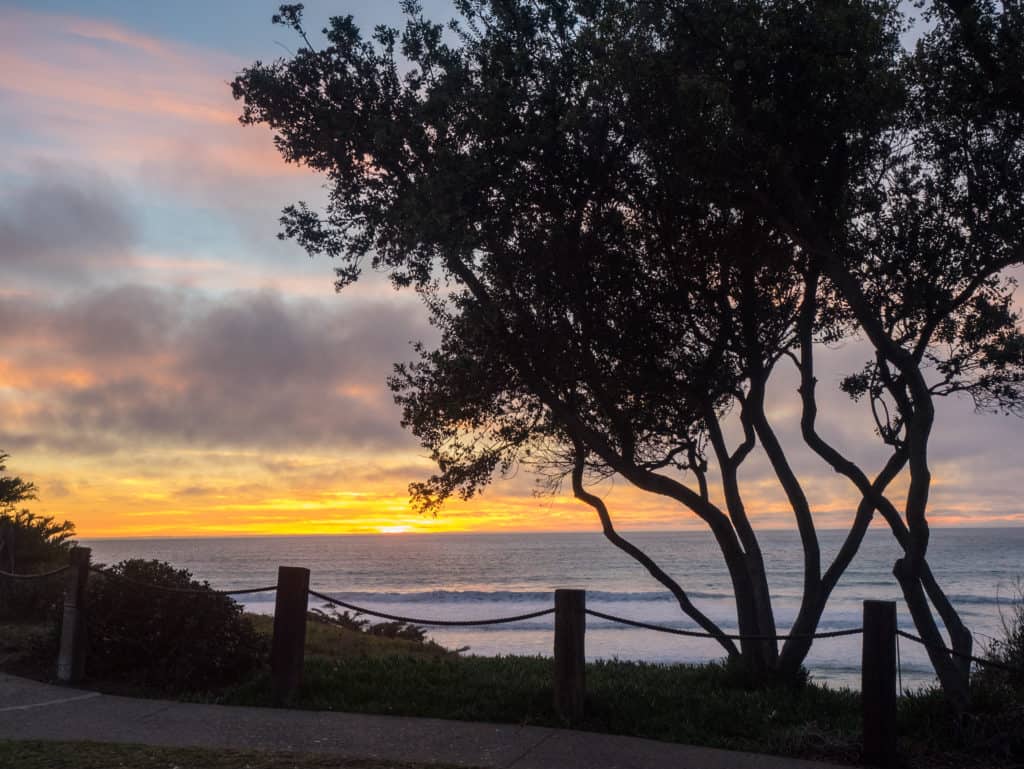 What to Do at Seagrove Park
Visitors who love the ocean, but not the sand, will appreciate Seagrove Park's bird's-eye coastal view from a cushiony expanse of grass. This is the go-to park for those who are happier looking at the ocean than being in it. Guests can stretch out on the grass, or on a blanket in this quiet park and talk, dream, read a book, or take a nap. Visitors should seek out Seagrove Park for a tranquil pause from an active San Diego vacation itinerary.
The verdant park is surrounded by lush vegetation and has benches strategically placed to overlook the Pacific Ocean. Guests can enjoy a cup of morning coffee while watching the surfers, or enjoy the romantic hues of a SoCal sunset. There is plenty of space for Frisbee, flag football, or just running and playing. The park has a small play structure on a rubber play surface. Kids will also have fun waving to passing trains. Seagrove Park has a walking path that circles through the park for a leisurely stroll, or a brisk walk with the dog. This park may be short on amenities, but it is long on serenity.
Seagrove Park Essentials
Seagrove Park is open to the public from 7 a.m. to 10 p.m. daily. The small, residential park has walking paths, a children's playground, benches, restrooms, and picnic tables. Propane grills are allowed, but charcoal grills are not. Food, non-alcoholic beverages, and plastic, glass, or recyclable cups and containers are okay.
Smoking or fires of any kind are not allowed at Seagrove Park. No alcohol, excessive noise, tents, or overnight camping. Leashed dogs are welcome, and visitors are expected to clean up after their dogs utilizing plastic bag dispensers in the park.
Parking is available in the pay lot across from Powerhouse Park, along streets in the residential neighborhood, or under L'Auberge Del Mar Resort. There is also a free parking lot at City Hall (1050 Camino Del Mar). More free parking is available along the street in Downtown Del Mar after 6 p.m.
NearSeagrove Park
Powerhouse Park, next door to Seagrove Park, has beach access for swimming and surfing. It sits next to Jake's Del Mar, a beachside restaurant with an upscale menu. Thoroughbred racing, shopping, dining, and enjoying neighborhood parks and beaches top the entertainment list in Del Mar. Nearby European-style Del Mar Plaza is bursting with boutiques, galleries, and eateries. Flight bird sanctuary on Jimmy Durante Boulevard provides visitors an opportunity to feed and interact with exotic birds. Visitors can choose luxury accommodations at L'Auberge, or a romantic stay at quaint Les Artistes boutique hotel. Clarion Inn Del Mar Inn caters to business and family travelers with best value accommodations.