San Diego is known for its spectacular weather and glorious beaches; few people realize that it also provides a great deal of history and culture. San Diego is an art lover's dream in more ways than one; the most exceptional place to start an artistic journey is at the San Diego Museum of Art. The biggest and most visited art museum in southern California has almost a quarter of a million people visiting it on a yearly basis. One of the multiple museums within Balboa Park, it looks like a magical castle that boasts the elegance of Spanish architecture and the boldness of a time when kings and queens ruled. The exterior lures you in, but the art inside captivates you and makes you stay.
A large permanent and world renowned collection is showcased at the San Diego Museum of Art; various pieces date back from 5,000 B.C. to the present. The permanent collection is eclectic and vast, Latin American, North American, European, Asian and works from other cultures are featured throughout. One of the favorite permanent collections presented at the San Diego Museum of Art is the Spanish Old Masters paintings. Asian metalwork and ceramics, American colonial era paintings, and European Renaissance paintings are just a few of the great exhibits that can be viewed at the San Diego Museum of Art. Georgia O'Keefe, Tamayo Miro, Calder, and Ukiyo-e are some of the talented artists showcased within. To be able to spend a day at this museum is to witness some of the world's finest talent throughout the eras.
The San Diego Museum of Art not only boasts an extensive permanent collection, but also hosts many major traveling exhibitions from around the world. Along with the wide range of permanent and temporary exhibits, the museum also features numerous programs and events. Enjoy one of their music or dance performances, films, lectures, or guided tours. The museum's goal is to reach people in every age category, from elementary to senior, with workshops, summer camps, special events, and more to connect the individual with the power of art.
Visiting the San Diego Museum of Art is more than just viewing a collection of art pieces; it's seeing the world through the eyes of the artists and trying to understand their visions and appreciate their artistic expressions. This museum is dedicated to educating, inspiring, and exciting visitors, so if you're visiting San Diego for the first or tenth time, make sure you put this historic museum on your list of places to see. The mission of the museum is to "collect, preserve, interpret and display the finest works of art that men and women have created throughout time for the benefit of the broadest conceivable audience," and they have fulfilled that mission. Make it your mission to celebrate art through the ages at the San Diego Museum of Art.
Save on the San Diego Museum of Art with Go City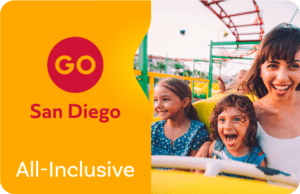 Book the San Diego Museum of Art
Book online for the best prices. To save an additional 20%, add a second San Diego Attraction to your cart. You will instantly see a 20% savings. Savings are only available online at GoCity.
Buy a Go San Diego Pass
SAVE AN ADDITIONAL 10% OFF! Even if the Go San Diego Pass is already on sale. Extra 10% only good on All-Inclusive Passes
If you are seeing many sites and tours in San Diego, get a Go San Diego Pass. It includes the San Diego Museum of Art as well as many more. Most buyers save about 35% off the retail price.
General Info
1450 El Prado, San Diego, CA 92101
Phone: (619) 232-7931
Website: sdmart.org