Car enthusiasts will love the San Diego Automotive Museum in Balboa Park. Located in the Pan American Plaza near the San Diego Air and Space Museum, this museum provides a fun way to explore the technological evolution of motorized vehicles in the context of society. The permanent collection displays a beautiful array of vintage cars and motorcycles. Some featured vehicles include a 1927 Bentley, a 1931 Rolls Royce, a 1947 "everything" Cadillac, and a 1953 Allard that belonged to Steve McQueen.
Save on San Diego Automotive Museum with a All-Inclusive Go San Diego Pass
San Diego Automotive Museum is included in the Go San Diego Pass. You can save a significant amount of money if you are going to multiple attractions and/or taking some tours. Use the Buy button below along with coupon code CMGOCITY10 to save an additional 10% on your purchase. Even if the pass is already on sale. Savings is good on the All-Inclusive option by clicking the green Buy button.
There is an ever-changing array of fascinating themed automotive exhibitions at the San Diego Automotive Museum. There are three four-month exhibits per year that display vehicles accompanied by graphics and other educational materials. Some past exhibits have featured Woodies, Lowriders, Toy Cars, and Corvettes. Muscle Cars are on deck for 2014 and museum curators are always open to new exhibition ideas.
A low-cost, laidback experience awaits at the San Diego Automotive Museum. Volunteer docents happily share information about the classic cars and motorcycles on display, and not only tell how automobiles helped shape the U. S., but also what their place is in San Diego history. Like many other Balboa Park museums, San Diego residents can check out this museum on Free Tuesdays.
The San Diego Automotive Museum's education department offers teacher lesson plans for specific exhibitions, kids' activities, and a one-week summer camp for kids. The museum's library hosts one of the best automotive research collections on the West Coast; knowledgeable volunteers are on hand to help with searches. A number of collectible books and vintage magazines are for sale in the library.
If you're in the market for a vintage car, the museum also sells donated vehicles either at auction or on ebay. A behind-the-scenes volunteer restoration team lovingly restores, readies, and stores cars that are not currently on display at their National City restoration shop. If you have a car to donate or to lend to an exhibition, contact museum curators. The San Diego Automotive Museum is always on the lookout for volunteers, donations, and fundraisers.
Save on the San Diego Automotive Museum with Go City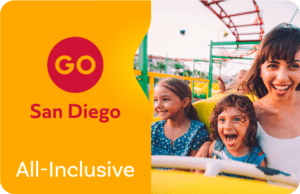 Buy a Go San Diego Pass
SAVE AN ADDITIONAL 10% OFF! Even if the Go San Diego Pass is already on sale. Extra 10% only good on all Passes with coupon code: CMGOCITY10
If you are seeing many sites and tours in San Diego, get a Go San Diego Pass. It includes the San Diego Automotive Museum as well as many more. Most buyers save about 35% off the retail price.
General Info
2080 Pan American Plaza
San Diego, CA 92101
Phone: (619) 231-2886
Website: sdautomuseum.org