Coronado, nicknamed The Crown City, is an area of San Diego richly steeped in American history. From being a frontier vacationer's haven to becoming an important naval base, to staging some of the world's most famous aviators, this tiny island has many stories to tell. There is no better way to learn them than with a stroll through the Coronado Museum of History and Art where these fascinating stories come to life. Permanent exhibits explore Coronado's history, the significance of the Navy and Army to the island, John Spreckels famed Tent City, and the historic Hotel del Coronado.
Save on Coronado Museum of History and Art with a All-Inclusive Go San Diego Pass
Coronado Museum of History and Art is included in the Go San Diego Pass. You can save a significant amount of money if you are going to multiple attractions and/or taking some tours. Use the Buy button below along with coupon code GO5CMANTIS to save an additional 5% on your purchase. Even if the pass is already on sale. Savings is good on the All-Inclusive option by clicking the green Buy button.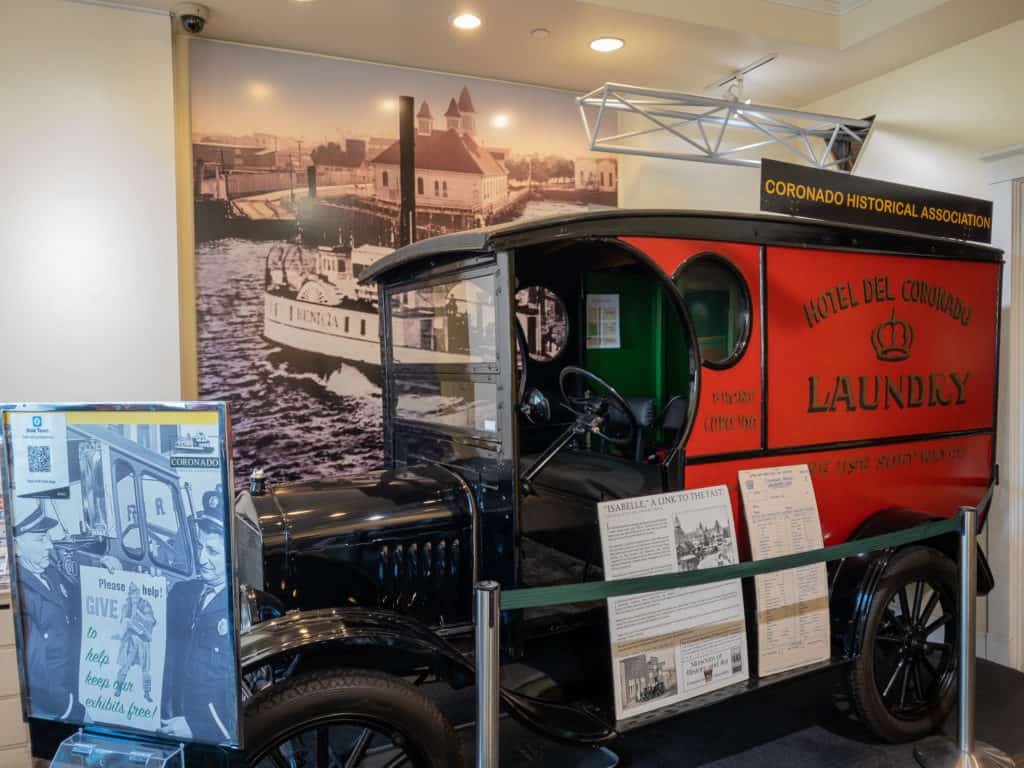 The Coronado History gallery explores the beginnings of Coronado Island. Photos, text, and displays take visitors through the island's discovery by Spanish explorer Sebastian Vizcaino to its new beginnings in the 1880s. It chronicles the purchase and development of the island by San Diego businessmen Elisha Babcock, Hampton Story, and Jacob Gruendike. These three men turned Coronado into a vacationers' mecca after building the Hotel del Coronado in 1888. See the evolution of this unique hotel, now a National Historic Landmark, that has housed thirteen presidents and a laundry list of celebrities including Charlie Chaplin, Clark Gable, Katherine Hepburn, and Frank Sinatra.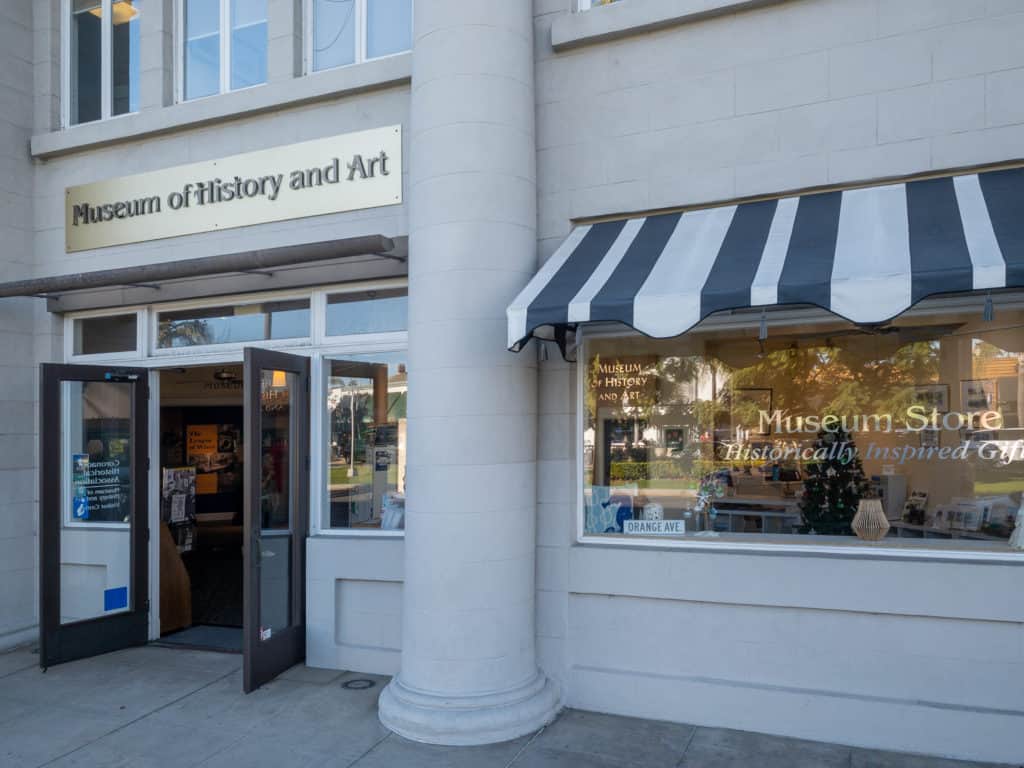 Visitors to the museum will also learn about Coronado Island's famous Tent City, which was located on the Silver Strand south of the hotel, and was set up for the rising middle class of the early 20th century who could not afford to stay at the hotel. Enjoy photos of Tent City that include a ferris wheel, facilities for bathing, carnival games, children's bull fights, and a canopied dance floor. After touring the museum visitors can go to Coronado's Silver Strand State Beach, where people still bring their tents and RVs to camp along this beautiful stretch of beach.
Another permanent exhibit chronicles Coronado's North Island and its 100 year relationship with aviation and the military. One can learn about the first U.S. military flying school and the several aviation records that were set here, including the first seaplane flight and the first leg of Charles Lindbergh's famous New York to Paris flight. Among the photos in their collection, visitors can view pictures of the USS Langley, the Navy's first aircraft carrier. Today, NAS North Island is homeport to two aircraft carriers
Visiting the Coronado Museum of History and Art, one can feel this remarkable history come to life through the over 20,000 photographs and 1400 artifacts in their permanent collection. The museum has ongoing temporary exhibits too. You can check for current exhibits on their website. In addition to photographs and artifacts, the museum offers walking tours available by reservation. One is a guided tour of the magnificent Hotel Del Coronado, where a volunteer docent will narrate the history of the hotel. The other, Coronado Heritage walking tour, features Coronado's most famous people and buildings. The area around the museum offers a variety of activities, from renting bikes to shopping, to soaking up the sun on one of America's most beautiful beaches.
Save on the Coronado Museum of History and Art with Go City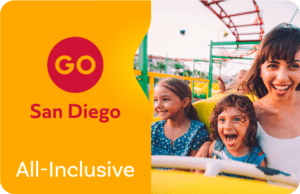 Buy a Go San Diego Pass
SAVE AN ADDITIONAL 5% OFF! Even if the Go San Diego Pass is already on sale. Extra 5% only good on all Passes with coupon code: GO5CMANTIS
If you are seeing many sites and tours in San Diego, get a Go San Diego Pass. It includes the Coronado Museum of History and Art as well as many more. Most buyers save about 35% off the retail price.
General Info
1100 Orange Ave.
Coronado, CA 92118
Phone: (619) 435-7242
Website: coronadohistory.org