For a twist on a children's museums, spend the day at the New Children's Museum located in the East Village in San Diego. You and your children will get a completely new experience at this museum, designed to stimulate the creative imaginations of children and to enhance their critical thinking. The New Children's Museum uses contemporary art to engage children and families in the museum experience. Children of any age will experience art in a personal and meaningful way that plays to their varied interests. Whether you walk through the exhibits, attend a workshop, camp, or one of the many other programs, you can rest assured your child will have a blast while also learning something new.
With participatory exhibits throughout the New Children's Museum, your children will have a fun new way to play while also stimulating their minds. Children are motivated to think through play, creative art activities, and other educational activities, through the art pieces of cutting edge contemporary artists. Artists are hired specifically to add physical, tactile, and participatory elements to their unique art pieces, allowing children to see the world from many different angles. By utilizing present-day artists instead of dictating and explaining past works, it gives the child the chance to develop their own ideas and see through a multitude of different lenses.
The exhibitions at the New Children's Museum change about every two years. One example is "Feast," an exhibition on food. With a total of thirteen art installations and eight projects revolving around food, children get an in depth look at food and how it interacts with the world around them. For hundreds of years artists have used food to open dialogue about its interaction with sustainability, community, health, the environment, and more. The New Children's Museum used the exhibit to illustrate the role food plays in our lives and how it affects our health, using contemporary art, music, technology, science and more to expand the conversation.
Aside from the indoor exhibits, workshops, and activities, there is also an outdoor play space and a park across the street from the museum. Known as the Garden Project, this area is filled with climbing structures, soft and hard surface playrooms, a sand play area, and swings. This is a great place to allow children to run around and enjoy the outdoors while feasting on a lunch you brought with you or purchased at their small cafe. There are also many activities and workshops offered in this area such as a drawing studio, paint farm, and bubble fountain.
New Children's Museum offers a plethora of indoor and outdoor activities while also educating your child through contemporary art. Aside from the multitude of workshops, clubs, and activities, there are many opportunities to learn from established artists and educators through various classes. Toddler programs are offered every Friday with a wide range of activities such as puppet play, music school, and fingerpainting Friday. The New Children's Museum is fun for the whole family. If you get a chance to visit San Diego, make sure to put this at the top of your list of places to see.
Save on the The New Children's Museum with Go City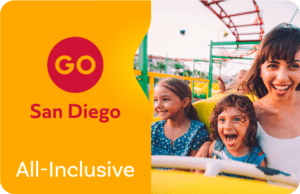 Buy a Go San Diego Pass
SAVE AN ADDITIONAL 10% OFF! Even if the Go San Diego Pass is already on sale. Extra 10% only good on all Passes with coupon code: CMGOCITY10
If you are seeing many sites and tours in San Diego, get a Go San Diego Pass. It includes the The New Children's Museum as well as many more. Most buyers save about 35% off the retail price.
General Info
200 W Island Ave
San Diego, CA 92101
Phone: (619) 233-8792
Website: thinkplaycreate.org