The Museum of Photographic Arts in the heart of Balboa Park in San Diego is a divine cultural experience that will never disappoint. This small, quaint museum is nestled in a beautiful Spanish style building along with the San Diego History Center and Model Railroad Museum. With routinely changed exhibits you can visit multiple times a year and feel as though you've stepped in a new museum every time. Spending the day at Balboa Park is cherished by many locals and a desired destination for many tourists, with low admission fees and a wealth of museum choices it's no wonder people wander blissfully on these grounds.
One of the most sought after experiences is the Museum Of Photographic Arts especially for those who are riveted by photography. Inside you will find exceptional photographs on crisp, clean, white walls, illuminated by natural light under vaulted ceilings in cavernous rooms. Plush couches are scattered throughout the two room gallery positioned in front of mesmerizing works where you can sit comfortably and really take in the beauty and story behind each one. Each picture gives an informative description and the techniques used to capture it.
The collections this museum houses are vast, so they change exhibits three to four times a year. You could come in when they showcase the photographic visions of kids as young as five, get thrown into a rock and roll pictorial journey with photos of musical legends that have rarely been seen, or view a collection of old school mugshots. The possibilities are endless.
If there is a specific exhibit you want to see, just check their calendar to see when it will make its next appearance. At MOPA you can also sign up for exhibit tours given by docents or a behind the scenes tour from the museum staff. You'll get to see a whole new side to the museum. Donations are recommended for the behind-the-scenes tour. Visitors can take guided audio tours of the exhibits too; all you need is a 3G smartphone.
Along with the two rooms showcasing exhibits, there is a small gift shop that is an ideal place to pick up souvenirs for your family, like a cute vintage camera t-shirt. There is also a small movie theatre that occasionally plays movies in line with the exhibits. Many visitors enjoy find this to be a magical experience due to the theater's lighting system that replicates a starry night. The mission of MOPA is to inspire, educate, and engage the broadest possible audience through the presentation, collection, and preservation of photography, film, and video. If you ever get the chance to visit you will discover they honor their word and then some.
Save on the Museum of Photographic Arts with Go City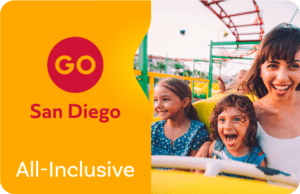 Book the Museum of Photographic Arts
Book online for the best prices. To save an additional 20%, add a second San Diego Attraction to your cart. You will instantly see a 20% savings. Savings are only available online at GoCity.
Buy a Go San Diego Pass
SAVE AN ADDITIONAL 10% OFF! Even if the Go San Diego Pass is already on sale. Extra 10% only good on All-Inclusive Passes
If you are seeing many sites and tours in San Diego, get a Go San Diego Pass. It includes the Museum of Photographic Arts as well as many more. Most buyers save about 35% off the retail price.
General Info
1649 El Prado, San Diego, CA 92101
Phone: (619) 238-7559
Website: Mopa.org