The San Diego Art Institute is located in the heart of Balboa Park on El Prado near the fountain. The best description for this particular museum is that it is vibrantly alive with ongoing high-energy activity. It is dedicated to showcasing the visual arts of San Diego's emerging community artists. With that mission in mind, the San Diego Art Institute hosts several events each year that promote and celebrate regional artists. Visitors can expect their museum experience to be entirely different each time they visit.
From among the various artist outreach and other programs, the San Diego Art Institute exhibits 30 juried shows per year, including regional, youth, special outreach, and One Foot shows. Rotating professional artists serve as jurors and awards are given monthly. The Outreach Through Exhibition Series marries the artwork of regional artists with regional social concerns through themed exhibitions. Past themes have included exhibits reflecting issues of breast cancer, AIDS, and the environment.
The San Diego Art Institute features a 10,000 square foot main exhibition gallery displaying a new exhibition every six weeks. Exhibitions include all major visual mediums; watercolor, acrylic, and oil; monoprint and pen and ink; and mixed media, sculpture, collage, and photography. With each new juried exhibition, a single artist's work is also presented simultaneously as a featured show.
The David Fleet Young Artists Gallery presents the work of youth artists from regional elementary, middle, and high schools; the exhibitions change monthly. Regional jurors present Youth Achievement Awards in visual arts each month, and an annual Youth Art Month showcases regional award winners. Winning artwork continues to compete at the next level in Southern California youth exhibitions. Youth Art Month runs generally over parts of January and February.
One of the coolest and most exciting events hosted by the San Diego Art Institute is their C-Note event. The work of regional artists is displayed throughout the main gallery with each piece selling for one, two, or three C-notes ($100, $200, or $300). The event is free to museum members and costs only $3 for non-members. When the doors open, ticket holders flood in – some actually running – to get their favorite art pieces. Once visitors take it from the wall or pick it up from the display, it is theirs. They bring their selections to the check-out tables where volunteers collect the money for the artwork, which is split 50/50 between the museum and the artist. Check their website for the next C-Note event.
The gift shop for the San Diego Art Institute is located in the House of Charm. Proceeds from the gift shop go toward supporting the museum and its many projects. No matter what time of year you visit Balboa Park, you can be assured something exciting is going on inside the San Diego Art Institute. Not only will you be able to enjoy a vibrant selection of artwork, you may end up bringing a favorite home with you!
Save on the San Diego Art Institute with Go City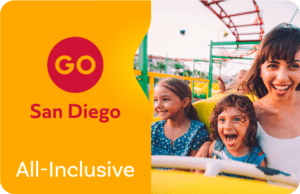 Buy a Go San Diego Pass
SAVE AN ADDITIONAL 10% OFF! Even if the Go San Diego Pass is already on sale. Extra 10% only good on all Passes with coupon code: CMGOCITY10
If you are seeing many sites and tours in San Diego, get a Go San Diego Pass. It includes the San Diego Art Institute as well as many more. Most buyers save about 35% off the retail price.
General Info
Address: 1439 El Prado, Balboa Park
Phone: 619-236-0011
Website: https://www.sandiego-art.org/visit/