Kellogg Park is a dream come true for families with small children. The oceanfront park is separated from the water by a wide, mile-long sandy beach – one of San Diego's best beaches. The large grassy park sits parallel to the beach amidst an upscale residential neighborhood with a seaside resort hotel at one end. There is a modern children's playground on the park's south end near a permanent lifeguard tower. New comfort stations with restrooms and showers are at either end of the park near the beach. A long, concrete sidewalk with benches and a low seawall divide the park from the beach. The palm tree-lined parking lot between the sidewalk and the street offers free parking.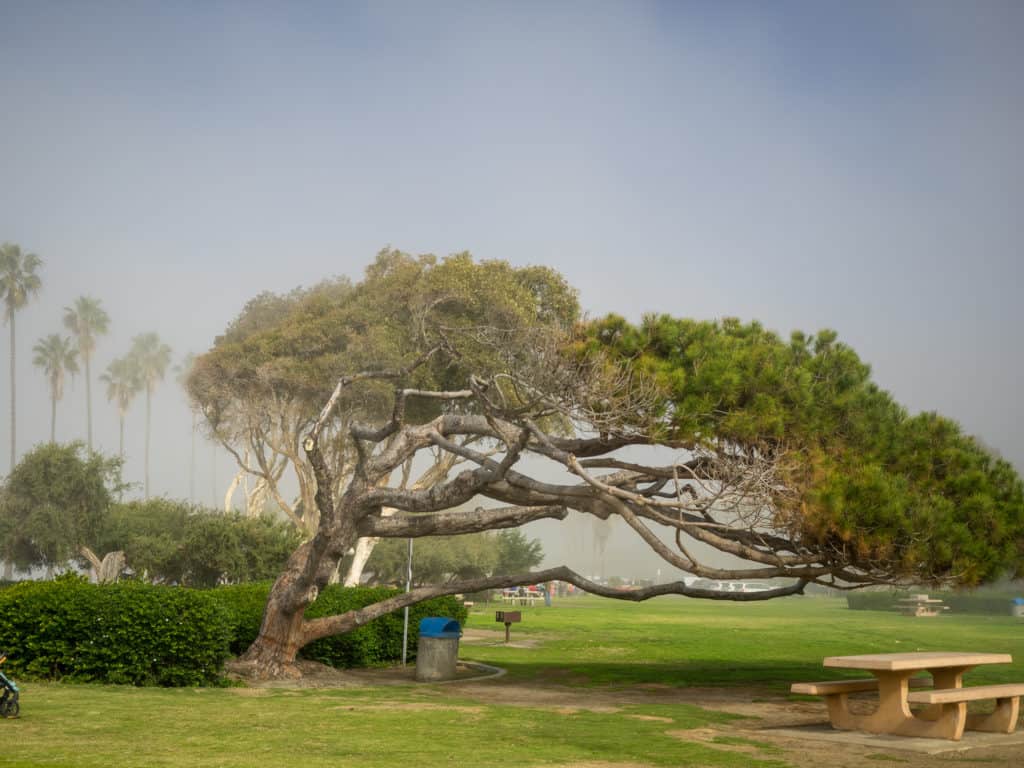 What to Do at Kellogg Park
Kellogg Park has a definite family-friendly vibe. Two large grassy areas on either side of the parking lot offer families and groups space to spread out and set up picnic essentials like portable canopy gazebos or umbrellas, tables, chairs, and grills. Barbecue pits and picnic tables are also available, but visitors need to arrive early for a first-come, first-serve opportunity to snag one. The park is a great place for Frisbee, beach volleyball, and other seaside activities. Slackliners frequently set up between palm trees, making for some great people-watching.
Kids will love the Respect the Ocean themed playground at the south end of the park that has a rubber playground surface system under colorful playground equipment. The sandy playground has a large shade structure at one end over a life-sized bronze statue of a baby gray whale that kids are encouraged to play with. Surrounding benches let parents comfortably keep an eye on the kiddos. Fish ID panels and a relief map of La Jolla Shores Underwater Park & Ecological Reserves provide an opportunity to teach the little ones about the ocean's underwater world.
The long sidewalk running parallel to the beach is a great place for a brisk morning walk, or a romantic evening stroll. The unobstructed views of the ocean from both the park and the beach make this a perfect place to watch the sunset. Lie on the grass under the stars or gather around a blazing beach fire ring; visitors can enjoy the park long after sunset.
Note: La Jolla Shores Beach is under the protection of the San Diego-La Jolla Underwater Park and Ecological Reserve. Visitors cannot remove any marine animals or artifacts from La Jolla Shores Beach, which includes those captivating low-tide sand dollars.
Kellogg Park Essentials
Kellogg Park is open from 4 a.m. to 10 p.m. Parking lot gates close at 10 p.m. Food and non-alcoholic beverages in plastic or recyclable containers or cups are allowed both in the park and on the adjacent beach.
Kellogg Park amenities include a permanent lifeguard station, ADA accessibility, beach wheelchairs (available from the lifeguard station), beach fire rings, picnic areas, a children's playground, a boat launch area, free parking, volleyball facilities, restrooms, showers, and public transportation.
The list of no-nos include glass containers, alcohol, smoking, littering, excessive noise, overnight camping, inflatable jumps, and dogs. (Leashed dogs are permitted before 9 a.m. and after 6 p.m.)
Note: During peak times the parking lot fills up quickly, making parking in the neighborhood a challenge. There is a smaller, second lot a long block away on the north end. Some street parking is also available.
Near Kellogg Park
Avenida de la Playa, one block south of Kellogg Park and on the left has an array of restaurants, cafés, shops, and sports rentals. The Birch Aquarium is up the hill from the park. It features a 70,000 gallon, two-story kelp forest exhibit, 60 tanks of colorful marine life and coral reefs. La Jolla Shores Hotel located at the south end of the park is a convenient place to stay. The La Jolla Shores Marine Room is the La Jolla Shores Hotel's award-winning fine dining restaurant.