The Birch Aquarium has been around since the early 20th century, starting as a small, but public aquarium. Scripps Oceanography founders pledged to always have a public aquarium for showcasing their scientific findings to the general public. Moving from a small boathouse off the Hotel Del Mar to a laboratory at La Jolla Cove in 1905, the Scripps Oceanography association has continued to expand. The constant expansions were made possible by the association's purchase of 170 acres of property at La Jolla Shores in 1907.
Fast forward to 1986; more than ten million dollars was raised to create the Birch Aquarium, with six million coming from Stephen and Mary Birch. September 16, 1992, the Birch Aquarium opened, sitting atop a bluff with picturesque views of La Jolla and the Pacific Ocean. Known as one of the top cultural experiences in San Diego, it is must see by locals and tourists alike. The mission of Birch Aquarium is to " provide ocean science education, to interpret Scripps Institution of Oceanography research, and to promote ocean conservation."
The Hall of Fishes at Birch Aquarium
The Hall of Fishes is an exquisite part of Birch Aquarium, starting with marine life from the Pacific Northwest, along the California coast, to Mexico, and the Caribbean. You can relish in the beauty of sea life with more than sixty habitats. Interactive digital panels give you the opportunity to learn about various sea creatures like the giant Pacific octopus, one of the more intriguing marine animals. Halfway through the journey is a seventy-gallon tank that is bursting with marine animals for you to enjoy.
Birch Aquarium Elasmo Beach Exhibit
The Elasmo Beach exhibit offers the unique experience of viewing La Jolla's well-known leopard sharks and other elasmobranchs species housed in a 13,000 gallon tank. You will learn of their importance to our ocean's well being and why they are so fond of La Jolla shores. For an extra special experience plan a visit on Tuesdays, Thursdays, or Saturdays where at 10:30 A.M. you can watch them in action during their feeding time.
Two Natural Resources Exhibits at Birch Aquarium
Finding natural resources is extremely important to our planet, and the exhibit Boundless Energy showcases the new and innovative ways we can use nature's forces to create energy. You will learn how the sun, wind, and waves can be harnessed into renewable energy. At the Feeling The Heat exhibit, you can see first-hand the challenge our climate is facing. Both exhibits have hands on activities and give you extensive knowledge on how we can positively affect the planet.
Birch Aquarium Coral Displays
The interactive displays at Birch Aquarium are must-sees; the Coral Displays offer insight into the medical possibilities these sea creatures may provide us, from fighting infections to curing cancer. The Southern California Bight is another interactive display that showcases the uniqueness of the distinct California coastline. One of the more intriguing displays is the seahorses, learn about how the males get pregnant and give birth, and visit the baby seahorse nursery.
The Tide Pools at Birch Aquarium
The Tide Pool Display is a staple at Birch Aquarium consisting of three living tide pools where visitors can touch and interact with the marine animals. In this area you will see hermit crabs, sea stars, lobsters, sea cucumbers, and so much more. You'll learn how, despite rapidly changing temperatures, harsh sun, hungry birds, and invasive humans, they find a way to survive.
Birch Aquarium is a one-of-a-kind experience that has drawn in celebrities, politicians, and even presidents. People from all fifty states and a multitude of countries have made their ways to experience this historic San Diego staple. The year-round exhibits will not only leave you in awe, but also well informed. Traveling exhibits that land at the Birch Aquarium are unique and ever-changing. Make your way to Birch Aquarium for a glimpse into California's marine world.
Save on the Birch Aquarium with Go City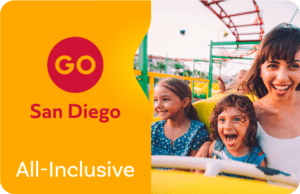 Book the Birch Aquarium
Book online for the best prices. To save an additional 20%, add a second San Diego Attraction to your cart. You will instantly see a 20% savings. Savings are only available online at GoCity.
Buy a Go San Diego Pass
SAVE AN ADDITIONAL 10% OFF! Even if the Go San Diego Pass is already on sale. Extra 10% only good on All-Inclusive Passes
If you are seeing many sites and tours in San Diego, get a Go San Diego Pass. It includes the Birch Aquarium as well as many more. Most buyers save about 35% off the retail price.
General Info
2300 Expedition Way
La Jolla, CA 92037
Phone: (858) 534-3474
Website: aquarium.ucsd.edu