San Diego Waterfront Park is a 12-acre open space park surrounding the San Diego County Administration Center. It sits across North Harbor Drive from sparkling San Diego Bay, and runs from Grape Street to Ash Street. The backside of the park faces Pacific Coast Highway, which separates it from Little Italy. The north gardens take up about one-quarter of the park's area and introduce several plant species into the space that are not usually seen in urban parks. Numerous walkways with intermittent benches wind through the gardens. There are six large civic green lawns, and a long row of reflecting pools with interactive spray fountains. On the Ash Street side of the park, there is a futuristic children's playground. Colorful sculptures are scattered throughout the park.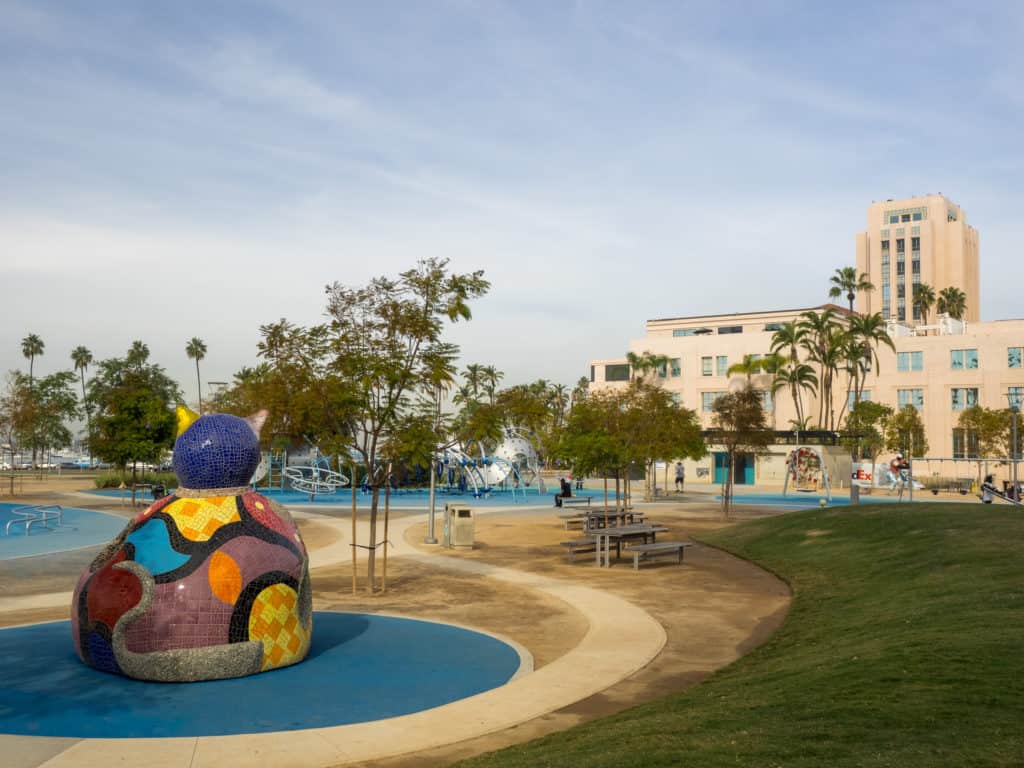 What to Do at the Waterfront Park
San Diego Waterfront Park is an urban expanse of eye candy. Visitors can sit among tranquil gardens, each one offering a different vibe, and enjoy people-watching and the San Diego sunshine. San Diego Bay is visible from anywhere in the park and offers stunning harbor views. Large grassy areas are great for outdoor play and picnicking. Whether relaxing on the lawn or cooling off in the interactive fountains, there is something for everyone in this beautiful city park.
Kids will love the unusual ultra-modern playground equipment on soft surfaces and the Splash Pad water features. Park visitors can use personal recreational nets, portable shade canopies, umbrellas, chairs and tables on the civic lawns, but no grilling is allowed. Green space is available on a first-come, first-served basis unless reserved for permit-use. Guests can bike paths throughout the park on two-wheel street and tandem bikes. There are secure bike racks at the corner of Ash Street and North Harbor Drive.
The park hosts ongoing community activities like Summer Movies in the Park, Trolley Dances, Waterfront Pumpkin Patch, Sounds of Summer, All Level Yoga, and Drum Circle. Guests can grab the perfect patch of grass for Big Bay Boom – San Diego's Fourth of July fireworks show over the Bay. There are also plenty of weddings and other small private events in the park.
Possibly Downtown San Diego's most happening park, Waterfront Park has a packed year-round public event schedule. There are adult and family festivals like CRSSD Music Festival, the annual Mac N' Cheese Festival, Wacky Wonky Walk & Kids' Festival, Hullabaloo on the Waterfront, and Brew & Food Festival. Fundraising events like Lemon Aid, Mac & Cheese Fest, One Love Movement, and BeerX San Diego benefit various San Diego organizations.
San Diego Waterfront Park Essentials
San Diego Waterfront Park is open to the public from 6 a.m. to 10 p.m. daily. Waterfront reflecting pools are open from 10:30 a.m. to 7 p.m. Exceptions are Mondays, when both are open noon to 10 p.m. The Waterfront Park office is open 8 a.m. to 6 p.m.
Waterfront Park has restroom facilities. Visitors with non-potty trained children can purchase swim diapers from the office. There is an ATM inside the San Diego County Credit Union on the Ash Street end of the administration building. Visitors should check with the Waterfront Park office or website for permit-use rules.
There are a number of general Waterfront Park rules. Children under 12 must be supervised. Dogs must be leashed, and dog owners must pick up waste. Swim diapers must be worn in the reflecting pools for all non-potty trained children. Beach balls are the only toys allowed in the reflecting pools. Clothing must be worn in the fountains/reflecting pools.
Park no-nos include no smoking, barbecuing, disturbing the vegetation, or sleeping/camping. Alcohol, glass containers, and luggage carriers are not allowed. No bikes are allowed on playground surfaces. No skateboards, scooters, rollerblades, roller skates, stunt bikes, or cleated shoes are permitted anywhere in the park. No using sidewalk chalk on surfaces, soliciting for any reason, or feeding wildlife (including pigeons and seagulls).
Splash Pad and reflecting pool no-nos include no eating; using bubbles or other soapy products; or putting dirt, grass, or sticks in the fountains/reflecting pools. No animals other than service animals actively guiding visitors are allowed in the pools. Disturbing or disrupting fountain jets is not allowed.
There is parking in the park's underground parking structure, all along the waterfront side of the park, and on the park's north end in a lot across Grape Street. There are also several nearby parking lots scattered about Little Italy and Core-Columbia.
Near the Waterfront Park
Waterfront Park is conveniently located across the street from San Diego Bay. Anthony's Fish Grotto and Fishette is a favorite restaurant among locals. It has outdoor seating over the water, and is at the corner of Ash Street and North Harbor Drive. The Maritime Museum of San Diego, a popular entertainment venue, is also directly across the street from the park. Farther south along the boardwalk are the cruise ship terminal, Broadway Pier (with a ferry to Coronado Island), the USS Midway Museum, Tuna Harbor Park, and Seaport Village. Little Italy is across Pacific Coast Highway on the park's opposite side. The lively neighborhood has dozens of eateries, shops, art galleries, and boutique and great value hotels.