Congress Café is a casual eatery in Old Town San Diego that specializes in breakfasts and great coffee. They opened their doors in 2010 with a pithy motto: "We wake up Old Town with the best coffee in town," and they've managed to live up to it. This comfortable neighborhood café serves up a formidable coffee selection, all-day breakfasts, and a full lunch menu. An off-the-beaten-path selection in the Old Town tourist hub, you'll find this neighborhood favorite two blocks from the train station on Congress Street. Owners Karen and Andres Ortiz are world travelers and busy entrepreneurs with multiple ventures on both sides of the border, so breakfast may be served with great conversation too, if you're into it.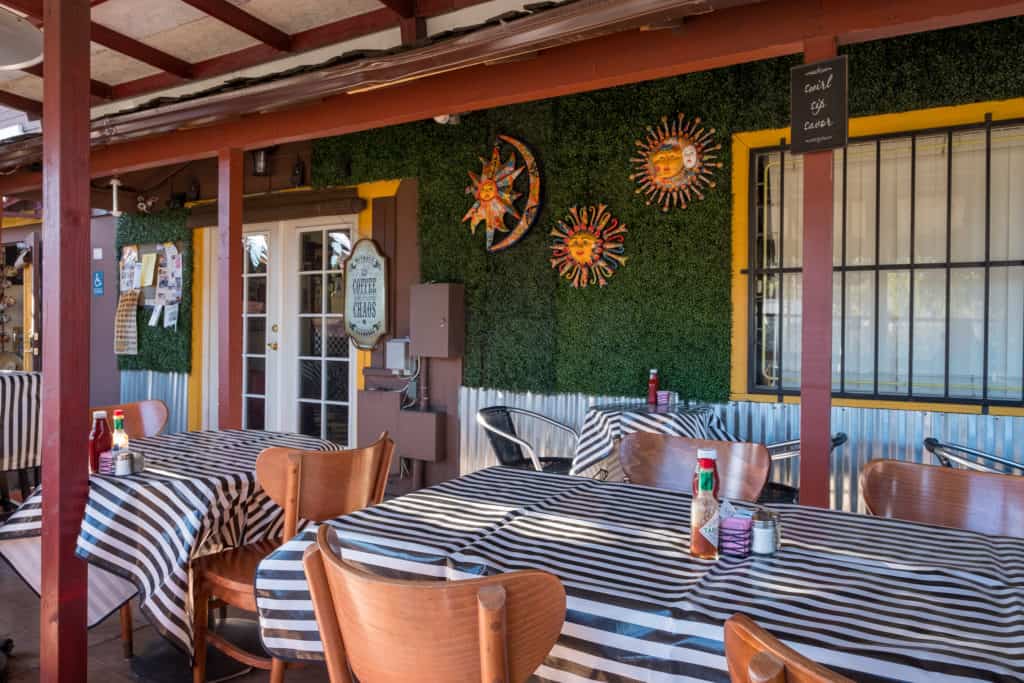 Congress Café Ambiance
Congress Café sits amid lots of little out-of-the-way shops and restaurants all along Congress Street. The café is SoCal laid-back with a retro vibe. Classic black and white checkerboard flooring, bistro tables with black and white striped tablecloths, and cream walls with bold red trim set the stage. Walls are adorned with black and white signs that have catchy sayings like, "Coffee keeps me busy until it's acceptable to drink wine" and "I will start working when my coffee does."
Favorite menu items are artfully photographed, framed, and hanging near the service counter. A colorful painted chalkboard menu wraps the upper walls beside and behind the counter. And a mural of a street market scene adorns another wall. The white drop ceiling sports a fan to keep the room breezy and comfy.
Outside, a shady street-facing outdoor deck is a perfect spot to enjoy a hearty breakfast, work on your computer over a cup of coffee, or people watch. Lots of tables with black and white striped tablecloths fill the space. The half-corrugated metal, half-faux grass back wall is adorned with colorful artisan suns and moons.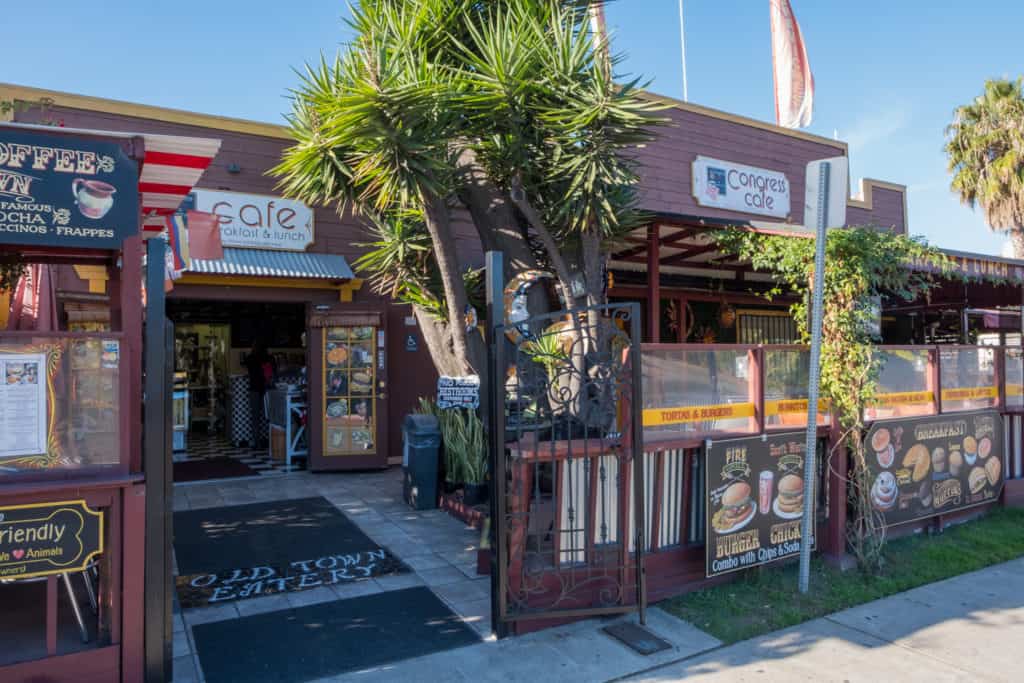 Congress Café Food
Congress Café specializes in breakfast and brunch. Coffee lovers will rejoice at their extensive menu of espresso beverages, signature coffee drinks, and frappes. Their "world famous" Mexican Spiced Mocha is a must. Fresh fruit smoothies are also available.
Since breakfast is king at Congress Café, diners would be remiss in not trying the huevos rancheros with three corn tortillas, two over-medium eggs, two bacon strips, refried beans, and homemade salsa. It's a crowd pleaser. Wherever owner, Andres Ortiz goes out to breakfast he orders huevos rancheros to compare with his own. He's always on the lookout for an ever so slight difference he may discover to bring back and make his even better.
The menu is packed with breakfast items to please any diner from vegetarians and light eaters to picky kids and big eaters. There are breakfast sandwiches, hearty traditional "Farmers" breakfasts, traditional Mexican breakfasts, and some à la carte items.
For lunch, expect a variety of SoCal favorites from homemade Mexican style soup to cool acai bowls. There are burgers, sandwiches, burritos, tacos, and fresh wraps and salads. The carne asada quesadilla on a flour tortilla with melted Jack cheddar cheese, refried beans, pico de gallo, and homemade salsa on the side is a local favorite.
Congress Café also serves bottled beers, mimosas, bloody marys, and margaritas, plus other beverages like iced teas and lemonade.
Congress Café Details
Congress Café offers both street and lot parking, a bonus in parking starved San Diego. There is also bike parking available, along with free Wi-Fi, and a television. The family-friendly café takes reservations, and offers delivery and take-out. There is an ATM in the restaurant and they also take credit cards.
Some restaurants say they're pet-friendly, and then there's Congress Café. The owners rescue dogs and run a shelter, so you know your four-legged friend is more than welcome here. In fact, on their Congress Café Facebook page they wrote of shaggy patrons, "We love our regulars, and their owners."
Inquire about their Aha Baja Wine Tours from San Diego to Valle de Guadalupe, Mexico, and their lowland, midland, and highland Tequila Trail tours to Jalisco, Mexico. And if you're into tequila, they have their own brand – Pantera, a pink tequila with a panther label. If that's not enough, the couple opened Anka B&B just down the street from the café.
Congress Café Neighborhood
Old Town San Diego holds a special place in the hearts of San Diegans, since it is the birthplace of America's Finest City. For nine thousand years, it was home to the Kumeyaay Indians before Father Junipero Serra and the Spanish Missions settled here, in what was then a Mexican pueblo. Old Town San Diego State Historic Park, within walking distance of the café, is the best and most entertaining place to learn about San Diego's historic roots in Native, Latin, and European cultures. The neighborhood is also home to over 100 specialty stores, 30 restaurants, 25 historic sites and buildings, and 12 art galleries. Once you've fueled up at Congress Café, you'll have plenty of exploring to do.