Have you ever wondered how mass extinction changed the world, or watched scavenger beetles devour the flesh off an animal skeleton? Did you know San Diego imports 80-90% of its water? You can get answers to these and other questions and learn much more at the fascinating San Diego Natural History Museum. Located in beautiful Balboa Park.
Fossil Mysteries is one of the permanent exhibitions at the San Diego Natural History Museum. The interactive exhibition is all about exploring and touching. Visitors will be able to ponder the big questions of science in the areas of evolution, extinction, ecology, and Earth processes. This part of the museum is a feast for the senses, offering murals and dioramas, models, and fossils. Learn how prehistoric animals evolved, examine and identify microfossils, or build an animal. You'll never see the world the same way again.
Skulls is another permanent exhibition at the California Natural History Museum. Visitors get a rare glimpse at 200 of the wildest skulls from around the world. Visitors will be amazed by the astonishing rhinoceros skull and marvel at the skull of California's tiny Western Black-headed snake. In fact, you'll get to see the skulls of all 57 San Diego lizards and snakes. You'll even learn about the different bones in your own skull and see how they compare to other animal skulls.
Water: A California Story is an important permanent exhibition at the San Diego Natural History Museum. Here you'll learn all about San Diego's water supply, how water is used in San Diego, and how conservation efforts are needed to maintain the future water supply of the area. Visitors will learn about the region's propensity for drought, how drought cycles and wildfires affect climate change, and the effects of climate change on San Diego's water supply. San Diegan's use 60% of the water supply for residential use; in contrast, Californian's in general use 39% residentially, and the rest of the world uses 8% residentially. Clearly, there are ways to help conserve.
Visiting exhibitions to the San Diego Natural History Museum are diverse, fascinating, and fun. Visitors have explored the worlds of coffee, chocolate, mastodons and mammoths of the ice age, artifacts from the Titanic, and so much more over the years. Recent exhibitions include an exploration of the natural history of Southern California and the hidden world of the Maya. Check the museum's website for a calendar of current exhibitions.
The San Diego Society of Natural History houses its Biodiversity Research Center of the Californias in the San Deigo Natural History Museum. Scientists have been engaged in this field work since 1874. Museum scientists are actively involved in research in the areas of birds and mammals, botany, herpetology, marine invertebrates, mineralogy, and paleontology, and are regularly published. Visitors can see how scientists prepare, preserve, and study their 7.3 million specimens in the Research Demonstration Lab.
Lively museum events include Wacky Science Sundays with Ms. Fizzle, Family Days, Nature and Me Story Time, and Night at the Museum. There are also lectures, camps, and San Diego guided nature walks. This historic landmark is also a perfect venue for weddings or other private events. Spend some time exploring the region's natural history the next time you're in San Diego.
Save on the Natural History Museum with Go City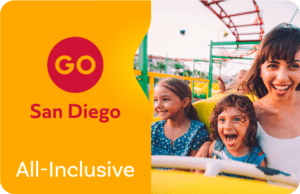 Book The Natural History Museum
Book online for the best prices. To save an additional 20%, add a second San Diego Attraction to your cart. You will instantly see a 20% savings. Savings are only available online at GoCity.
Buy a Go San Diego Pass
SAVE AN ADDITIONAL 10% OFF! Even if the Go San Diego Pass is already on sale. Extra 10% only good on All-Inclusive Passes
If you are seeing many sites and tours in San Diego, get a Go San Diego Pass. It includes the Natural History Museum as well as many more. Most buyers save about 35% off the retail price.
General Info
1788 El Prado, San Diego, CA 92101
Phone: (619) 232-3821
Website: sdnhm.org