Harbor Island Park is a narrow, mile-long stretch of bayfront grassy spaces with a long concrete boardwalk on the west end of Harbor Island. Visitors can enjoy panoramic views of the bay, North Island, Shelter Island, Point Loma, Coronado Bridge, and Downtown. Unlike Shelter Island Park, it does not have a sandy shoreline; the island's harbor coastline is reinforced with hefty boulders. Guests can enjoy tree-lined pathways, grassy areas, and park benches with expansive views of bay activities. This is a great location for a few quiet reflective moments watching boats pass by, or to enjoy a family picnic while absorbing sublime views.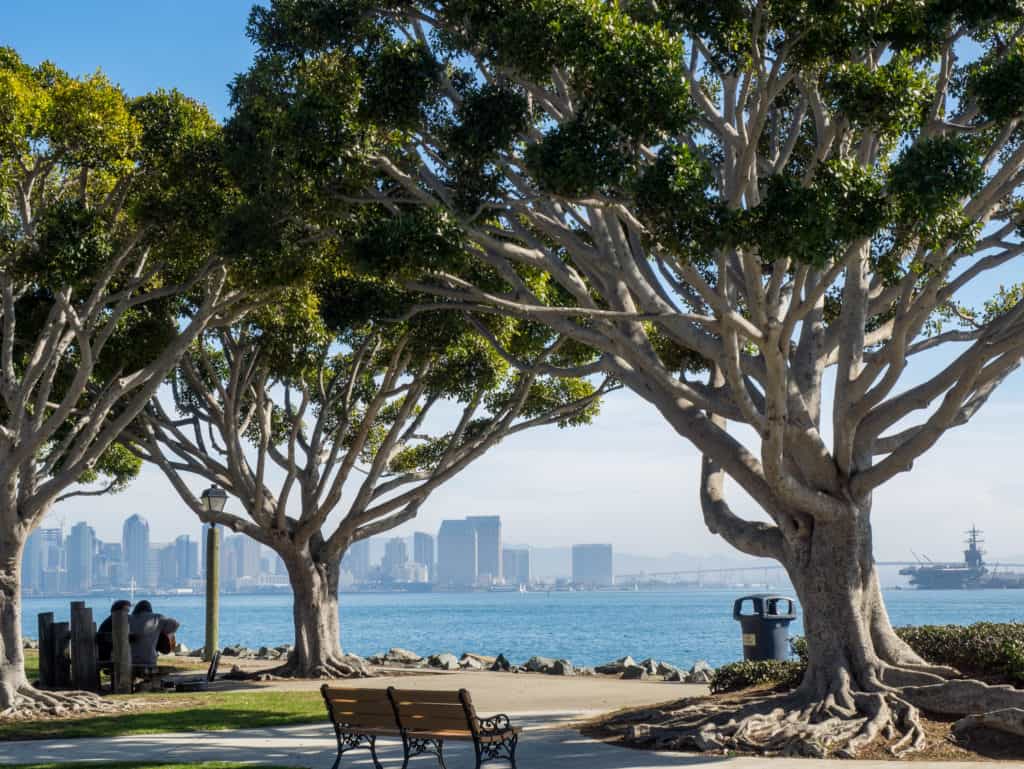 What to Do at Harbor Island Park
When visiting Harbor Island Park guests can enjoy a nice stroll or an exhilarating jog along the boardwalk that runs along the island's coastline. The ambitious, or those on bikes, can cross over West Harbor Island Drive and follow the sidewalk to North Harbor drive, which connects to Downtown. Several park benches run along Harbor Island walking paths facing the bay – a great place for people-watching, quiet reflection, or intimate conversation.
Visitors can also fish at Harbor Island Park from among the boulders, and picnic on the grassy lawns. People frequently come here to practice yoga or tai chi with the calming water as their backdrop. Others paint or photograph the various land and cityscapes, fly kites, and watch the sunset. Harbor Island Park is known for its quiet and sedate ambiance, drawing in visitors who appreciate simple beauty and a calm relaxing vibe.
Note: Harbor Island is a favorite spot to watch Big Bay Boom – San Diego's Fourth of July fireworks show over San Diego Bay. During December, it's a great place to view the annual Parade of Lights where local yachts and boats cruise along the bay decked out in Christmas lights. Visitors will be able to see from the Point (Point Loma) to the Embarcadero from this prime waterfront park.
Harbor Island Park Essentials
Harbor Island Park is open daily from 6:30 a.m. to 10:00 p.m. There is a free parking lot that is easily accessible across West Harbor Island Drive. No alcohol or glass bottles are permitted in the park. Skateboards and bikes are not allowed on the boardwalk. Dogs must be leashed. Restrooms are available in the park. Harbor Island Park allows weddings and other permit-use events.
Near the Harbor Island Park
Harbor Island Park is directly across from the San Diego Airport, a great place for visitors to relax before boarding their flights home. The Hilton San Diego Airport/Harbor Island Hotel, and the Sheraton San Diego Hotel and Marina are popular hotels right next to the park. Easy access to the airport, exceptional amenities, and views of the marina make these two hotels top choices when visiting San Diego.
There is a wide range of dining options on the island, Tom Ham's Lighthouse restaurant on the northern end serves up delicious seafood with extraordinary views of the bay and Downtown skyline. On the southern end of the island is Island Prime, a sleek and modern steakhouse with skyline views. Sailors and anglers will appreciate the island's charter fishing boats and yachts, and marina services. Harbor Island Park is a few miles from Downtown San Diego, which offers a wide range of museums, restaurants, boutiques, art galleries, and other cultural attractions, as well as a bustling nightlife.