One of the coolest things you can do on a visit to San Diego is to take one of the GoCar Tours. This is hands down one of the most unique ideas in travel. GoCars are storytelling cars that follow specific GPS-guided routes and talk about the scenic overlooks, attractions, and great places to stop along the way. In San Diego there are four GoCar Tours to choose from. With nearly perfect weather year-round, there is no better place than San Diego for a GoCar Tour.
The shortest and least expensive of the GoCar tours is the GoCar San Diego Downtown and Gaslamp Quarter Tour. This trip includes the Gaslamp Quarter, Petco Park, Horton Plaza, the Bankers Hill neighborhood, the USS Midway, Little Italy, and Seaport Village. The tour is an hour long so you have to keep moving to get it all in in such a short time, but it gives you an excellent overview of the area with lots of great information. You can note places you may want to spend some time exploring further, like the USS Midway, at a later time.
The two-hour option is the GoCar San Diego Downtown, Park, Zoo, and Old Town Tour. This tour includes Balboa Park and the San Diego Zoo, Petco Park, the Gaslamp Quarter, and Seaport Village The tour also winds through neighborhoods highlighting interesting spots you'd never get to experience from a tour bus. That's one of the reasons the GoCar slogan is – The Cure for the Common Tour.
GoCar San Diego offers a three-hour tour that explores Point Loma and the beaches of San Diego. This tour goes to Shelter Island, up to Point Loma, down to Ocean Shore, through Ocean Beach, and back to Little Italy. There are many attractions, stunning views, and interesting places on this tour like Balboa Park, Old Town, the San Diego Bay, Cabrillo National Monument, Seaport Village, Point Loma Lighthouse, and the Tide Pools. There are so many points of interest on this exciting tour that you'll want to make a list of places to visit again.
The longest tour is the GoCar San Diego Full Day Tour. This 5-hour GPS-guided tour includes Cabrillo National Monument, the US Navy installations, downtown, the Gaslamp Quarter, Balboa Park and the zoo, Hillcrest, and Old Town. The tour visits everything included in the other tours, plus Whale Overlook, the Sports Arena, Submarine Squadron 11, Liberty Station, Sunset Cliffs, and Pacific Beach. Take this tour on your first full day in San Diego and you won't be at a loss for places to visit for the rest of your stay. GoCars San Diego is absolutely an adventure you won't want to miss. Zip around the city listening to engaging stories of all the most interesting places to visit and get a unique perspective of San Diego that you couldn't get any other way.
Save on the GoCar Tour with Go City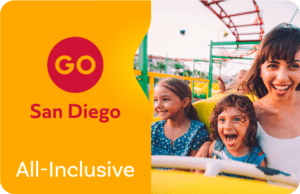 Book a Go Car Tour
Book online for the best prices. To save an additional 20%, add a second San Diego Attraction to your cart. You will instantly see a 20% savings. Savings are only available online at GoCity.
Buy a Go San Diego Pass
SAVE AN ADDITIONAL 10% OFF! Even if the Go San Diego Pass is already on sale. Extra 10% only good on All-Inclusive Passes
If you are seeing many sites and tours in San Diego, get a Go San Diego Pass. It includes the GoCar Tour as well as many more. Most buyers save about 35% off the retail price.
General Info
2100 Kettner Blvd
San Diego, CA 92101
Phone: (800) 914-6227
Website: gocartours.com/our-tour-cities/san-diego