For 22 years locals and tourists swarmed Corvette Diner in Hillcrest for great food and good times. These days you'll find the iconic retro diner has relocated to Liberty Station in Point Loma where it has grown to double its size. Diners will experience a sensory immersion from the delightful aromas of classic fifties cooking and the tantalizing tastes of a juicy burger to the sounds of rock 'n' roll oldies the DJ spins and the nostalgic eye candy calling out from every room. Add in a singing staff outfitted in poodle skirts and bouffant hairstyles and a 5,500-square-foot arcade, and you have a recipe for the perfect family-fun dining experience.
Corvette Diner Ambiance
If you're looking for a big dose of nostalgia, you've come to the right place. Corvette Diner provides a seriously fun escape to the 1950s complete with flamingo pink décor. Walls are adorned with equal parts rock 'n' roll and Corvette memorabilia, complemented by 50s era brand logos like Coca-Cola, Firestone, and Lucky Lager. Plus, it has all the classic restaurant design elements of the era like vinyl booths, neon signs, black and white checkerboard accents, Hollywood lights, chrome chairs, turquoise tabletops, and an authentic soda fountain. There's even a classic Corvette just inside the entrance.
Two other dining spaces off the restaurant's main dining room are a gleaming white, dining car themed room with classic black and white checkered accents and booths with video screen "windows", and a larger blacklight themed room with black walls sporting colorful 1960s blacklight posters. There are also two private dining room options for large groups and parties – the Corvette Clubhouse and the Galaxy Grill Room.
Their Gamers Garage Arcade is a huge hit with both the kids and their parents, who may remember some of these original arcade games from their own youth like air hockey and Skee-ball. And, of course, there's a fully stocked kitsch "Prizes" counter.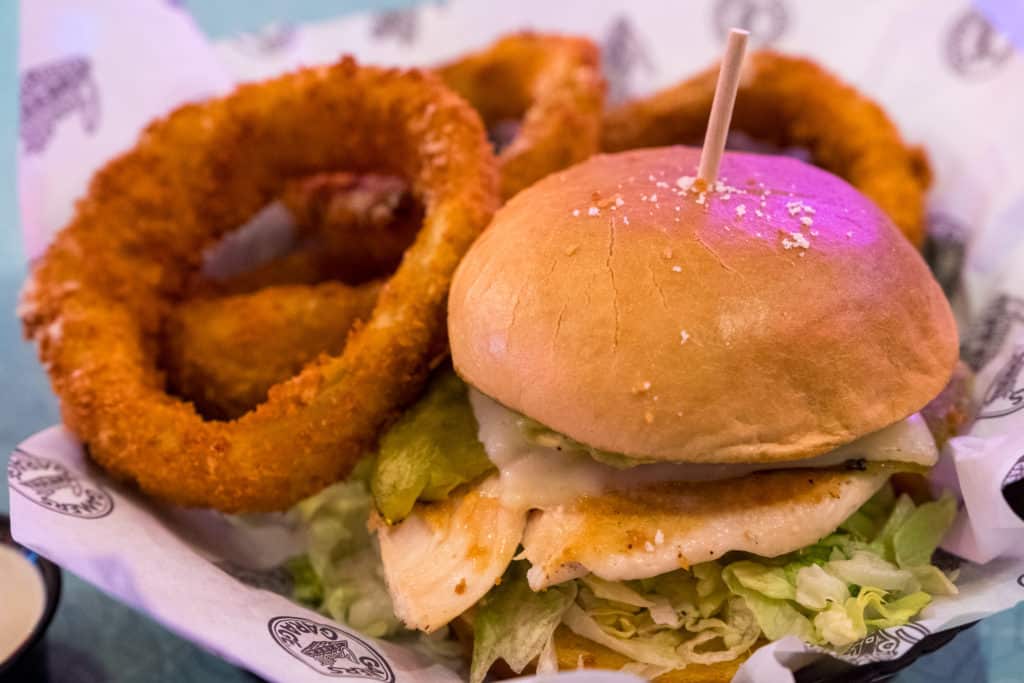 Corvette Diner Food
The throw-back All-American menu at Corvette Diner is as fun as the ambiance. The requisite burgers, fries, and shakes take center stage, but there's plenty more to choose from.
Appetizers are so generous, a light eater could make a meal of them. A favorite is Hula Hoop Onion Rings made fresh daily from sweet Spanish onions and house breaded. The Chili Cheeze Waffle Fries are so good that those not ordering them will be stealing them from your plate. They're criss-cross fries topped with Corvette Diner's famous stingray chili and melted cheddar topped with green onions.
Corvette Diner serves close to a dozen kinds of hamburgers, but why not boldly go for the Rory? This half-pound Angus beef burger is topped with peanut butter, bacon, lettuce and mayo. The best part is that if you don't like it, it comes with a money-back guarantee. (That's how certain they are you'll love it.) Dante's Inferno is another popular burger choice with jalapeño mayo, pepper jack cheese, lettuce, tomato, onion, and jalapeños.
You'll also find 16 kinds of sandwiches on the menu. A favorite is the California Dreamin' chicken sandwich with guacamole, green chilies, lettuce, tomato, onion, pepper jack cheese, and natural cut fries.
Those really searching for nostalgic eats should try the Chicken Fried Steak platter with tenderized lean beef fried crisp and served with steamed veggies, garlic mashed potatoes, Texas-style gravy, and a honey wheat roll. Another winner among the platters is the Meat Loaf. This San Diego favorite has over 15 ingredients and is served with the same sides.
With 25 kinds of handmade malts and shakes, there's a flavor for every palate. They also come in kids' size. Three are made from non-fat yogurt. If you've saved room for dessert, there are scrumptious offerings. If not, grab a large cotton candy to go!
Corvette Diner Details
Corvette Diner is a lunch and dinner restaurant that is wheelchair accessible. Dress is casual, Wi-Fi is complimentary, and bike parking is available. The restaurant caters to fun-loving customers of any age.
There is abundant free parking at Corvette Diner. If you're using GPS to get here, set it for the parking lot behind the restaurant to save yourself some driving.
The restaurant is open every day from late morning to 9 p.m. during the week, and 11 p.m. on Fridays and Saturdays. For those who are sensitive to sensory overload, Corvette Diner may be too loud and too touristy. There is no outdoor seating here. Consequently, it is not a dog-friendly establishment.
There are tons of promotions to take advantage of including Dine and Play packages Monday through Thursday, and Parent/Child or Adult/Adult Tuesday Date Nights, just check their website.
Corvette Diner has a gluten-free menu, and a full bar.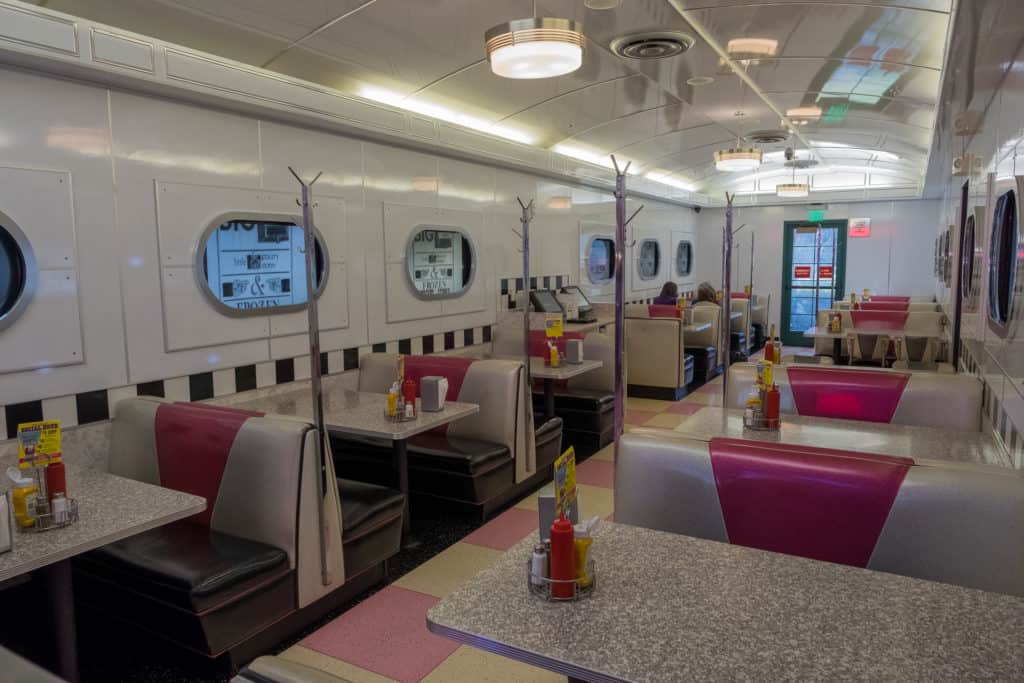 Corvette Diner Neighborhood
Corvette Diner's immediate neighborhood is Liberty Station, which is like a neighborhood within the neighborhood of larger Point Loma. The 361-acre bayside village is at the north end of the Point Loma peninsula on the former grounds of the U.S. Naval Training Center.
You'll find a mixed use neighborhood here, including the Liberty Public Market, numerous galleries and museums, a luxury movie theater, performing arts spaces, and lots of restaurants and retail shops. The Loma Club historic golf course is on one side of the diner and San Diego Bay and Liberty Station NTC Park are on the other. Opportunities for enjoying the cultural and natural sides of San Diego are boundless at Liberty Station.
While you're in Point Loma, other neighborhood highlights include Harbor Island and Shelter Island on the San Diego Bay side of the peninsula. Cabrillo National Monument, Point Loma Tidepools, and Point Loma Lighthouse are on the southern tip. Sunset Cliffs Natural Park – a top place to watch the sunset – and the quirky Ocean Beach community, better known as OB, are on the Pacific side.