You're beachside in a casual neighborhood restaurant sipping Cubano Mojitos, watching the last of the sun dip into the Pacific Ocean, and hoping to finally see the elusive green flash for yourself. Lively conversation buzzes around you, while families, lovers, skateboarders, and surfers pass by on the boardwalk. The server sets a plateful of aromatic lobster tacos in front of you, and you order another mojito. If this sounds like your perfect summer sunset moment, you'll want to go to World Famous in Pacific Beach for classic California coastal cuisine in an oceanfront setting.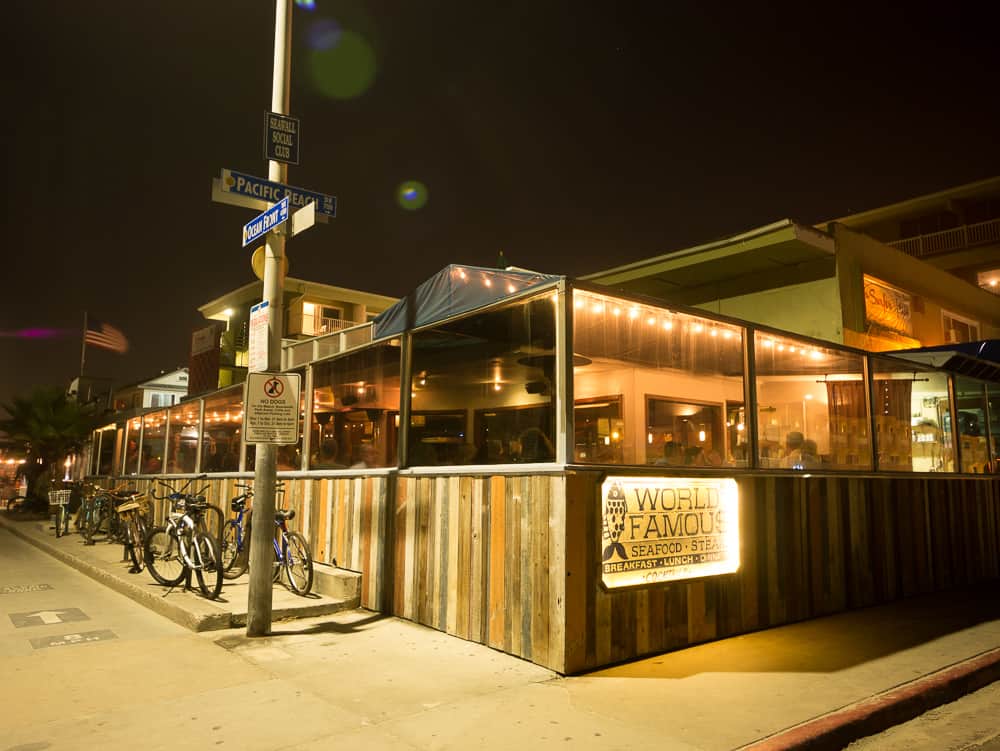 World Famous Ambiance
World Famous, located in front of The Surfer Beach Hotel, is right on the boardwalk at Pacific Beach Drive off Mission Boulevard. Don't let the unassuming wood-plank exterior fool you, the nautical themed restaurant offers some of the best patio seating in Pacific Beach for sunsets, a coveted full bar, and an exuberant dining room. The oceanfront patio with dark wood tables and wood slat chairs is drenched in sunlight; the dining room offers the comfort of cushy booths and padded table seating. A row of chalkboards listing wines, local beers, happy hour specials, and appetizers hang above the long bar. The casual, beachy ambiance is the perfect home to a menu brimming with seafood.
World Famous Food
World Famous serves contemporary California costal cuisine specializing in seafood with a few hand-cut meat dishes. Start your beach day off right with Maine Lobster Benedict – butter poached lobster tail with soft boiled eggs, asparagus spears, and lemon hollandaise over grilled focaccia and served with potatoes. Satisfy the kids' sweet tooth with Epic Berry French Toast – griddled focaccia bread with wild berry sauce and whipped cream. Nothing says lunch like seafood entrées from World Famous. Try crab cake sliders, World Famous lobster salad, or beer batter fish and chips.
The restaurant takes it up a notch at dinner with sophisticated and interesting seafood, pasta, and beef entrées. Try the popular World Famous Lobster Bisque, or savor the slow braised prime rib with grilled vegetables and garlic potatoes. Not in the mood for all that fuss? Stick with the casual and lighter bar menu where the kids will be satisfied too. Check out their selection of local beers. World Famous also offers holiday brunches and happily helps you plan and host rehearsal dinners, baby showers, weddings, or other important life events.
World Famous Details
World Famous doesn't specifically cater to children, but they love families, so expect to see a mix of families, couples, and singles here and something on the menu for everyone. Enjoy Happy Hour Monday through Thursday all evening. You'll want to arrive early for $1.75 shrimp tacos on Taco Tuesday's, or $2.25 lobster tacos on Lobster Taco Wednesdays; there is often a line out the door. Take it as a sign you're in the right place; it's always best to eat at restaurants the locals favor. They have some of the most generous hours on the beach from early morning until late at night. They take reservations and offer valet parking; there is also a place to park bicycles if you want to stop by while you're cruising the boardwalk.
Tip: The Taco Tuesday and Lobster Taco Wednesday prices are valid only if you also purchase a drink. Non-alcoholic counts.
World Famous Neighborhood
The prime beachfront location gives diners easy access to the Ocean Front boardwalk and the beach. Going to the right on the boardwalk, you'll pass a plethora of interesting shops and quickly reach the iconic Crystal Pier. Going to the left on Ocean Walk will take you past several gorgeous beachfront homes and eventually get you to historic Belmont Park. If you walk a block along Pacific Beach Drive to Mission Boulevard, you'll see the Catamaran Resort across the boulevard to your right. On the other side of the resort is Mission Bay, a completely different experience from the ocean. You'll find all kinds of water sports rentals at the bay. Straddling the seawall in front of World Famous, however, may be the most enjoyable of all – a view of the Pacific Ocean on one side and epic people watching on the other.