Shorehouse Kitchen is a popular breakfast and lunch restaurant located roughly a half mile from the iconic La Jolla Shores. This beach house-style eatery is a neighborhood favorite due to its sunny and breezy atmosphere and fresh, locally sourced menus, including a specialized doggie menu. Their emphasis on quality ingredients and community togetherness is what really sets them apart from their competition. Most of their ingredients are delivered fresh daily from local businesses and much of their menu is made in-house fresh each day. It's this intense attention to detail and excellent customer service that keep this quaint corner café packed on a regular basis.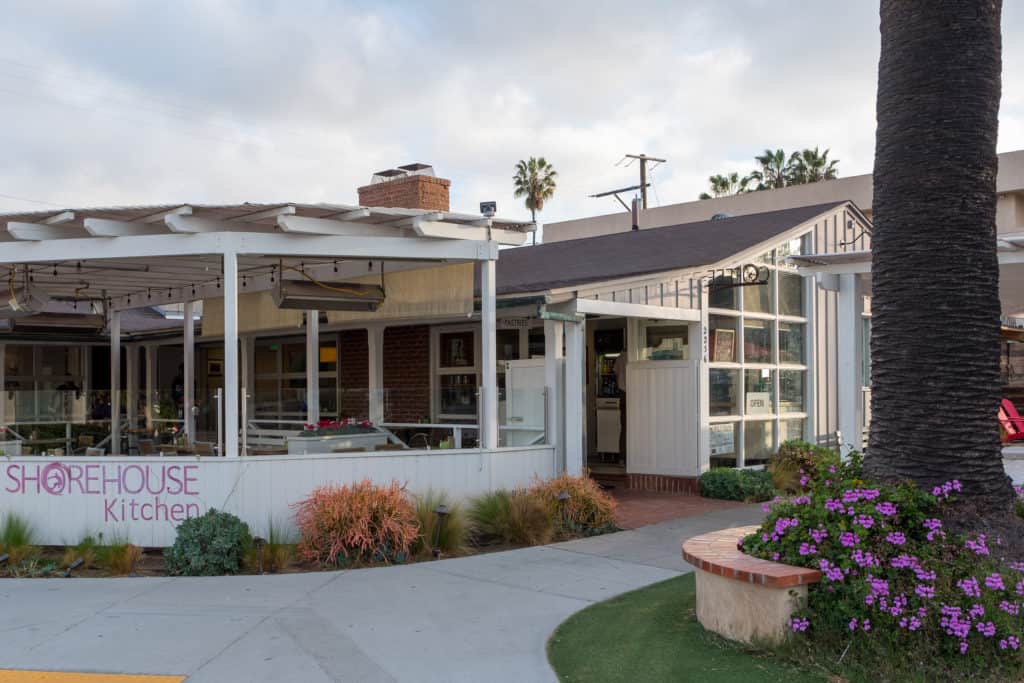 Shorehouse Kitchen Ambiance
The first thing that catches your eye at the Shorehouse Kitchen is its expansive front waiting area, a long covered patio with brick flooring surrounded by faux-grass for the pups. Various white and red painted wood tables are situated under large umbrellas shading guests from the sun while they wait for their tables or to-go orders. A few dog houses are scattered about as well, so even furry friends stay cool while they wait. Just across the sidewalk from the outdoor waiting area, you'll get a clear view of the restaurant's charming, yet expansive, outdoor patio bathed in sunshine and kissed by the ocean breeze.
Giant picture windows surrounding the patio allow an easy transition from outdoors to indoors where beautiful natural light highlights every feature from the delightful, antique condiment and coffee stations stacked with wood logs to the lovely fireplace. The restaurant offers both an abundance of space with its soaring ceilings and an extraordinary coziness with its eclectic seating spaces. Two tops, four tops, cushioned chairs, wicker chairs, hardwood chairs, half booths, full booths, two-person booths – they have it all, a chaotic yet beautiful blend that just makes sense. Its combination of brick and paneled walls adorned with incredible beach, nature, and surf life photography only adds to its warmth and charm.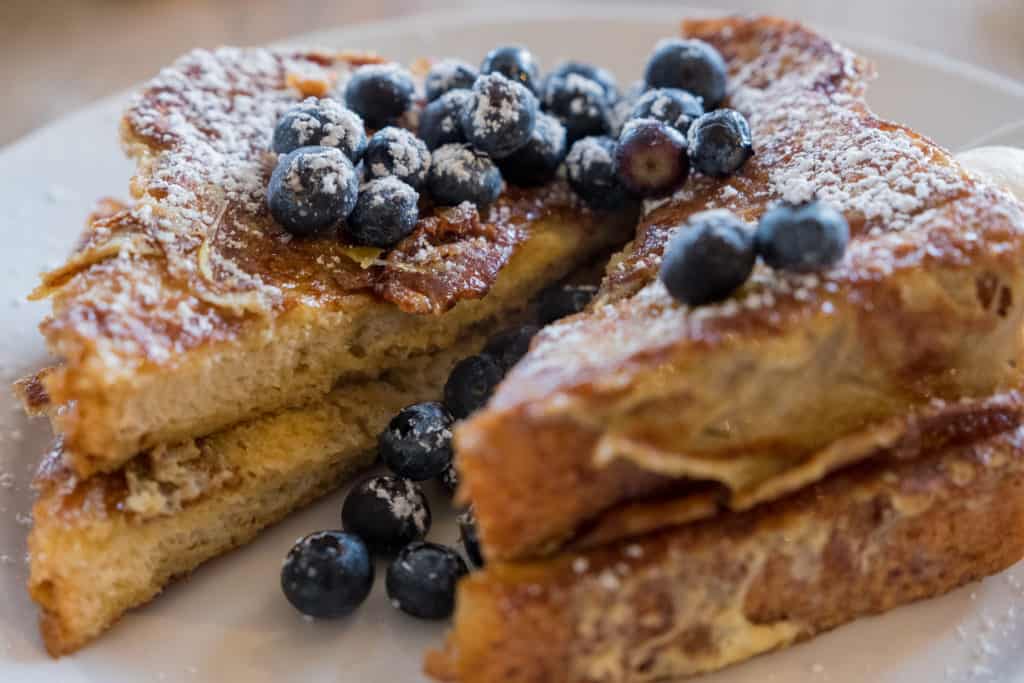 Shorehouse Kitchen Food
Shorehouse Kitchen offers an all-day breakfast menu that showcases their dedication to utilizing only the freshest ingredients from coffees to desserts. Their espresso and coffee are ground onsite each day. The espresso is a five bean blend from local company, Calabria Coffee Roaster of San Diego. This coffee purveyor also created Shorehouse Kitchen's signature coffee blend using a mixture of Central American and African coffee beans. A cold smooth cold brew of Kyoto coffee is also made in-house each day.
They make freshly squeezed orange juice from Valencia oranges each morning, use only free-range-veggie-fed brown eggs from Eben-Haezer Poultry Ranch, and top all their griddle delights with 100% pure Vermont maple syrup. All of their breads are delivered fresh by CIE Bakery of San Diego, and their water is purified using reverse osmosis.
Shorehouse offers an array of egg-focused classics such as omelets and benedicts as well as house specialties. A popular choice is their Maple Fried Chicken Breakfast Sandwich made with all-natural chicken breast and topped with a sunny-side up farm egg, honey cured bacon, aged white cheddar, baby arugula, maple Dijon aioli, and served on a brioche bun. Shorehouse also features an excellent selection of sweet griddle treats such as buttermilk pancakes, caramelized Tahitian vanilla bean French toast, and a salted caramel waffle.
An American-style menu with a modern twist adds to the fun during the lunch hour, offering visitors a selection of appetizers, soups, salads, sandwiches, and house favorites like Prime Steak-Frites and Wild Alaskan Cod and Chips. During the lunch hour their signature burger – the Shorehouse Cheeseburger – is a popular choice. This Angus ground beef patty topped with aged white cheddar, caramelized onions, lettuce, tomatoes, pickles, and 100 island dressing can satisfy any appetite. To wash all their delicious food down they provide a variety of soda, coffee, tea, wine, and beer.
GSD Tip: All of their salads can be turned into wraps if requested.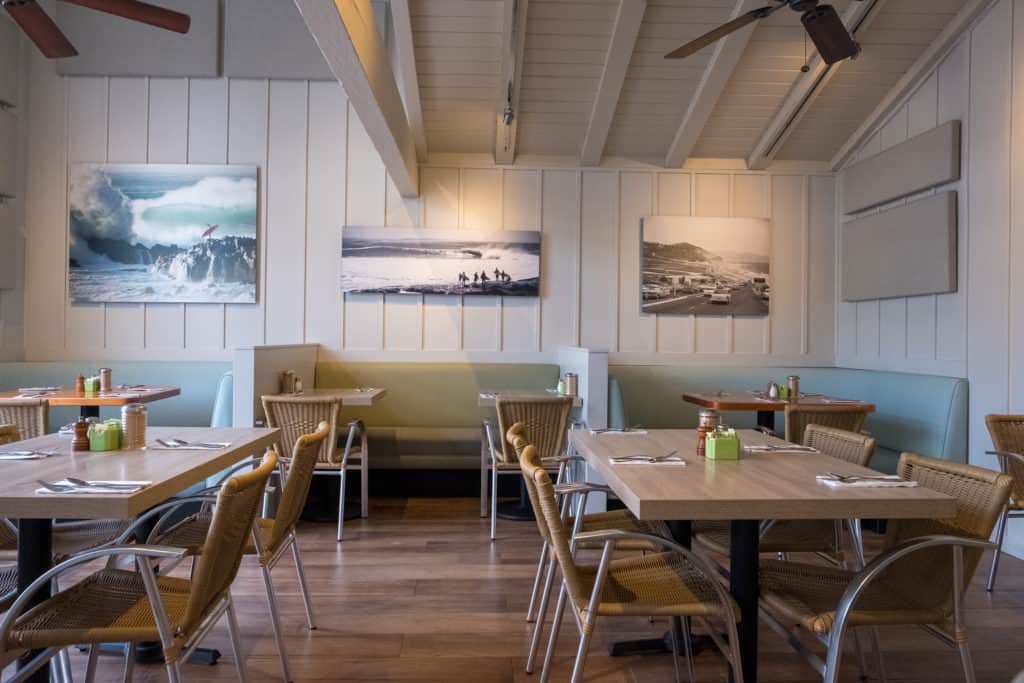 Shorehouse Kitchen Details
Dogs eat like family here. They even have their own menu. There are four choices: The Treat, the Brunch Bark Bowl, the California K9, and the heartiest choice, Fido's Finest, seared and sliced grass-fed ground beef patty topped with roasted turkey and bacon bits. Complimentary purified water is also provided to each dog when requested.
As a doggie-friendly establishment, Shorehouse Kitchen is not only a place for visitors to be able to bring their dogs to breakfast, it's a place where their dogs can enjoy a breakfast all their own. With that said, they do have one very important policy for the dogs who visit and that's "all four on the floor," this is to ensure the comfort of their human guests is not compromised. Not too bad of a rule at all.
As one of the most popular breakfast restaurants in La Jolla, they do not take reservations. It's first-come, first-served here. They do offer a tiny parking lot on the side of the restaurant, but you will more likely need to find street parking. This is a casual, laid-back place perfect for kids and groups. They don't have televisions, but they do have Wi-Fi, so parents can feel free to bring in iPads and other electronics.
Shorehouse also recently shared some exciting news. North County residents and tourists will soon be able to enjoy their delicious menus at a new Carlsbad location on State Street.
Shorehouse Kitchen Neighborhood
La Jolla is an upscale neighborhood located along San Diego's spectacular coastline known for its incredible beaches, excellent boutique shopping, and culinary scene. Known as San Diego's jewel by the sea, La Jolla offers a wealth of activities and attractions both on land and in the water. These include the famous Torrey Pines Golf Course, The Lodge at Torrey Pines, and the Torrey Pines Glider Port. The Birch Aquarium, La Jolla Playhouse, Museum of Contemporary Art, and Scripps Park are also prominent attractions. They also have some of the best beaches in the city including La Jolla Shores, the Children's Pool, and La Jolla Cove, making activities such as surfing, snorkeling, scuba diving, kayaking, and swimming easily accessible.