Located just northwest of Balboa Park and directly south of Mission Valley, Hillcrest has become one of San Diego's hippest neighborhoods. Famed as the center of San Diego's LGBTQ+ community, Hillcrest is a diverse and welcoming neighborhood revolving around the bustling main drags of University Avenue and Fifth Avenue. Discerning shoppers will love the area's memorable mixture of quirky shops, trendy boutiques, secondhand stores, and one-of-a-kind brands. And when you've worn yourself out pounding the pavement in search of that special something, Hillcrest has more than its fair share of great bars, cafés, and restaurants perfect for a relaxing afternoon or evening hangout.
Getting to Know the Neighborhood
The area we know and love today as Hillcrest was once an undeveloped stretch of countryside at the fringes of greater San Diego. From roughly 1870—when the land was first purchased and developed by various real estate agents and railroad executives—to approximately 1930—by which time the neighborhood was being serviced by a streetcar-system of public transportation, Hillcrest was considered a quiet residential district and suburban shopping destination. During the middle of the twentieth century, as San Diego grew and expanded, Hillcrest's popularity diminished and some portions of the neighborhood fell on hard times. By the 1970s, though, a significant population of artists, creatives, and members of the LGBTQ+ community had begun to move into Hillcrest, and a striking process of transformation and gentrification was well underway.
Today Hillcrest is one of San Diego's most remarkable neighborhoods: a pedestrian friendly district famous for its shopping, dining, and inviting streetscapes.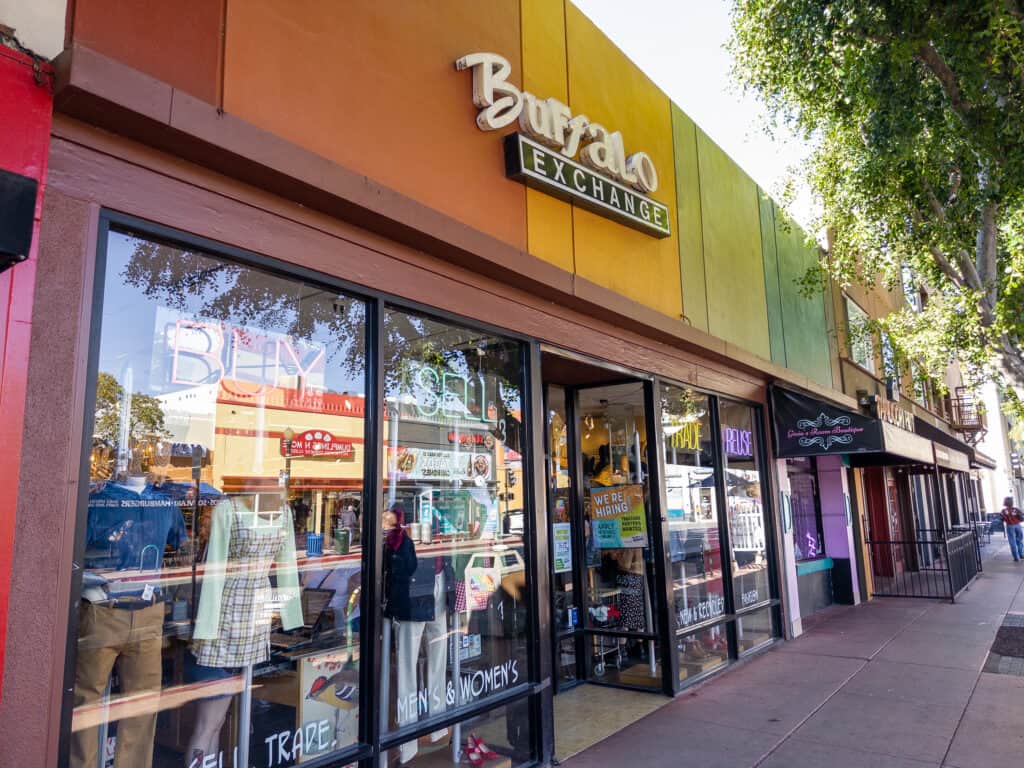 Popular Hillcrest Shopping Destinations
The diversity of Hillcrest extends to its shopping scene, too, as visitors will find the neighborhood populated by an eclectic assortment of creative businesses. You'll encounter a little bit of everything when shopping in Hillcrest, but the area is particularly renowned for its indie boutiques, specialty shops, thrift stores, and distinctive retailers.
Gioia's Room is a women's clothing store located on 5th Avenue in Hillcrest. This hip boutique specializes in vintage styles reworked for today's fashions, with a wide selection of locally crafted pieces, and carries jewelry and accessories, too. Gioia's Room is well-known for its helpful, friendly staff, and the establishment proudly offers complimentary alterations on any item it sells.
Just one block up the street from Gioia's Room is the beloved local bookstore, Bluestocking Books. For almost 25 years now, Bluestocking Books has been an important member of the Hillcrest community. Their passionate booksellers have curated an outstanding selection of books on site, with a vast range of titles available for readers of all backgrounds and interests.
If you're in the market for a home décor store with an inventory full of items with unique style, retro flair, or that one-in-a-million flourish, then Hood Mod Shop on University Avenue is the place for you. From local artwork to artisan furniture, mid-century modern accessories to beautiful coffee tables, Hood Mod Shop is full of overlooked treasures suitable for consumers possessing all types of taste.
There are too many terrific places to shop in Hillcrest to name them all here, but other businesses of note within the area would have to include Flashbacks, whose vintage designer clothes promote retro styles from the 1950s to the 1990s; Buffalo Exchange, a national thrift-shop brand with a well-regarded San Diego location where you can buy or sell clothes and accessories; and Taang! Records, a music store that's a long-running local institution.
Other Ways to Enjoy Hillcrest
If you've got some flexibility in your schedule, try and visit Hillcrest on a weekend when its popular Farmers' Market is taking place. The Hillcrest Farmers' Market is one of the largest in all of greater San Diego, and it typically runs from 9:00am to 2:00pm on Sundays. In addition to its extensive produce options, the market features an abundance of arts, crafts, and food vendors well worth checking out.
When you're on the lookout for something unexpected yet delightful to do after shopping and dining your way through Hillcrest, check out the Spruce Street Suspension Bridge. Situated just a couple blocks south of Hillcrest in a secluded corner of the residential Bankers Hill neighborhood, the Spruce Street Suspension Bridge is a nearly 400-foot-long pedestrian bridge that offers stunning views of the surrounding canyon scenery.
If you're searching for attractions slightly farther afield, Hillcrest's prominent location between Mission Valley and Balboa Park makes it easy to enjoy either or both of these notable spots as part of a day out in the area. Mission Valley has its own notable shopping destinations to choose from, while beautiful Balboa Park is home to the San Diego Zoo and a whole host of museums, gardens, shops, restaurants, and more.