Most famous for its beautiful beachfront, scenic boardwalk, and vibrant nightlife, Pacific Beach offers visitors plenty of places to shop, too. Garnet Avenue, perhaps Pacific Beach's most prominent thoroughfare, runs straight out from historic Crystal Pier for roughly one-and-a-half miles, with all manner of trendy boutiques, surf shops, and charming local businesses lining it along the way. Numerous other beach-themed spots, clothing stores, and souvenir stands populate Pacific Beach's boardwalk and nearby Mission Boulevard.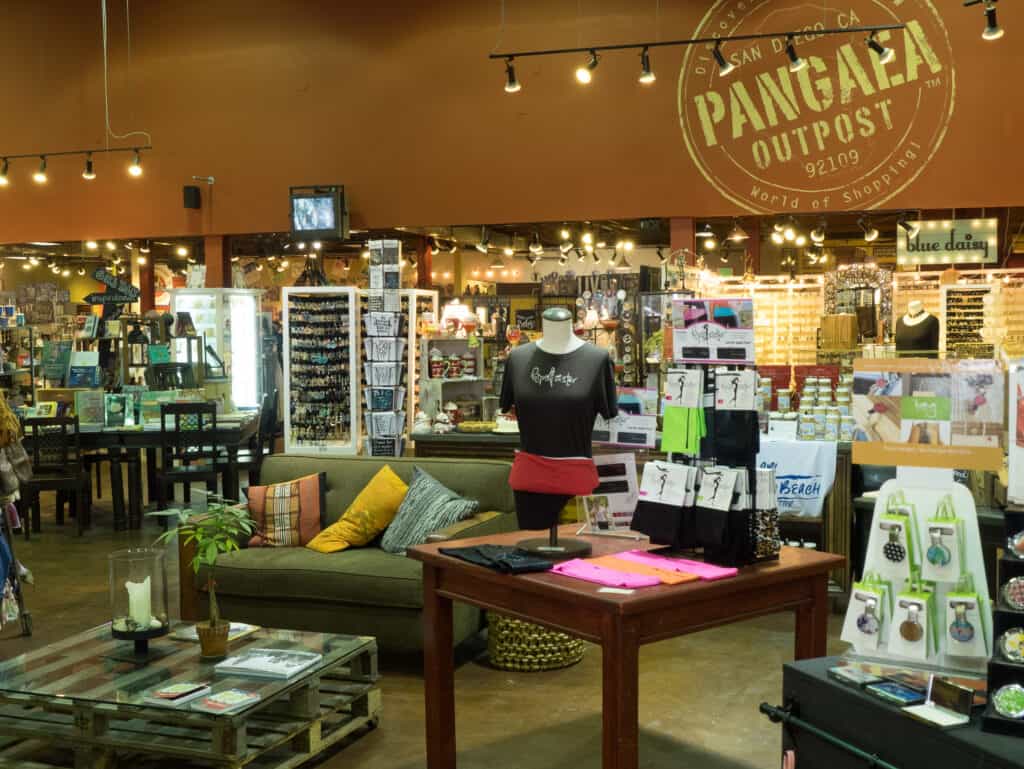 Getting to Know the Neighborhood
Pacific Beach is located due south of La Jolla, just north of Mission Beach, and slightly northwest of Mission Valley. The neighborhood is defined by an approximately one-and-a-half mile stretch of coastline (twice that length if you include Mission Beach in your measurement) anchored by sandy beaches, historic piers, surf parks, and boardwalk. Pacific Beach has long been known as one of the San Diego area's foremost places to party, and the area's reputation makes it very popular with college kids, young adults, and those individuals seeking out a happening nightlife scene. However, in recent years Pacific Beach has seen an uptick in young families calling the area home, and this demographic shift has made this beach hotspot an even more eclectic place to visit.
Popular Pacific Beach Shopping Destinations
Pacific Beach's reputation as one of San Diego's liveliest neighborhoods isn't just on account of its bars, restaurants, and famed nightlife. Pacific Beach is also home to a significant number of local retailers well worth your time. In short, the Pacific Beach shopping scene revolves around two primary shopping destinations: Garnet Avenue and Mission Boulevard, the neighborhood's main drags.
Garnet Avenue, an east-west road running inland from Pacific Beach's beloved boardwalk, headlines any list of the district's can't-miss shopping opportunities. This bustling street is lined with an array of shops specializing in clothing, accessories, souvenirs, and gifts. Standout establishments located on Garnet Avenue include Pangaea Outpost, where you'll find quirky home décor items, distinctive craft jewelry, clothing, art, kitchen goods, and more, all sourced from local vendors and artisans; Bouluci Boutique, a trend-forward women's clothing store featuring both casual and formal wear brands from the United States, Brazil, and Italy; and Mermaids Cove, a charming shop with a wide selection of "sea-inspired" gifts, jewelry, furniture, art, and apparel.
Pacific Beach's other notable shopping street is Mission Boulevard, which runs parallel to the boardwalk just steps from the ocean. Along Mission Boulevard you'll encounter a nice assortment of local surf shops and big-name brands. Favorite Mission Boulevard spots are Cassea, proudly self-identifying as a sustainable, eco-friendly swimwear company; Brandy Melville, the Italian fast-fashion clothing and accessories line; and Urban Outfitters.
As you stroll down Mission Boulevard enjoying the sights, sounds, and shops, you'll especially want to check out The Promenade at Pacific Beach. This approximately 80,000-square-foot shopping center contains over a dozen businesses, many of them beachwear brands like swimwear store Beachworks and the national chain Billabong.
Other Ways to Enjoy Pacific Beach
Dedicated shoppers will no doubt have themselves a terrific time exploring all Pacific Beach has to offer, but there's no escaping the fact that the primary draw remains the area's fabulous waterfront. You absolutely cannot make the trip to Pacific Beach without penciling some time to soak up the sun on its boardwalk, beach, or any one of its scenic seaside restaurants.
Other popular activities in the Pacific Beach neighborhood are very much geared toward its splendid natural beauty and unbeatable setting, too. The area is renowned for the quality of its surfing—you can even take lessons here—and Crystal Pier is a go-to for dedicated anglers. Biking and picnicking near the Ocean Front Walk are classic standbys, and you can never go wrong sipping a drink on a nearby rooftop bar.
Visitors who've traveled as far north of downtown San Diego as Pacific Beach will most definitely want to plan on extending their excursion just a couple more extra miles north to the unforgettable village of La Jolla. La Jolla possesses world-famous beaches that aren't to be missed, as well as its very own acclaimed upscale shopping scene. Other attractions in nearby La Jolla worth the effort are Birch Aquarium at the Scripps Institution of Oceanography, La Jolla Playhouse, the Museum of Contemporary Art San Diego, and Torrey Pines State Natural Reserve.