Located on a thin peninsula just across San Diego Bay from the Gaslamp Quarter, Petco Park, and downtown San Diego, Coronado is famous the world over for its beautiful beaches, luxurious hotels, and naval base. Many visitors flock to Coronado for the scenery and outdoor fun—which includes lush gardens, delightful boardwalks, and numerous water-based activities like kayaking, surfing, and more—but end up walking away just as impressed by the area's plentiful shopping and dining opportunities. No trip to San Diego is complete without spending some time exploring the many charms of this breathtakingly lovely neighborhood.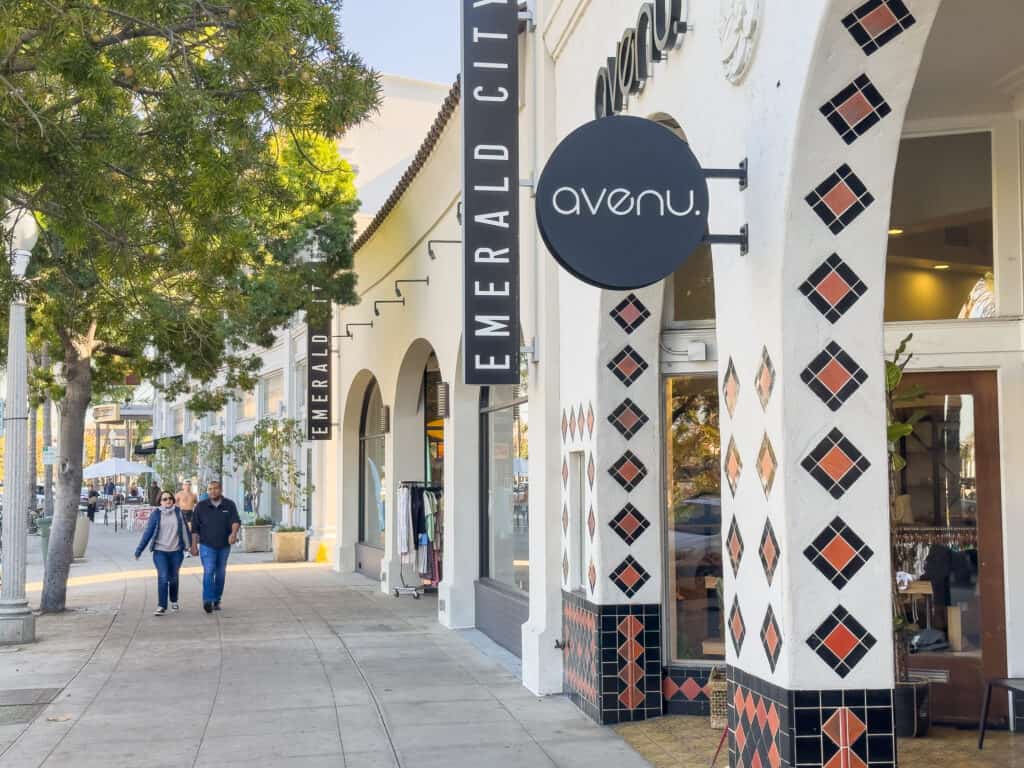 Getting to Know the Coronado
Coronado is one of greater San Diego's quintessential areas to visit. Famous for its pristine beaches, scenic views, and bustling waterfront, Coronado has long been a destination for individuals seeking sun, sand, and serenity. Coronado is easily accessible from downtown San Diego via the Coronado Bridge or by taking the Flagship Cruises Coronado Ferry, but regardless of how you arrive you'll want to make (at least) a day of it. Shopping, dining, sightseeing, recreation—you name it, Coronado has it. There's even a well-regarded golf course.
If you're planning on staying overnight in Coronado you won't be disappointed, as it's densely populated by an extensive array of hotels suitable for all manner of budgets. While the landmark Hotel del Coronado gets most of the local lodging attention, there are many more options available in the general vicinity.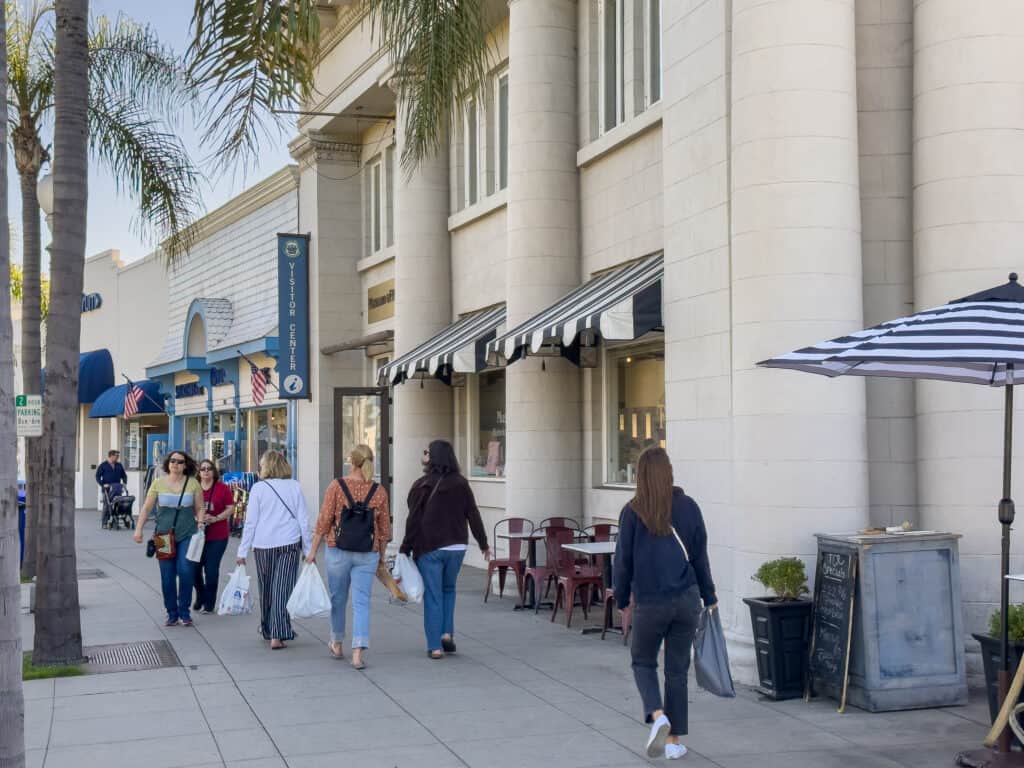 Popular Coronado Shopping Destinations
Coronado is one of the San Diego area's most popular shopping districts. Here you'll have your pick of specialty shops, art galleries, and trendy boutiques in the midst of some of the most beautiful real estate located anywhere in the United States. Whether you're looking for a stylish new outfit, bespoke piece of jewelry, that one-of-a-kind artwork, or simply want to take home a book, bottle of wine, or San Diego souvenir, you'll come across it in Coronado.
Coronado Ferry Landing is one of the primary shopping destinations that anchor the peninsula. This distinctive shopping center is home to over two-dozen unique stores, including favorites like vomFASS, a European food market and tasting room known for its olive oils, vinegars, spices, and other culinary treats; miss match, a fashionable women's clothing boutique; and La Camisa, a popular San Diego souvenir shop that's been in business for over three decades now. Coronado Ferry Landing also features a wide selection of dining options, so whether you need a snack and some coffee to keep you going as you shop, or you want to celebrate your purchases over a sit-down meal, you'll be covered.
The heart of Coronado's diverse shopping scene is located along Orange Avenue. Known to many as "Coronado's Main Street," Orange Avenue is lined by approximately 100 different specialty shops, independent businesses, and clothing boutiques. No matter what you're in the market for, you'll probably find it along Orange Avenue. Classic local retailers here include Bay Books, an independent bookstore in the neighborhood for nearly 25 years; Emerald City Surf Shop, where you can gear up for all your beach-fun needs; and the Coronado Museum Store, which sells work by local artists and whose inventory is curated by the Coronado Historical Association.
Shops at The Del is another notable Coronado shopping destination. Located within the Hotel del Coronado, Shops at The Del sells a fabulous assortment of products at a variety of price points. You'll find here a special emphasis on fashionable clothes, with shops devoted to European-inspired men's clothing, coastal California-style kid's clothing, and women's activewear all in one location. Shops at The Del also contains the Hotel del Coronado's Signature Shop, where you can purchase officially licensed hotel products and souvenirs.
Other Ways to Enjoy Coronado
Coronado is home to a whole lot more than just fantastic shopping, of course, as its natural beauty is remarkable even by San Diego's lofty standards. Whether you want to go kayaking, rent a bike, hit the surf, walk along the boardwalk, or try and enjoy all of the above, Coronado's many outdoor pleasures should be at the top of every visitor's itinerary.
Even if you aren't staying at the Hotel del Coronado, you'll want to make some time to stroll its grounds and peruse its public areas. This legendary establishment first opened its doors in 1888, and since then it has hosted American presidents, Hollywood movie stars, international royalty, beloved celebrities, and more visitors from all over the world than it count. This National Historic Landmark is not to be missed.
As you're shopping along Orange Avenue, stop in for a bit to explore the Coronado Historical Association. There you'll find an informative museum that routinely hosts special exhibits pertaining to one aspect or another of the area's rich history. They also organize walking tours, home tours, and house a research center. Best of all, admission to the facility is free for everyone.