San Diego's Gaslamp Quarter—lovingly referred to by many locals as simply "The Gaslamp"—is one of the city's most historic neighborhoods. Comprising roughly 16 blocks near the heart of downtown San Diego, the Gaslamp Quarter is home to a remarkable array of bars, restaurants, clubs, and stores. In particular, shoppers will find the Gaslamp Quarter to be full of chic boutiques, distinctive local brands, and a variety of national chains.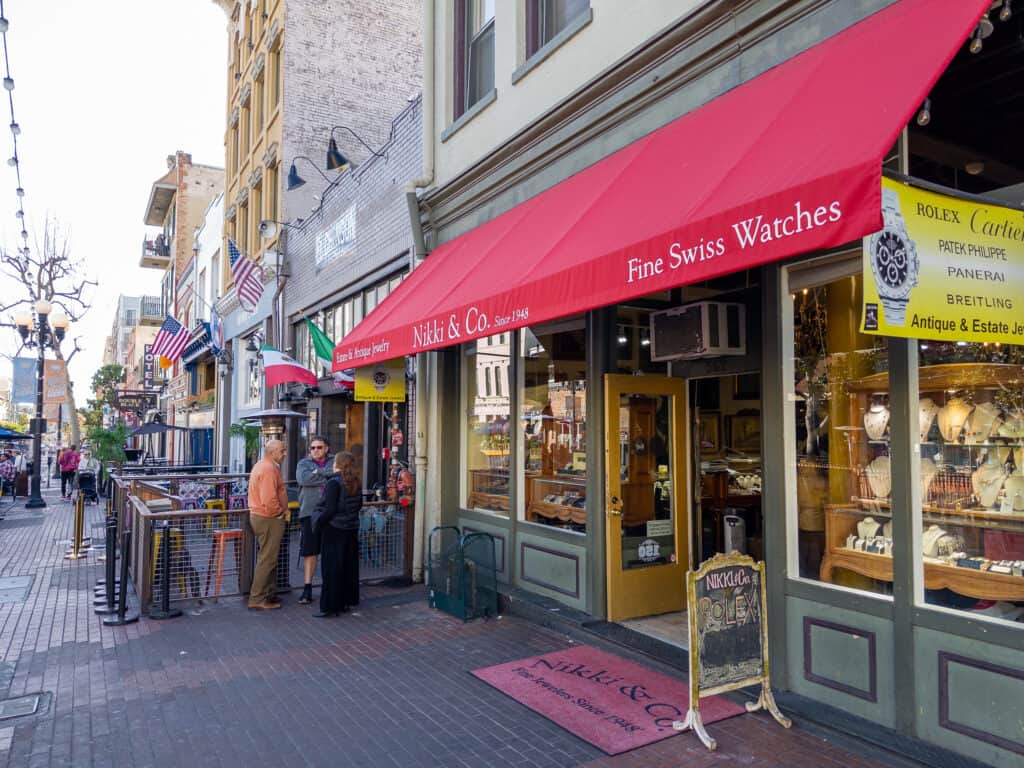 Getting to Know the Neighborhood
The bustling area of San Diego known today as the Gaslamp Quarter dates its modern existence to the late 1860s, when prominent local citizen Alonzo Horton bought up a sizable amount of desirable waterfront property centered around a boat dock at the end of 5th Avenue and began to develop the neighborhood he dubbed "New Town." In the next few decades, the city of San Diego would modernize this area by installing gas lamps along its thoroughfares to function as street lights, and residents took to calling the neighborhood "The Gaslamp"—a name which in time would stick permanently.
The Gaslamp Quarter was added to the National Register of Historic Places in 1980, and the entire neighborhood is listed as an official United States Historic District. Its iconic Gaslamp Quarter Archway Sign—which spans 5th Avenue near its intersection with L Street—has become one of San Diego's unofficial symbols, and is a can't-miss spot for an "I Was There" photograph.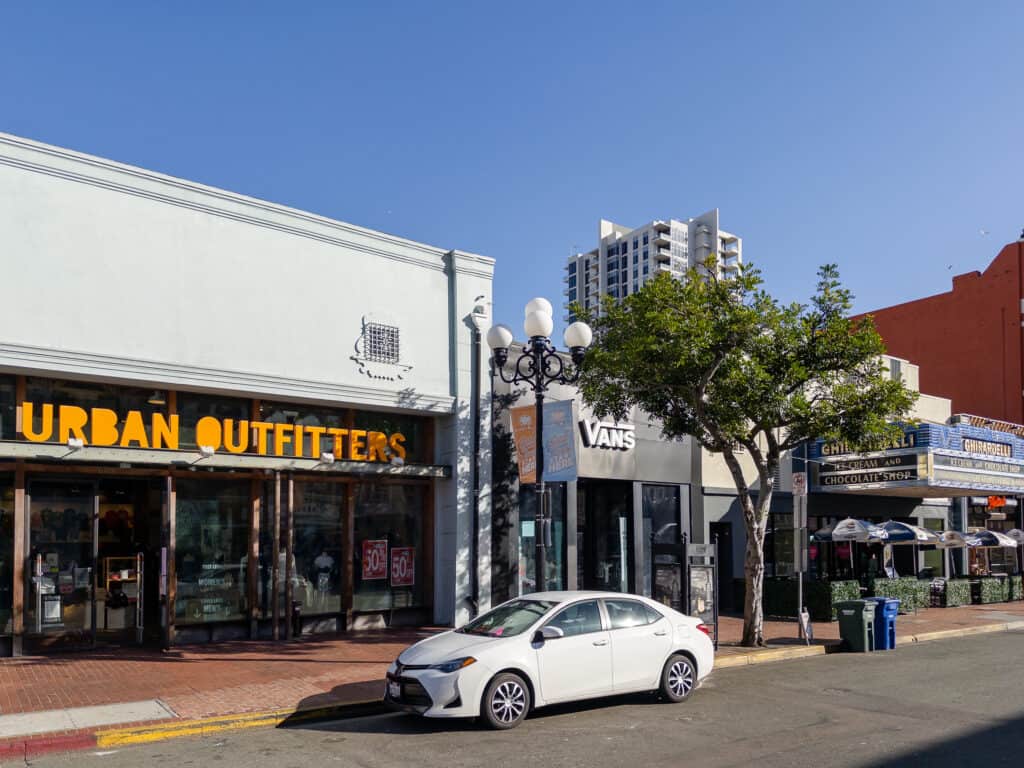 Popular Gaslamp Quarter Shopping Destinations
The Gaslamp is a very walkable area, making it a terrific shopping destination for those individuals looking to browse, window shop, or stop in at every interesting store they come across along the way. The Gaslamp Quarter's shopping scene is probably best known for its assortment of fashionable independent boutiques and big-name clothing retailers, but it's home to plenty of unique specialty shops, too.
Located on Market Street just three blocks from Petco Park, Wild Dove Boutique is a standout Gaslamp shop. Wild Dove specializes in chic feminine clothing perfect for everything from a day at the office to a night on the town. Their inventory covers dresses, tops, jeans, skirts, jumpsuits, jackets, and a whole lot more.
Another Gaslamp shopping favorite is Boutique De Marcus. Owned and operated by acclaimed master stylist Marcus Hanish, Boutique De Marcus features a creative and eclectic mixture of vintage clothing, casual stylings, and formal wear suitable for men and women. It also shares a space with Salon De Marcus, so if you're feeling in the mood to pamper yourself, you can take advantage of the full-service salon and spa options on offer here after you shop.
Other notable Gaslamp Quarter shopping establishments include Gaslamp Garage, where you can find all sorts of beachwear, surfing gear, and San Diego-branded apparel while never having to feel self-conscious about buying a souvenir; It's Sugar, a quirky candy store that sells novelty apparel and accessories sure to make you smile; and Super7, a fun little shop selling pop culture-related toys, t-shirts, and collectibles bound to leave you nostalgic for your favorite cartoon or comic book.
The Gaslamp Quarter is also where you can shop at a number of big-name retailers. Major brands with brick-and-mortar locations here include Urban Outfitters, Goorin Brothers, Quiksilver, and Skechers, just to name a few.
Other Ways to Enjoy Gaslamp Quarter
The Gaslamp Quarter is famous for its nightlife, so you'll want to plan your shopping spree to coincide with an evening out in this lively neighborhood. Hundreds of bars, cafés, restaurants, nightclubs, and live entertainment venues call the approximately 16 blocks of the Gaslamp home, so no matter what type of cuisine you want to sample or bar-vibe you'd like to enjoy, you'll have your pick of styles here.
The Gaslamp Quarter isn't just all fun and games, of course, it's a historic area with a rich past worth acknowledging, and those interested in learning more about this area will enjoy the Gaslamp Museum at the Davis-Horton House. The Davis-Horton House dates to 1850, making it the oldest remaining structure in the area, and today the site is open to the public for self-guided tours. Numerous popular walking tours depart from this attraction, too.
Given the Gaslamp's prominent location within the city, many of San Diego's prime attractions are found within convenient proximity. Neighboring attractions well worth your time include such destinations as Petco Park, USS Midway Museum, Seaport Village, Coronado, Balboa Park, and the San Diego Zoo.