If you're a discerning shopper seeking the sort of San Diego shopping experience that caters to unique tastes, goes heavy on distinctive styles, and features items that won't be found elsewhere in the area, then you should head straight to Ocean Beach. Situated on the coast just north of Point Loma, Ocean Beach is a small neighborhood packed with antique stores, thrift shops, and surf shops—with not a big-name brand or chain outlet to be found anywhere in the vicinity.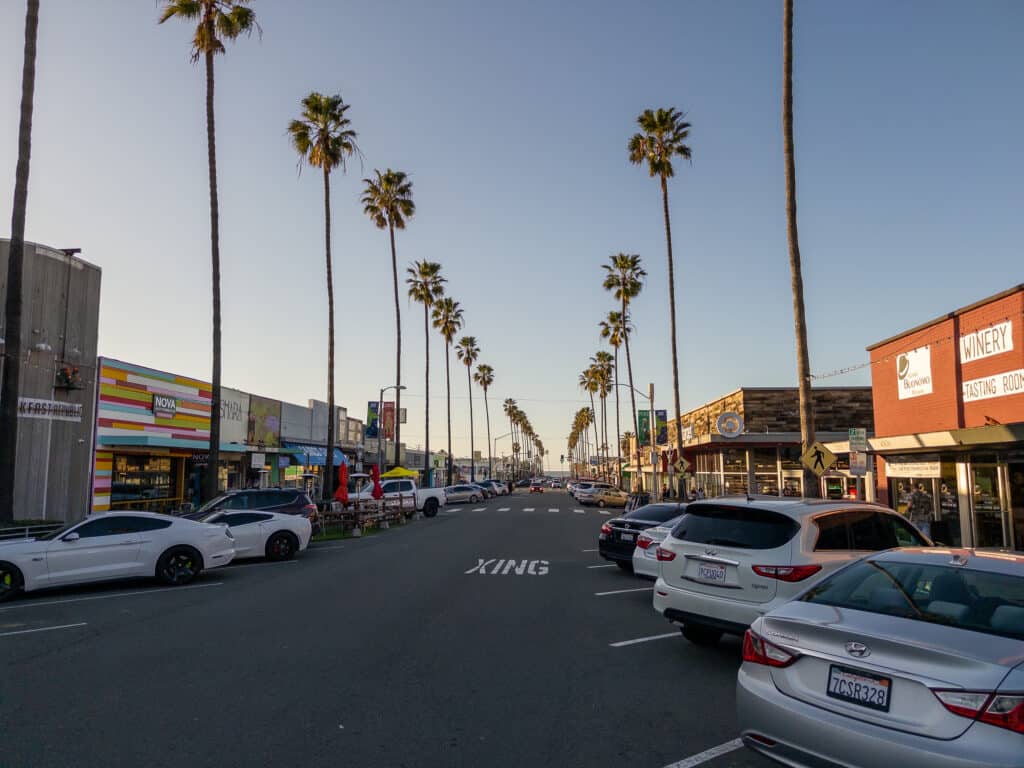 Getting to Know the Neighborhood
The Ocean Beach community is famous for its laid-back, bohemian vibes. Though located in the midst of a major American city, many visitors are quite taken with the somewhat small-town feel of Ocean Beach's streets. Almost no national franchises call Ocean Beach home, which lends the neighborhood a vintage air.
A centerpiece of the local scene is Ocean Beach Pier, which dates to 1966. This concrete structure, nearly 2,000-feet-long, is one of the largest piers found anywhere in California. Fishing is popular here—you don't need a license—and it's a terrific spot to watch the sun set or keep your eyes out for sea lions. Significant storms in recent years have damaged the pier, but plans are in motion to revitalize the attraction for generations to come.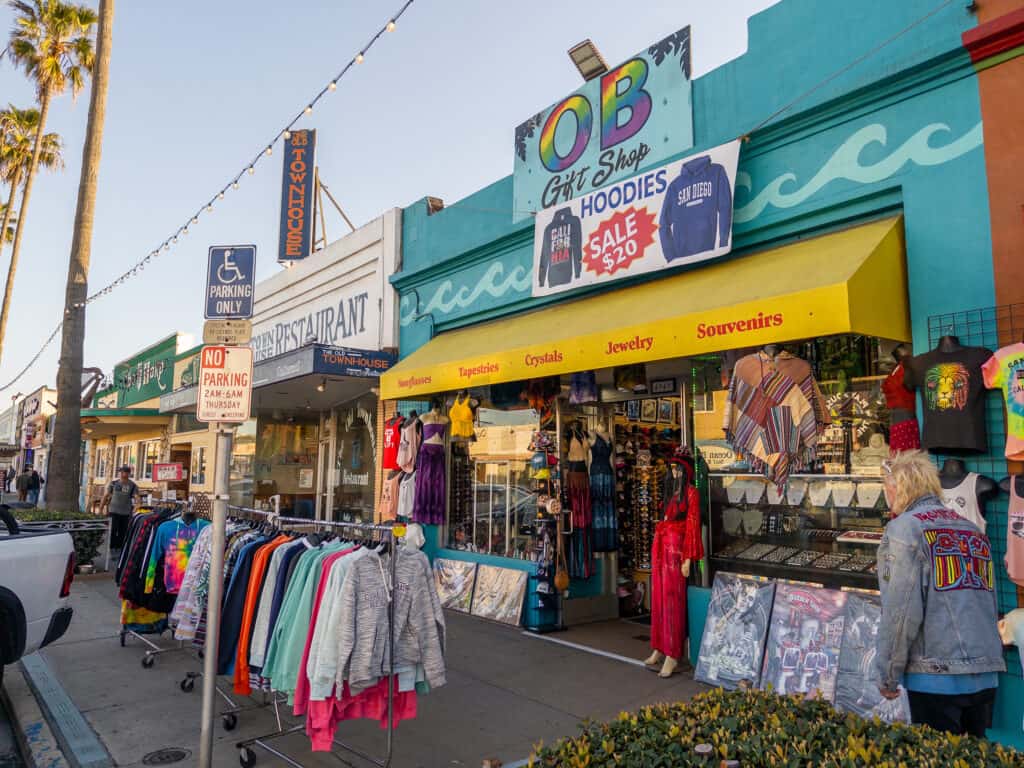 Popular Ocean Beach Shopping Destinations
Much of Ocean Beach's shopping scene is situated along Newport Avenue, which runs straight through the heart of the neighborhood before ending near Ocean Beach Pier and the area's spectacular waterfront. Antiques are big in Ocean Beach, and the Ocean Beach Antique Mall, in particular, has a little bit of something for everyone, with impressive inventory in pottery, jewelry, and sports memorabilia. If you don't find something that strikes your fancy at any of the local antique stores, though, head straight to Maek Ceramics, an artists' collective that handcrafts elegant mugs, cups, pots, bottles, vases, and more.
The charming vibe that characterizes so much of the Ocean Beach neighborhood is evidenced in its most popular shopping destinations, too, as many of the area's top names have a fresh, funky, and playful air. Local favorites include Creations Boutique, a women's clothing store with roots in Arizona that specializes in bohemian-chic styles; OB Thrift Store, perennially rated one of San Diego's best secondhand shops; and the understatedly named Closet, which has been selling budget-friendly women's clothing, accessories, shoes, and lingerie for a quarter-century.
As is the case anywhere you go in the greater San Diego region, thoughts of sand, sun, and water are never far from the mind. Accordingly, Ocean Beach contains a number of shopping destinations catering to the oceangoing crowd. Prominent among these establishments are stores like Better Surf than Sorry, where you'll find wall-to-wall surfing gear and accessories, and can even rent equipment; South Coast Wahines, a veteran establishment dealing in custom surfboards, apparel, and wetsuits; and Pride Surf & Skate, which has manufactured surfboards here since 1989.
If you know you'll happen to be visiting Ocean Beach on a Wednesday, be sure and check out the Ocean Beach Farmers' Market. Beloved by locals, this farmers' market takes place every Wednesday evening between the hours of 4:00pm and 8:00pm. Located on Newport Avenue between Bacon and Cable Streets, the Ocean Beach Farmers' Market features over 100 vendors selling fresh produce, baked goods, flowers, ready-made meals, arts, crafts, and more.
Other Ways to Enjoy Ocean Beach
Like so many of the vibrant communities located in the area immediately surrounding downtown San Diego, much of life here in Ocean Beach revolves around ocean-related activities. Which means, simply, that if you're headed to Ocean Beach, you'll want to do more than just shop—fun as that'll be, no doubt—you'll want to make time to enjoy the great outdoors in all its glory.
Popular pastimes here in Ocean Beach are swimming, surfing, sunbathing, and biking. Ocean Beach is well known for being an especially dog-friendly place, so those individuals traveling with their furry friends will want to take advantage of Dog Beach. This leash-free zone occupies the northern edge of Ocean Beach near the Mission Bay Harbor Channel, and here pets are permitted to swim, frolic, and play as they please.
Located just south of Ocean Beach is the roughly 70-acre Sunset Cliffs Natural Park, where you can explore the wonders of Sunset Cliffs Beach and Sunset Cliff Cave. These attractions are acclaimed for their scenic views and remarkable coastal wildlife, and even draw the occasional professional cliff diver. The sunsets on display here are worth the trip alone.