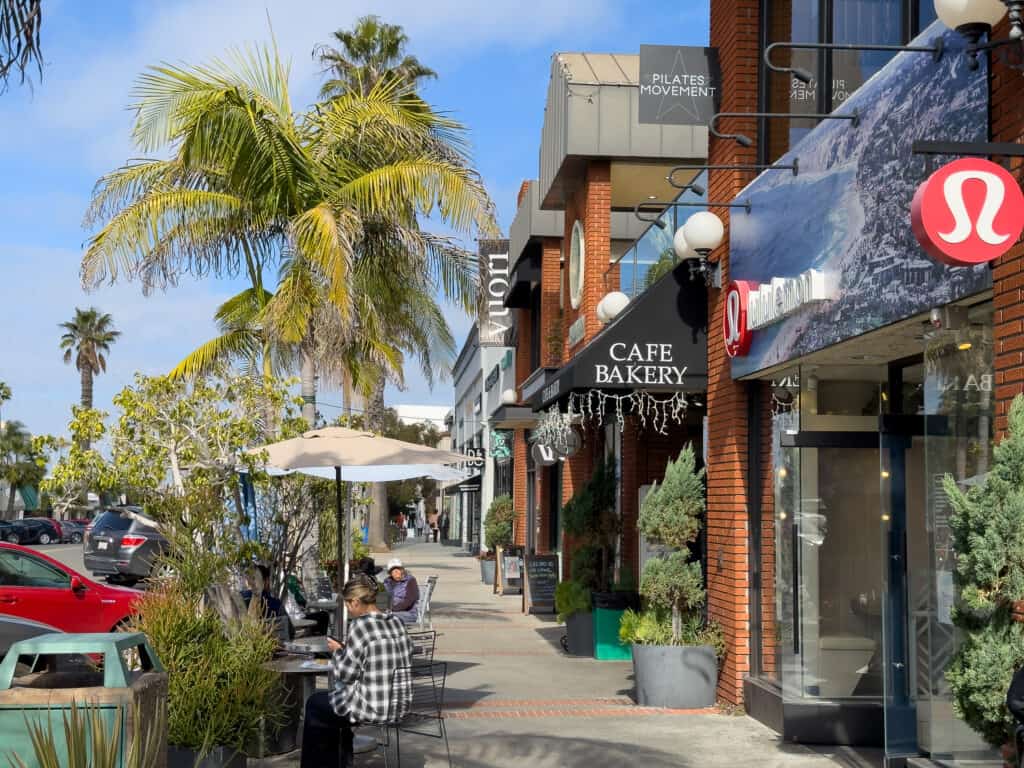 Located just a quick 20-minute drive up the Pacific coast from downtown San Diego, the seaside village of La Jolla is one of the area's true treasures. This scenic community is situated almost entirely along the rocky cliffs and sandy shores lining the ocean, and visitors flock here from all over the world for its renowned beaches, high-end shopping, and fine dining. La Jolla's most popular shopping destination is Prospect Street in the Village, which is lined with luxury boutiques, art galleries, and specialty shops galore, while the University Town Center area draws crowds with its upscale malls, too.
Getting to Know the La Jolla Neighborhood
The origin of the name La Jolla has long been disputed, with some arguing that it's a Spanish-language rendering of the Native American expression for the area ("Land of Holes"), and yet others believing it to be a misspelling of "la joya," the Spanish word for "jewel." Regardless of which story you prefer, there's no denying that La Jolla is a special place. Since the late nineteenth century it has been heavily developed by a series of real estate executives, wealthy heiresses, and local university officials, with the result being a modern La Jolla full of premium properties, historic sites, popular attractions, and institutes of higher education. Every visitor to San Diego will want to set aside a portion of their trip to experience La Jolla for all its natural beauty and contemporary charms.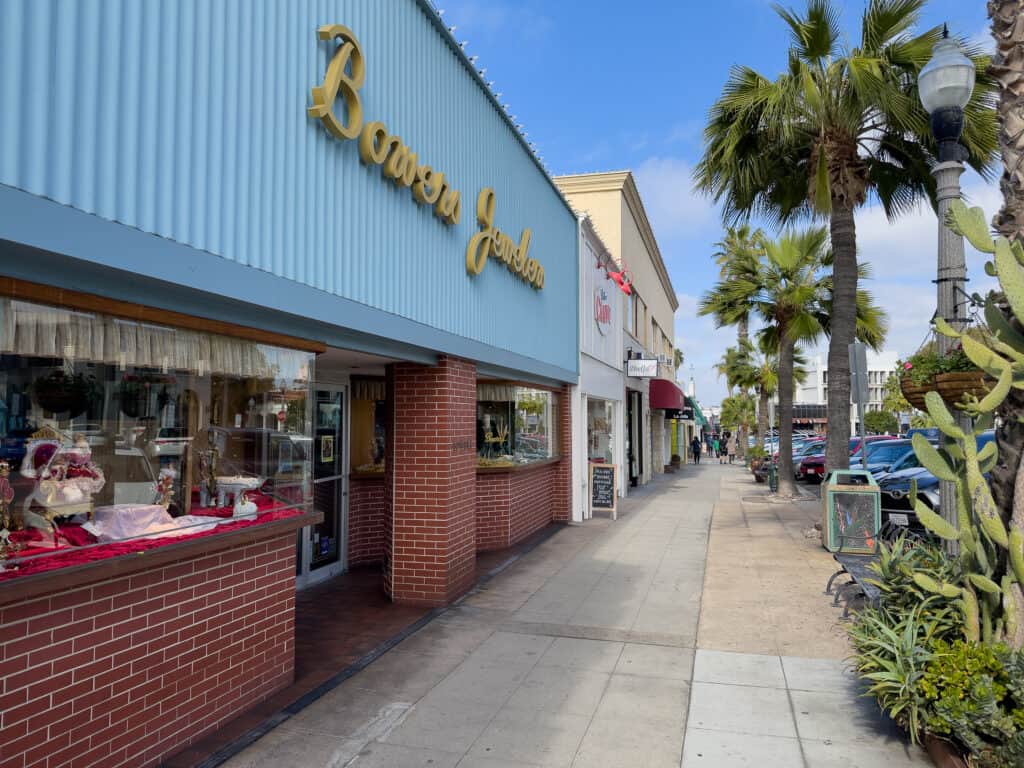 Popular La Jolla Shopping Destinations
La Jolla is one of greater San Diego's premier shopping destinations. Here you'll find the area's best selection of upscale shopping opportunities, namely an unbeatable number of high-end boutiques specializing in fashionable clothing and southern-California-meets-European-chic styles. La Jolla also has more than its fair share of open-air shopping centers that host luxury brands and cater to expensive tastes.
There are a couple different shopping districts within La Jolla that you won't want to miss, first and foremost among them being the upscale shopping area around one of La Jolla's main drags, Prospect Street. Not only are the businesses located near Prospect Street unique in nature, but a number of them have operated successful storefronts here for decades. Local high-end boutiques that are practically institutions here include Sigi's Boutique, selling luxury European and American women's clothing brands since 1968; Amore Boutique, which specializes in imported Italian clothes, shoes, bags, jackets, jeans, and leather goods; and Ascot Shop, since 1950 La Jolla's beloved spot for traditional men's tailoring and more.
Other acclaimed brands calling La Jolla home are Gracie & Company, proudly carrying elegant clothes that are designed to suit women anywhere between the ages of 30 and 90; Adelaide's, a specialty florist shop with over 85 years of local gardening experience; and Alpaca Collections, La Jolla's go-to boutique for luxury clothes, accessories, and more fashioned from only the finest alpaca-based fabrics and Peruvian-produced textiles.
For a more conventional shopping experience—albeit one that still skews high-end—you'll want to head north and inland from the Prospect Street district toward La Jolla's University Town Center (UTC) area. There you'll encounter another set of delightful shopping opportunities, highlighted by Westfield UTC, an upscale shopping mall with over 200 stores and restaurants. There you'll find favorites like Chanel, Crate & Barrel, Free People, Hermès, Kate Spade, and many, many more.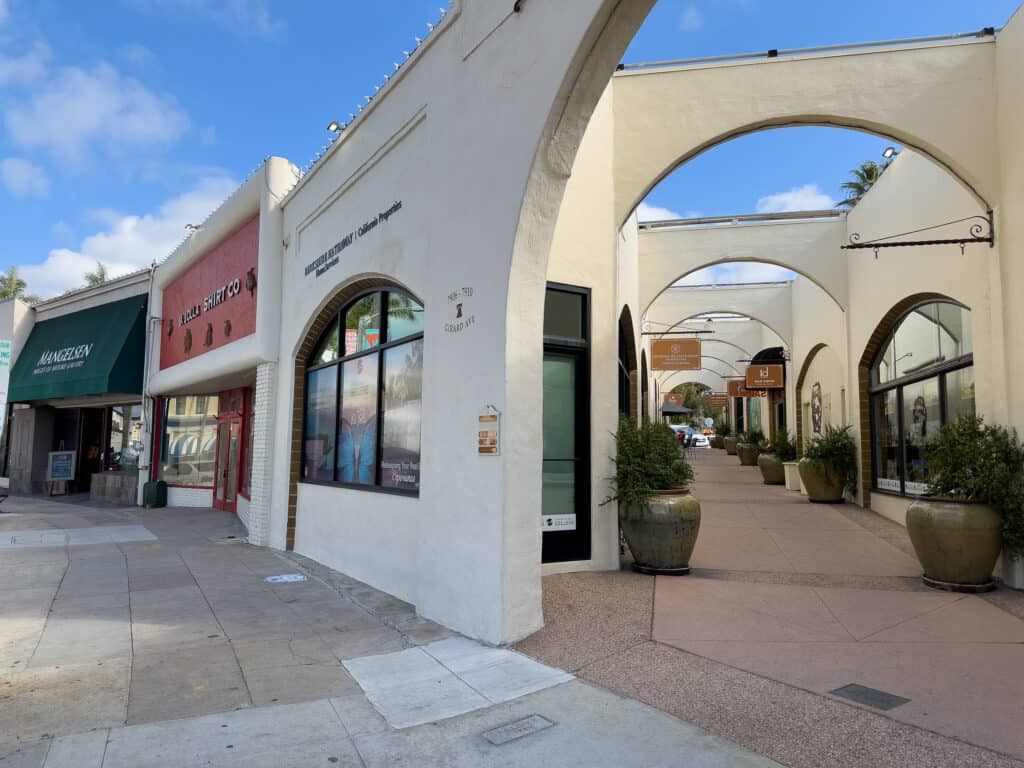 Other Ways to Enjoy La Jolla
As many fantastic places as there are to shop in La Jolla, you'll be missing out on a lot if you spend all your time here shopping. That's because La Jolla is one of the crown jewels of the greater San Diego metro area. Whether you're into fine dining experiences, fun-in-the-sun activities, fantastic art museums, educational opportunities for the whole family, or hope to do a little bit of all of the above, La Jolla is the place to be.
La Jolla is famous all over the world for its scenic cliffs and pristine beaches, so you'll definitely want to make time for some waterfront fun. La Jolla is a terrific place to rent a bike, go kayaking, attempt surfing, or try snorkeling for the first time, and you can enjoy any one or all of those activities near scenic La Jolla Cove and along La Jolla Shores. Multiple different tour companies offer such services in the area—or, if you'd really rather get your fill of sunshine on the links, acclaimed Torrey Pines Golf Course is located nearby, too.
Just up the cost you'll encounter Birch Aquarium at the Scripps Institution of Oceanography. This remarkable facility houses multiple interactive exhibits that introduce guests to the magnificent world of marine life—all in the midst of an incredible setting overlooking the Pacific Ocean. Favorite exhibits here include Tide Pool Plaza, Shark Shores, and the Giant Kelp Forest.
If that's not enough, La Jolla is also home to other popular attractions like the Museum of Contemporary Art San Diego, which has its flagship location here; La Jolla Playhouse, whose pedigree dates back to 1947 and features founding figures such as Gregory Peck and Dorothy McGuire; and Torrey Pines State Natural Reserve, a 2,000-acre coastal stretch of preserved land perfect for hiking, biking, or scenic driving along one of the park's paved roads.