With its proximity to popular attractions like Old Town San Diego State Historic Park and Presidio Park, the Old Town neighborhood is one of San Diego's prime shopping destinations. Here you'll find over 100 distinctive shops clustered together in an eminently walkable setting, with plenty of dining and entertainment options available nearby, too. Given how many different businesses call the neighborhood home, you can find all types of unique shopping opportunities here, but many visitors gravitate toward Old Town's quirky boutiques, fashionable shops, and renowned arts-and-crafts stores.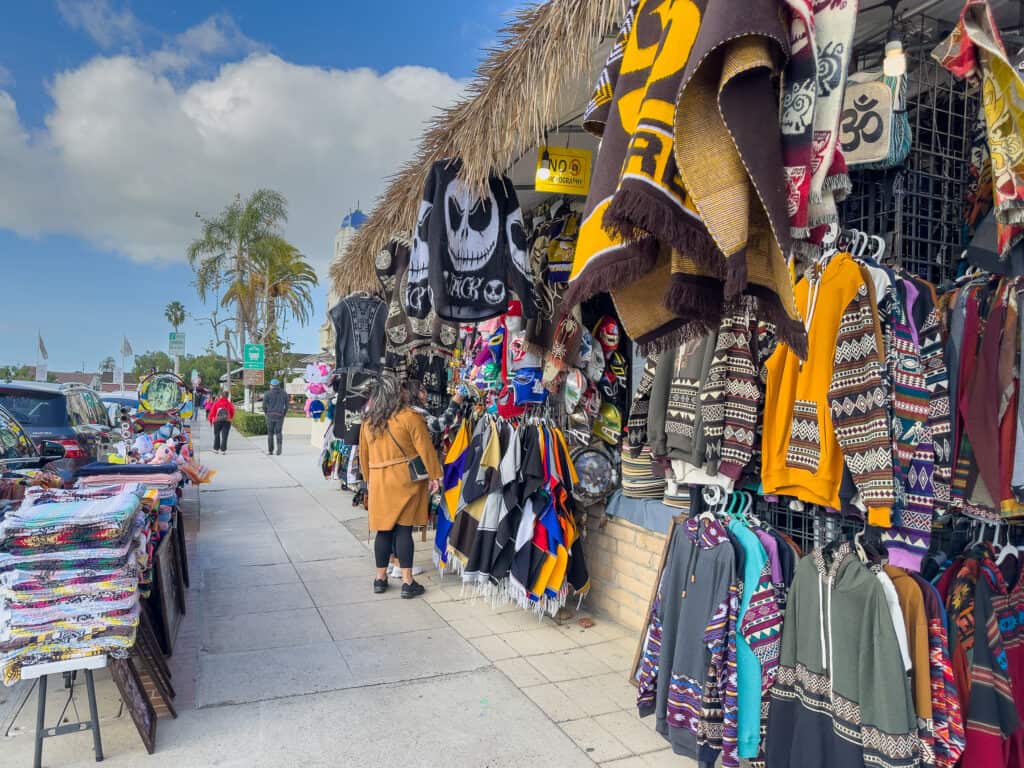 Getting to Know the Neighborhood
As its name suggests, Old Town is where the Spanish first established a settlement upon their arrival in the area during the second half of the eighteenth century. The first formal Spanish structure in the neighborhood we know today as Old Town was the Presidio, built in 1769 by missionaries. Though this building has long since been destroyed, its former location can be found in what is now Presidio Park, where visitors can learn more about the early history of San Diego at Junipero Serra Museum (which takes its name from the priest instrumental in colonizing the region).
Year in and year out, Old Town is one of San Diego's most popular destinations for visitors from all over the world. The neighborhood's special mix of fascinating historic sites, interactive museums, eclectic shopping, and numerous restaurants make it one of the city's can't-miss experiences.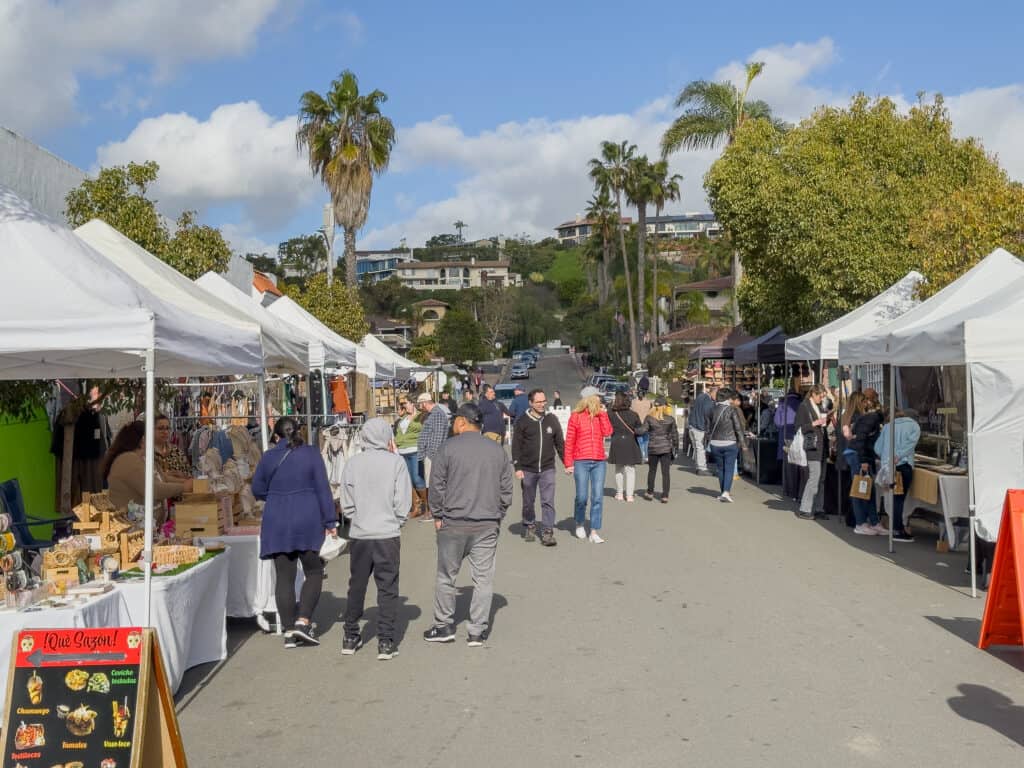 Popular Old Town Shopping Destinations
Old Town's shopping scene is best known for its diverse assortment of independently owned shops, quirky boutiques, and Latin American gift shops, as well as the remarkable number of galleries in the area that sell handmade jewelry, crafts, and folk art. Old Town is a great place to go for a truly distinctive San Diego souvenir.
Old Town Market is part-historic site, part-shopping mall, and when taken all together, is a quintessential stop for any shopper exploring Old Town's charming streets. The building containing Old Town Market today has in its rich past served at various times as a community center, convent, and seminary. Restored some 20 years ago, you'll now encounter roughly 40 shops within the structure, where vendors sell everything from Mexican textiles to Peruvian gourds to Day of the Dead dolls and so much more.
A perennial favorite of Old Town shoppers is Bazaar Del Mundo. Taken from the Spanish for "marketplace of the world," Bazaar Del Mundo is the type of place a die-hard shopper could spend an entire day browsing. This vibrant, spacious complex houses shops specializing in items from all across Latin America, with a particular emphasis on women's clothing, jewelry, folk art, and home décor.
Other popular Old Town San Diego shopping destinations include stores like Toby's Candle & Soap Shop, where customers can create their very own hand-dipped organic soy candles; Johnson House, a vintage clothing store located in a historic building in the state park; and Cousin's Candy Shop, a local institution known for its taffy treats.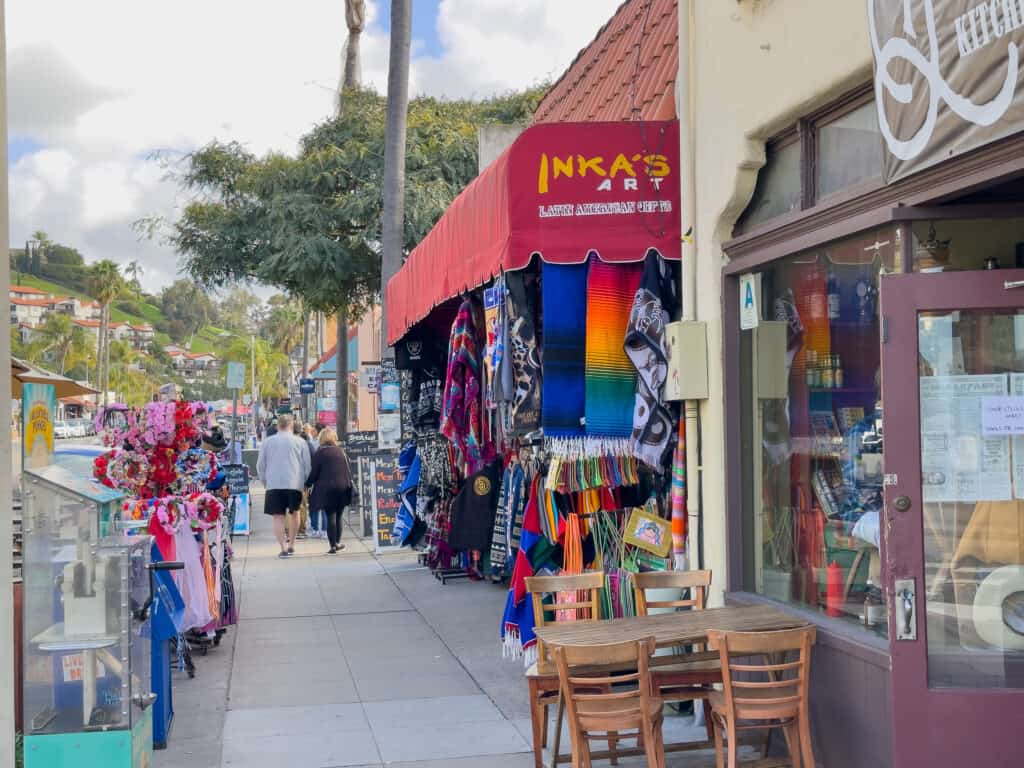 Other Ways to Enjoy Old Town
A significant part of Old Town's charm is the fact that it's home to Old Town San Diego State Historic Park. One of California's most acclaimed state parks, this major landmark lets visitors experience a taste of what life might have been like for inhabitants of San Diego between the years of 1821 and 1872. Consisting of a combination of restored original historic buildings and newer construction designed to resemble nineteenth-century structures, Old Town San Diego State Historic Park contains an array of shops, restaurants, and museums the whole family will love.
The Whaley House Museum is another prominent San Diego attraction located within the Old Town neighborhood. Whaley House dates to the 1850s, making it one of the oldest brick structures still standing in the area. At one time or another during its colorful history, Whaley House served as a private residence, courthouse, general store, and theater. However, its primary claim to fame today is as a haunted home, and many thrill seekers delight in going on a guided tour of the spooky site.
No matter whether you're devoting your time in Old Town to shopping or sightseeing—or you're enjoying a healthy amount of both—you're liable to work up quite the appetite. Fortunately, Old Town's dining scene is varied and extensive. Many Old Town shoppers choose to partake in the neighborhood's fabulous Mexican cuisine, but the area also features sushi restaurants and seafood joints. Regardless of what style food you opt for here, though, you'll want to take advantage of the neighborhood's plentiful outdoor dining spots.