Founded in 1769, San Diego is known for having deep roots and a rich history. Its storied past is well documented and showcased through its vast array of historical sites, neighborhoods, landmarks, and museums. These beautifully historic places are arguably some of the best aspects of the city and serve as an excellent way to spend the day exploring while also being kind to any budget. History enthusiasts and lovers of all things magnificent will find no shortage of fascinating areas and venues to explore. We've compiled a list of five top San Diego historic sites to add to your vacation bucket list.
Gaslamp Quarter
The Gaslamp Quarter is perhaps the most well-known historic site in San Diego encompassing an impressive 16-block section of downtown. This National Historic District offers breathtaking examples of the city's early Victorian architecture as well as numerous art galleries, theaters, nightclubs, specialty shops, and restaurants. For those who want to get an in-depth history lesson on the Quarter, visit the William Heath Davis House. It features detailed exhibits on the Gaslamp's history.
Old Town San Diego
Old Town San Diego is the birthplace of America's Finest City. It was the original downtown before a group of businessmen, led by Alonzo Horton, moved it to New Town in the 1880s. Visitors to Old Town will get an in-depth look into what life was like in early America and Mexico during the 1800s. Several San Diego historic treasures that can be viewed throughout Old Town's historic buildings and museums. Historic Old Town includes numerous original adobes as well as a blacksmith shop, schoolhouse, and a carriage collection. Visitors can take free guided walking tours, and experience "living history" every Wednesday and Saturday.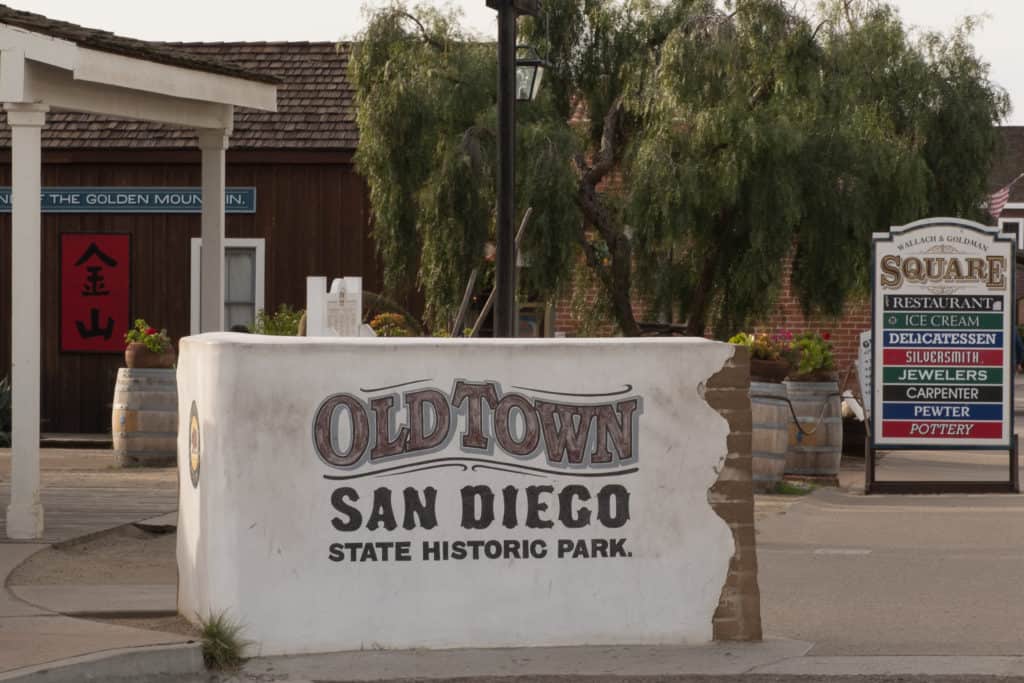 Mission San Luis Rey
Mission San Luis Rey, also known as King of the Missions, is a National Historic Landmark established in 1798. Located in North County San Diego, it was originally the largest historic site in California. Today, this 56-acre landmark features an array of historic buildings including the church constructed in 1815. On the grounds, visitors will find a grand museum with an eclectic mix of artifacts of Spanish, Mexican, Native American, and US Military origins. There are also retreat days available for those who are in need of some quiet, alone time. Guests have a private room, boxed lunch, and access to the beautifully manicured gardens.
Whaley House
The Whaley House is located in the historic neighborhood of Old Town in San Diego. Constructed in 1856 it was the first two-story brick structure ever created in the city. It has served a wide variety of functions over the years, such as being a family residence, county courthouse, general store, and theater. Today, it's most famously known as the most haunted locale in the world where multiple ghostly sightings and paranormal activities have been documented. During the day visitors can tour the grounds learning about its rich history, and at night they can enjoy quite a fright by partaking in one of their haunted tours.
Cabrillo National Monument
The Cabrillo National Monument is an iconic historic landmark situated in Point Loma. It's named after legendary Portuguese explorer Juan Rodriguez Cabrillo who arrived in the San Diego Bay in 1542. The vast complex features a museum that depicts Cabrillo's explorations, as well as those of other early explorers. Its most prominent feature is the Point Loma Lighthouse, which stands at a towering 433 feet above sea level and offers incredibly picturesque views of the city's skyline and the Bay. Visitors can also take a small hike down to shoreline tide pools. It's a great place to do tidepooling at low tide, and to watch the waves crashing along the rocky formations at high tide.
But Wait, There's More…
These sites are just the tip of the iceberg. San Diego's rich history is vast and filled with historical museums, landmarks, and neighborhoods throughout the city. For those who want to do more than just get their toes wet in our city's history there are many more places to discover. Visitors can walk historic Little Italy, explore the Mission Basilica San Diego De Alcala, investigate the USS Midway aircraft carrier and museum, visit the Villa Montezuma in Sherman Heights, wander Balboa Park, or follow the Founders' Trail of Historic Sites.
That wraps up our list, and while we know there are plenty more places to share, we'd rather get you involved in the conversation. What are some of the best historic places you've visited in San Diego? Any historic sites you think we completely overlooked that should be on the list? Let us know in the comments below!