If you know San Diego, you're aware of its strong surf culture, and how that culture has played a role in shaping the identity of the city. Surfing in San Diego is more than catching waves; it's a way of life. From the local vernacular to the casual style of dress, everything has been forged by the surf. The city is filled with surf themed shops, restaurants, bars, festivals, and more, paying homage to San Diego surf life.
Some of the best places to surf in the county can also be some of the most dangerous. It's good to have an idea of the skill level required, types of waves present, and other variables that will make your surf experience either epic or tragic. We've rounded up the best five San Diego Beaches to surf in the County if you are an experienced surfer. Novice surfers should know these spots too, so they can go there to watch and learn, but not to surf. Don't worry newbies, there are plenty of places for you too including Pacific Beach, Mission Beach, and Ocean Beach. And now for the top five.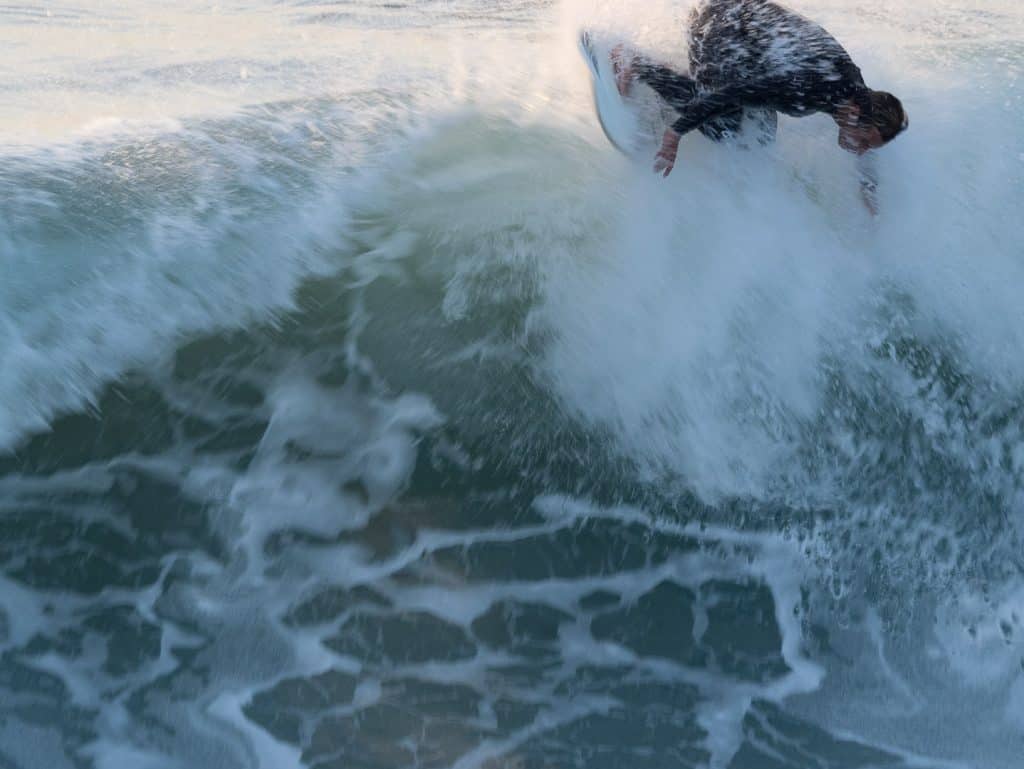 Swami's Beach
A favorite place to surf is Swami's, located on the south end of Encinitas next to the Encinitas Temple and Meditation Gardens. It is the only internationally known surf spot in San Diego County. This marine protected area has a spectacular reef that creates perfect lined walls drawing in experienced surfers, especially during winter swells. The downside is that it is a hot spot for local surfers, so the lineup is often crowded. It may be difficult for a newbie coming in to actually ride a few waves. For anyone looking to simply watch, you're in luck. The cliff top vantage point at Swami's Seaside Park offers epic views. Spend some time watching before trying to claim a spot in the lineup.
Similar to Swami's, Black's Beach is one of the most popular surf spots in San Diego. It also has one of the World's best beach breaks. Thanks to Scripps Submarine Canyon, swells get sucked into this break offering some of the best waves on a consistent basis. There is simply no other spot in San Diego quite like this one, with many comparing the quality, structure, and differing style of waves to that of the beaches in Australia. On top of all this, Black's beach has crystal clear water; spotting a bottlenose dolphin is as easy as catching a great wave. You'll find this surf beach between Torrey Pines State Park and Scripp's Pier in La Jolla.
Known for its intense waves created by the jutting rocks and reef, Windansea Beach is a secluded surf spot that attracts well-seasoned surfers. This is especially true during the winter months with average waves of six to eight feet. You'll find the main break is a reef break at Windansea, but there are several others. These include Big Rock, Simmons, Turtles, and Middles, which all offer excellent surf experiences. If you're a novice surfer, just go here to watch. Experienced surfers will feel the rush of challenging these sometimes monstrous waves. Windansea Beach is the setting for an essay on 1960s surf culture in Thomas Wolfe's The Pump House Gang. Access the beach at the end of Nautilus Street in La Jolla.
Tourmaline Beach
Located in North Pacific Beach, Tourmaline Surf Park is probably the best spot for novice to intermediate surfers, and those new to the San Diego surf scene. It's known for being one of the friendliest places to surf in the city. There is a welcoming come one, come all attitude with plenty of space for everyone to catch some waves. There are three types of waves here: on the north end, known as Old Man's, you'll find long mushy waves; in the middle is Channels where the waves tend to be smaller, but can pick up on the inside. On the south end is Pumphouse, a classic break good for all. Typically this is a spot for long boarders, but you will see the occasional short board out on the water. It's a crowded spot, but the waves are consistent; you'll always find something to surf no matter the tide.
Sunset Cliffs
In the Point Loma neighborhood of San Diego you'll find the fabled Sunset Cliffs surf spot. This local favorite offers up a variety of waves for every type of surfer, however this is a spot that presents particular danger to tourists. It may be best left to experienced local surfers. The reason has more to do with getting to the water from the cliffs, and less to do with the waves. Sunset Cliffs only has foot paths leading to the water that were forged by local surfers trekking down, but the cliffs are unstable and can be extremely dangerous. One wrong move can send you down tumbling down the cliffside into the sea. There have been more than a few casualties here. This is a spot for surfers who rip and know the cliffs. If you're new to the area, don't start your surfing experiences here. When you do come to Sunset Cliffs to surf, come with a local who's previously surfed here.
These five surf spots may be some of the best in the city, but with 70 miles of coastline San Diego is sure to have a surf spot that meets your skills and needs. You can pull over almost anywhere along the coast and find an excellent spot to surf. Make use of the many online surf cams to see which waves are for you. Local surfers are friendly, but respect the rules of the surf to gain their respect. Hodads welcome too!