Are you worn out from winter and in need of a refreshing spring getaway? Then perhaps you're looking for a special place to visit, somewhere you can relax, unwind, and recharge the batteries. Lucky for you, you've come to the right spot, because you don't need to look any further than sunny San Diego, California. Keep reading for eight great things to do in San Diego this spring.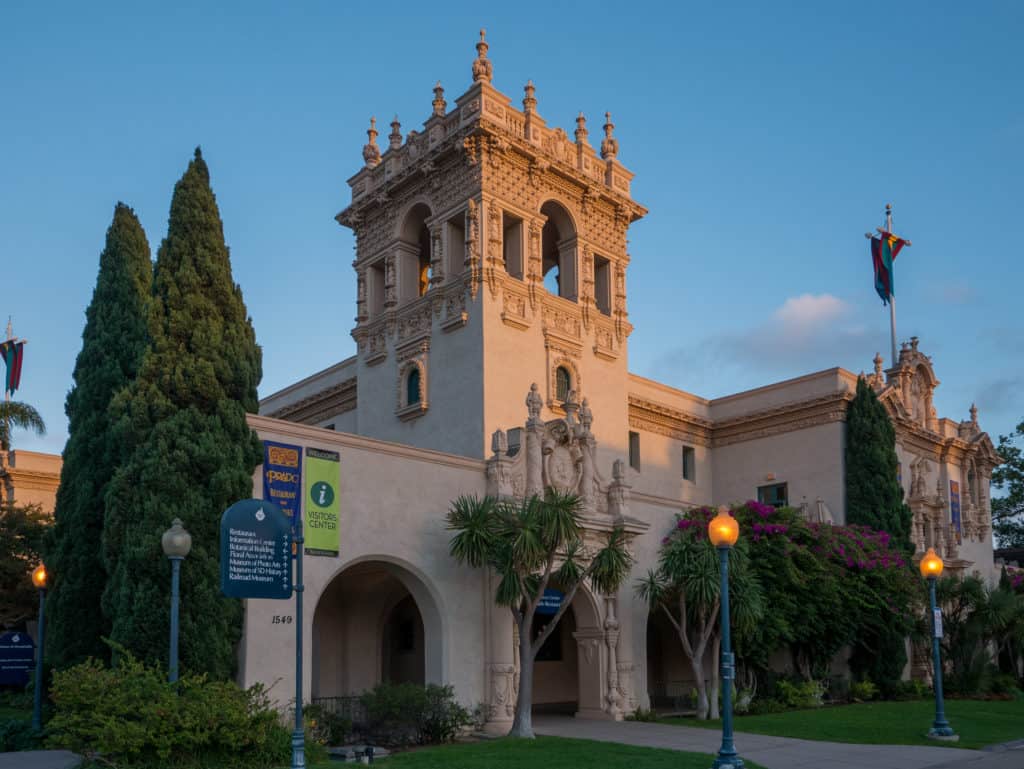 Get Lost in Balboa Park
To be clear, we're not actually encouraging you to get lost in San Diego's spectacular Balboa Park, but rather just trying to make a point about how many different remarkable things there are to do here. Considered by many to be the very heart and soul of San Diego, Balboa Park's 1,200 acres are home to everything from flower gardens and hiking trails to museums, theaters, and the San Diego Zoo. Many of San Diego's most popular attractions are found within Balboa Park, including several highlights that'll be mentioned in a moment, and yet these headliners only scratch the surface of the fun that can be had here on a beautiful spring day.
Go on a Safari
Located in Balboa Park, it doesn't get much more quintessentially San Diego than the world-famous San Diego Zoo, and though the universally beloved giant pandas no longer call the zoo home, you'll still find here all manner of fun and games perfect for the whole family. And if you're in the mood for something even more adventurous, you'll want to make the 35-mile trip northeast from the zoo to its sister operation, the San Diego Zoo Safari Park. There you'll observe, spread out across 1,800 glorious acres, over 3,600 animals numbering some 300 or so unique species. The Safari Park features a tremendous collection of botanical specimens, too, so put on your good walking shoes and prepare to spend a spring afternoon getting in touch with nature!
Travel to Outer Space (Sort of . . .)
For roughly 50 years now, San Diego's Fleet Science Center has been delighting children of all ages while bringing out the curious kid in us adults, too! The Fleet Science Center contains over 100 interactive exhibits spread out across a number of permanent galleries, including perennial favorites like Kid City, So Watt! ("an illuminating look at energy"), and the Pulseworks Virtual Reality Transporter, which lets you experience the sensation of floating in space or venturing forth on a moonwalk without ever even having to leave San Diego. While you're at the Fleet Science Center, you'll also want to make time to catch an IMAX movie and a planetarium show.
Luxuriate in LEGOLAND
As long as you're invested in treating the kids to the time of their lives during this springtime San Diego adventure, indulge them with a visit to LEGOLAND California Resort. This unique destination is located about 30 minutes north of San Diego in Carlsbad, California, and it's another one of those terrific attractions that helpfully has a little bit of something for the entire crew. The centerpiece of LEGOLAND California Resort would have to be its amusement park, which includes scores of rides, shows, a water park, and a branch of the popular SEA LIFE Aquarium franchise. However, there's also plenty of dining and shopping options, as well as two LEGO-themed hotels available for you to stay at. The LEGO-centric guest rooms at these places are wildly creative, too, and worth a stay just for the novelty.
Contemplate a Work of Art
Once the children have worn themselves out enjoying LEGOLAND California, you'll be more than justified in spending a little time on yourself. Even if you aren't traveling with kids, don't worry, you'll still love the San Diego Museum of Art. This fine institution has an outstanding permanent collection of art from all over the world. It's especially strong in 19th and 20th Century American art, 17th and 18th Century European paintings, and South Asian art, and routinely hosts special temporary exhibits each spring.
Ramble On
Who doesn't love a good road trip? If you happen to find yourself in the greater San Diego area come this spring, you will not want to miss the chance to explore Anza-Borrego Desert State Park. You'll need to budget a healthy amount of time for this adventure—Anza-Borrego Desert State Park is approximately 75 miles northeast of downtown San Diego—but it'll be well worth the effort. The largest state park in California, Anza-Borrego Desert State Park is a natural treasure, and it's especially wonderful during the spring months when wildflowers bloom in the midst of the rocky desert, lighting up the arid landscape with dazzling pops of color.
See SeaWorld
No matter the time of year, SeaWorld San Diego is one of the city's foremost attractions. Here you'll encounter all types of fascinating creatures, big and small, but year in and year out the stars of the show are the ever-popular whales, sharks, penguins, and dolphins. You'll for sure want to carve out time to watch in awe as the mighty orcas do their thing. SeaWorld San Diego also offers guests access to a variety of additional attractions like rollercoasters, rides, the Sesame Street Bay of Play, and much more.
Head for La Jolla
No trip to San Diego is complete without spending time exploring La Jolla, and that is even more so the case when spring rolls around again. There's so much to see and do in and near La Jolla that you'll practically have to drag yourself away when it's time to depart. Rent a kayak, go snorkeling, have a swim, sunbathe for a bit, hike some trails, bike some trails. Oh, and don't forget about Torrey Pines State Natural Reserve, too. It's an incredible stretch of rugged coastline that, seen on a perfect spring day, will have you saying "What winter?" in no time at all!