San Diego is made for al fresco dining with reliably great weather, famously SoCal landscapes, and a deliciously diverse culinary scene. You'll have no shortage of outdoor dining options in America's Finest City. Seaside, street-side, and even Japanese garden-side, San Diego has it all from Downtown to North County. These 21 San Diego restaurants serve sumptuous cuisine with a side of fresh air.
Downtown Dining
La Parfait Paris
This charming French bakery offers an urban alternative to the usual bustling restaurants and bars of the Gaslamp Quarter. La Parfait Paris is an idyllic bakery serving delectable in-house, made-to-order sweet treats. Their quaint patio overlooks G Street in the heart of the neighborhood, and is an excellent place to people-watch while sipping a pumpkin spice latte or nibbling on a raspberry macaroon.
555 G Street, Gaslamp Quarter
Mister A's
Situated 350 feet above sea level, Mister A's provides extraordinary San Diego Bay and dramatic Downtown skyline views from its expansive outdoor terrace. The best time to visit is during their Thursday through Sunday cocktail hour, when you can indulge in the same legendary five-star plates they're known for, at a more affordable price. Truffle mac 'n' cheese and a Rose Spritz anyone?
2550 Fifth Avenue, Bankers Hill
Kettner Exchange
With its baroque juxtaposition of steel and wood, Kettner Exchange provides a sleek and sophisticated design, bringing "sexiness" to Downtown San Diego. The only open-air rooftop in Little Italy, it provides swinging daybeds, enclosed cabanas, self-serve beer taps, and a unique collection of libations. You'll even find DJs spinning on the weekends. Feeling extra hungry? Grab a Pig Mac Steam Bun. Looking for something lighter and more refreshing? Order the Watermelon Poke.
2001 Kettner Boulevard, Little Italy
Fireside by The Patio
With 80% of its seating outside, it's no surprise that Liberty Station's Fireside by the Patio restaurant in Point Loma made our list. Created by the same team behind The Patio on Goldfinch and The Patio on Lamont, Fireside boasts a sophisticated design highlighted by rustic décor and furnishings. The menu features a selection of wood-fired plates including charred mussels and nine kinds of yakitori – grilled skewers.
2855 Perry Road, Liberty Station, Point Loma
Casa Guadalajara
An Old Town staple, Casa Guadalajara is an authentic Mexican restaurant boasting an extensive menu of pollo tamales and cheesy enchiladas among other classics. This adobe-style eatery features vibrant and colorful décor with live mariachi music nightly. Their picturesque courtyard with a bubbling fountain and a 200-year-old pepper tree creates a romantic al fresco ambience.
4105 Taylor Street, Old Town
Puesto at the Headquarters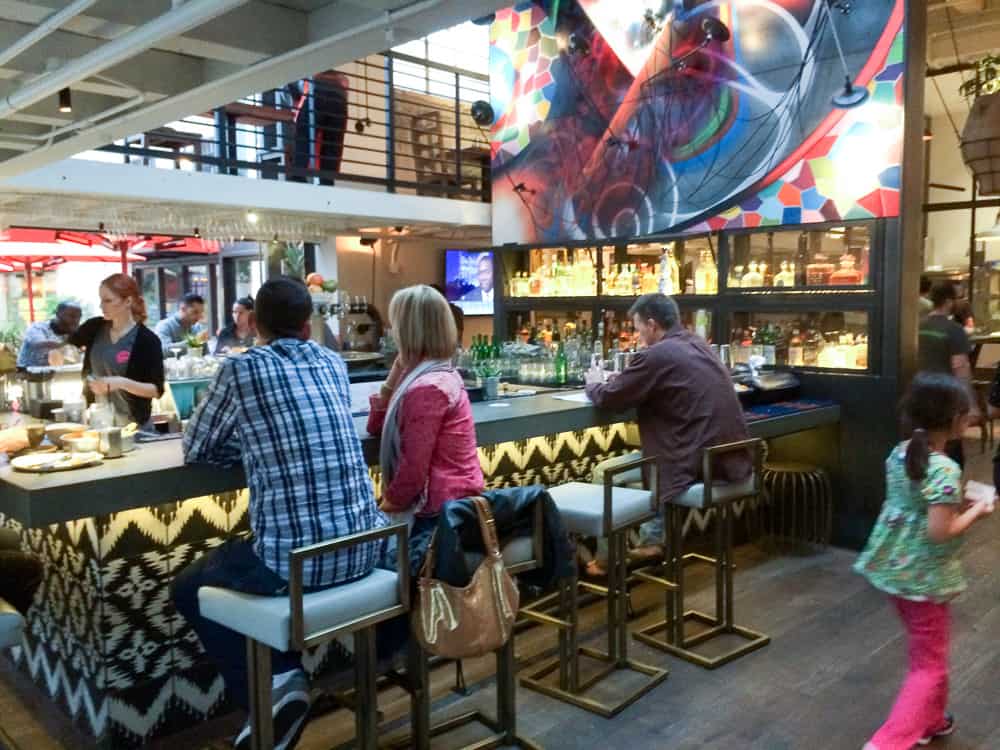 Housed in the original San Diego Police Headquarters, Puesto at the Headquarters is an artful, industrially-chic restaurant with a delicious Mexican-inspired menu. The space is transitional, seamlessly moving from indoors to outdoors with its large steel-framed, glass doors. You can expect an extensive selection of delicious tacos, mariscos, and guacamoles, as well as tequila-inspired specialty cocktails and Micheladas.
789 West Harbor Drive, Seaport Village
Quartyard
An entirely outdoor urban park, Quartyard is home to an eatery, full service beer garden, coffee shop, dog run, event venue, and art space. Created to turn vacant urban land into a welcoming outdoor community space, it's open seven days a week. It hosts several outdoor concerts, cultural events, community activities, and street markets. You'll find a small menu of burgers and bites like the Morning After burger and Buffalo wings, at this sustainable East Village hot spot.
1301 Market Street, East Village
Seaside Seating
George's at the Cove
A La Jolla icon, George's at the Cove is known for its farm-to-table practices, excellent bar program, and incredible views of the Pacific from their Ocean Terrace. Expect casual elegance, million dollar views, and extraordinary New American cuisine prepared by renowned San Diego Chef Trey Foshee. From pastas to sandwiches to fish tacos, there's something irresistibly delectable for everyone at this award-winning rooftop restaurant in La Jolla.
1250 Prospect Street, La Jolla
 Trilogy Sanctuary
Sharing space with a cool yoga studio, Trilogy Sanctuary combines rooftop ocean views and super foods. At this organic vegan café, menu selections include smoothies, grain bowls, salads, light bites, and shareables like their Vega-Nachos, as well as heartier options like their Trilogy Cheeze Burger and Radical Ravioli. Be sure to check out their yoga menu that includes aerial work and full moon events.
7650 Girard Avenue, La Jolla
Firehouse American Eatery & Lounge
Housed in Tower 23 Hotel in Pacific Beach, Firehouse American Eatery & Lounge is a rooftop restaurant with exceptional views of iconic Crystal Pier, the popular PB boardwalk, and the Pacific Ocean. Design elements include booth seating, a retractable awning for shade, a fire pit, and four private cabanas. They serve classic American fare with a twist – Korean beef tacos, Chicago dogs, and bourbon-bacon topped popcorn to name a few.
722 Grand Avenue, Pacific Beach
Jimmy's Famous American Tavern
Nestled between Harbor and Shelter Islands in Point Loma, Jimmy's provides you with gorgeous views of the marina on San Diego Bay while you dine on hearty American fare in a lively atmosphere. While it's most well-known for its burgers and Bloody Mary's, Jimmy's is chock-full of robust and savory dishes like their Buttermilk Fried Chicken Breasts. They're served with green beans and mashed potatoes topped with a thyme gravy. Yum!
4990 North Harbor Drive, Point Loma
The Grill at Torrey Pines
Housed at The Lodge at Torrey Pines, The Grill overlooks the legendary Torrey Pines Golf Course and the sparkling Pacific Ocean. Boasting a rustic décor, the patio utilizes gorgeous hand-made wood furniture, fire pit tables, and stylish tableware to create an unmatched, casual elegance. Specializing in American fare cooked over an open fire, The Grill offers a menu filled with smoky flavors and slow cooked dishes like hot smoked salmon and wood roasted vegetables.
11480 North Torrey Pines Road, La Jolla
Pueblo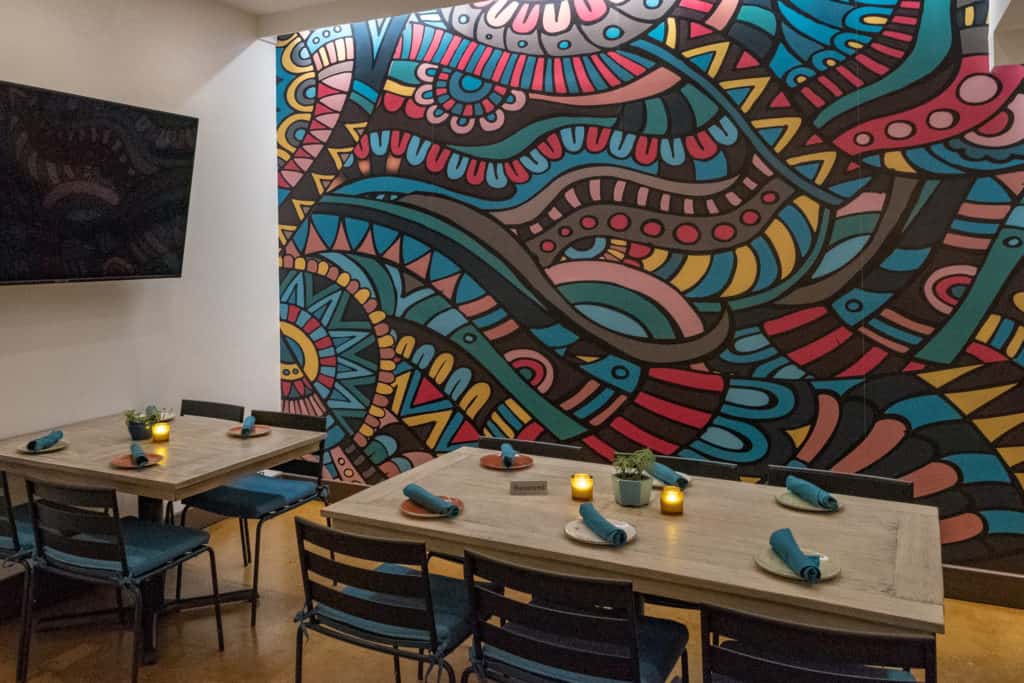 Boasting ocean-inspired décor, Pueblo is a rooftop deck with two expansive bars. You'll discover a modern coastal menu with Baja California influences. Popular selections include Lobster Queso Fundido, and Daily Market Fish Filet. Try to make it to at least one Pig Roast Sunday where you can indulge in all-you-can-eat carnitas tacos for just $15 dollars. A great selection of tequila and agave-based signature cocktails takes this eatery to the next level.
877 Hornblend Street, Pacific Beach
Wonderland Ocean Pub
Famous for their incredible ocean view, Wonderland is an Ocean Beach staple serving up coastal cuisine and one-of-a-kind signature cocktails. You'll find everything from fresh fish ceviche to soy ginger beef short ribs. Looking for a shareable? Try the hot beer cheese and salty pretzel balls. Make sure to catch a sunset here and enjoy a free "sunset toast."
5083 Santa Monica Avenue, Ocean Beach
North County Nibbles
Stone Brewing World Bistro & Gardens
Offering you a fairy-tale setting, Stone Brewing boasts a beautiful manicured one-acre garden with a scenic running brook. Design features include a stone bridge, oversized wooden Adirondack chairs and giant picnic tables.  Relax with a cold one while you dine on a menu of gourmet American fare with selections like smoked sea-salted pretzels and a pulled pork sandwich.
1999 Citracado Parkway, Escondido
Park 101
One part kids' playground and one part food court, Park 101 is a completely unique all-outdoor eatery with counter-service. You can expect a delicious menu of barbecue sandwiches, donuts, salads, and acai bowls at this family-friendly restaurant in Carlsbad. Kids will love the restaurant's life-size Connect Four and menu games. Adults will enjoy an exciting game of Cornhole, and an upstairs deck with fire pits, wine, and a selection of small plates.
3040 Carlsbad Boulevard, Carlsbad
Hello Betty Fish House
Magnificent ocean views create the perfect backdrop for Oceanside staple, Hello Betty Fish House. This casual rooftop, picnic-style eatery features an incredible menu fresh seafood and tacos – grilled Mahi Mahi, smoked pork belly, chicken adobado, and short ribs. Be sure to make it to a Sunday brunch where gourmet benedicts and piña colada fritters meet live music.
211 Mission Avenue, Oceanside
Bagby Beer Company
Opened by a former Pizza Port brew master, Bagby Beer Company is a cool and stylish restaurant and brewery featuring a menu of chicken wings and pizzas. They are most notably known for their brew selection. They offer every brew on the beer rainbow – German-style lagers, pilsners, blondes, and IPA's. You can sit in one of three outdoor areas – the back patio, sidewalk porch, or rooftop lounge. Each has its own distinct vibe.
601 South Coast Highway 101, Leucadia
Karl Strauss Brewing Company
You might be surprised to find a Japanese-style garden in the heart of Sorrento Mesa's scientific and tech hub, but that's exactly what you'll find at Karl Strauss' outdoor patio. Overlooking a lovely koi pond dotted with lily pads, the brewing company has created an ethereal, tranquil space ideal for enjoying their menu of classic American fare and craft brews. Boneless Buffalo wings, duck fat pretzels, and mac 'n' cheese skillets, need I say more?
9675 Scranton Road, Sorrento Valley
Pacific Coast Grill
With two outdoor patios right on the beach providing unobstructed views of the ocean, Pacific Coast Grill is a premier North County hot spot for al fresco dining. Handcrafted wood tables are complemented by stylish grey wicker chairs. Heat lamps warm you on cool evenings. The ocean-inspired menu features an excellent selection of seafood favorites and specialty sushi rolls, as well as signature cocktails, Pacific Coast wines, and craft beer. Be sure to check out the oyster bar!
2526 South Coast Highway, Cardiff-by-the-Sea
Veladora
Nestled within the lush 45-acre property of five-star rated, Rancho Valencia Resort & Spa, Veladora is surrounded by magnificent olive groves and gorgeous gardens. An outdoor oasis, it has a Mediterranean décor with Spanish influences, and provides a menu of fresh California cuisine. You'll enjoy seasonal selections like slow-poached Maine lobster and slow-pan roasted filet mignon exquisitely paired with craft wines and brews, plus a menu of signature cocktails.
5921 Valencia Circle, Rancho Santa Fe
Playing Favorites
These are our favorite al fresco dining spots from North County to Downtown San Diego. What's yours? Let us know in the comments below.