Different strokes for different folks. The restaurant YOU should go the next time you want a delicious breakfast.
There is no shortage of delectable restaurants in San Diego, it's a city with a thriving restaurant and bar scene featuring a diverse collection of ethnic offerings and culinary styles. The problem with finding a great restaurant in San Diego is that there is no problem. They are everywhere. It's hard to make a bad decision. That means more often than not you're choosing the right restaurant based on who you're dining with, the ambiance that is most fitting to your mood, and the food that will most likely match your taste.
Since breakfast is the most important meal of the day, we thought we'd spread the love around. We start with a few of the best places for breakfast with the kids, followed by some suggestions for the wee hours of the morning after a night out. And finally, we share some breakfast love for vegans and vegetarians. Below are eight San Diego favorites in these three categories.
Best Breakfast Restaurants for Kids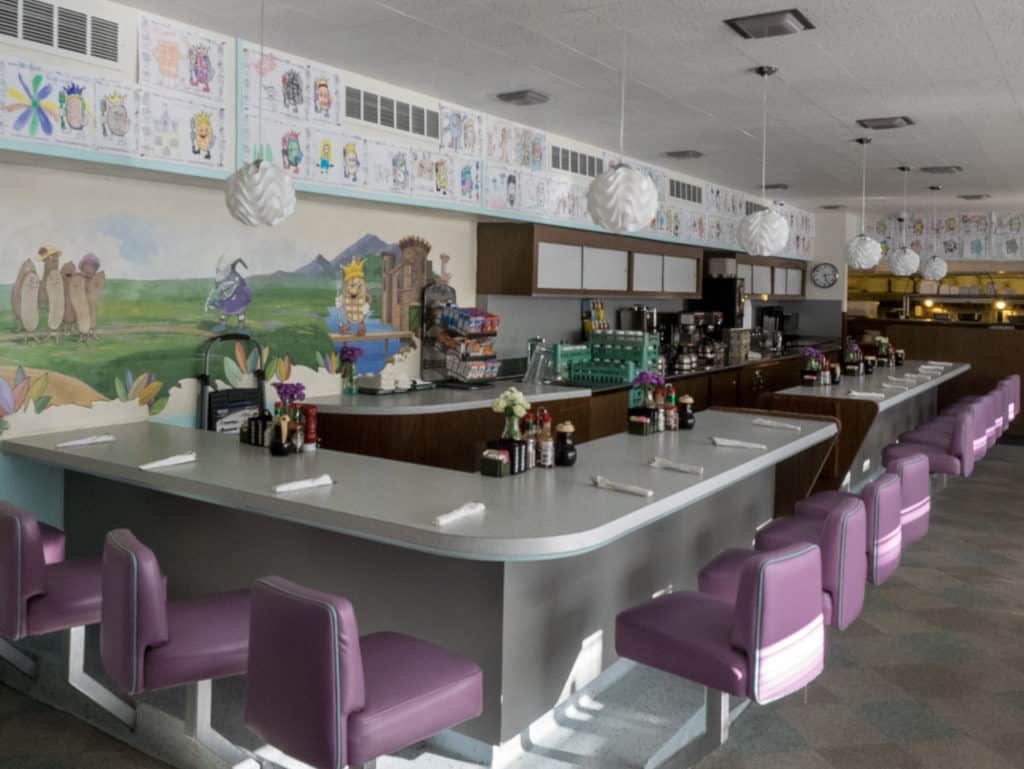 The Waffle Spot
When it comes to a family breakfast with little kids there simply isn't a better location than The Waffle Spot at the King's Inn in Mission Valley. This old-school style diner has been a hot spot for over 20 years offering delicious American-style breakfasts of waffles, omelets, and breakfast classics. On the weekends, the energetic character, Sir Wafflelot, the Waffle King, comes by to say hello to the kids as they color and wait to be served. When the meal is finished children can choose to offer their masterpieces to the restaurant to be placed on wall.
Corvette Diner
For an energetic and exciting breakfast with scrumptious American breakfast fare, look no further than Corvette Diner. This is nonstop live entertainment with staff dressed to fit the part and ready to break into dance at a moment's notice. Balloon artists, Disc Jockeys, and even magicians stop in throughout the week in order to liven up an already lit atmosphere. But that's not even the most exciting part of the diner, the 5,000 square-foot Gamers Garage featuring over 50 games is the main draw. The adults will love the throw back arcade games while the children will revel in new age, high-tech simulators.
Wow Wow Waffle
Wow Wow Waffle is the ideal breakfast spot for mommies and their little ones. It's an outdoor, off-the-beaten path, hidden gem located behind a laundromat where an old-school VW Van tent and ballpark seats create a whimsical and playful ambiance. And yes, you can actually dine in the tent, an extra special treat for the kiddos. What's even better is this is an open-seating establishment where kids can find a place to play around the table of your choice instead of being confined to one spot. The delicious seasonally topped waffles and take-home "local" mason jars are just the cherry on top.
Best Breakfast Restaurants for Hangovers, the Morning after a Night Out
Urban Solace
After a night of partying your head and stomach may need some solace, so you might as well take them to Urban Solace, a place that buys local, but serves up truly delicious Southern-style fare. Whether you're looking for a dimly-lit relaxed atmosphere indoors or a breezy, sunlit patio experience you can find it here. What makes it even better is the large southern-inspired menu with alcohol absorbing powers. Kitchen Sink Biscuits and Gravy is the perfect example. Indulge in cheddar and chive biscuits smothered in sausage gravy and topped with brown sugar slab bacon, sausage, and two fried eggs, served with fresh fruit.
Great Maple
Sometimes nothing says hangover cure better than a little hair of the dog. For those of you who don't know, that means dulling your hangover with a morning after drink – but avoiding getting drunk again. For those looking to handle the hangover this way, Great Maple is the perfect restaurant, thanks to Johnny's Hangover Mary. It's a combination of vodka, Bloody Mary mix, Worchester sauce, atomic horseradish, and Tabasco served in a salt-rimmed glass, topped with Ciabatta snack. Add an order of Maple Bacon Donuts to the mix, and you'll be good to go in no time.
Best Restaurants for Vegan/Vegetarians
Trilogy Sanctuary & Café
When you want an eco-chic rooftop café dining experience with a menu offering a variety of vegan, organic, and gluten-free dishes look no further than the Trilogy Sanctuary & Café. It's the ideal place to nourish the mind, body, and soul by enjoying a delectable post-yoga breakfast. You'll dine on a delicious array of organic oatmeals, crepes, acai & pitaya bowls, and interestingly named super smoothies such as Serenity, Love, Euphoria, and Magic Matcha.
So Cal Café
This hippy, earthy, vegan café features an ambiance of open windows providing tons of light, white walls accented by pops of bold colors and furnishings, and gorgeous live plants. The So Cal Café menu features an array of vegan, gluten and dairy-free dishes, and provides all-day breakfasts, soups, salads, and even ayurvedic elixirs. A collection of small bites such as their assorted toasts topped with choices like avocado or banana and almond butter are among their top selections. They also feature a superb list of specialty coffee and tea drinks.
EVE Encinitas
EVE Encinitas provides a bright and warm atmosphere featuring reclaimed wood furnishings and utilizing beautiful earth tones creating a space that inspires nourishment, respite, and growth for the body and soul. Its relaxed atmosphere is perfect for connecting with friends while indulging in creative vegan dishes, cold-pressed juices, super-food smoothies, and local kombucha. Buddha Bowls such as the Legendary Hero with braised kale, Brussels sprouts, carrots, beets, hemp seed, walnuts, and cranberries over brown rice are some of the menu favorites.
There you have it, our favorites in three breakfast categories. What are your favorite breakfast spots in San Diego?