Want to start an argument on the streets of San Diego? Just walk up to a group of people and ask them: "Where should I go for San Diego's best tacos?" Then take a step back and watch the fireworks begin as each individual makes the case for their personal favorite as the city's essential taco destination.
Or, since you're a visitor to this fine city and quite probably not in the mood to be stirring things up with locals immediately upon your arrival—though it's highly likely you do want to know where to go in San Diego for great tacos—you can ignore the above suggestion. Instead, keep reading for more information about San Diego's favorite tacos.
The Taco Stand
Simple name, uncomplicated situation: No matter who you talk to, The Taco Stand ranks right near the top of any list of best tacos in the San Diego area. The Taco Stand specializes in Tijuana-style street tacos (and they make a pretty mean burrito, too—though that might be a food conversation for another day). The local taco powerhouse got its start in La Jolla and at an Encinitas location not far from Moonlight State Beach, but is expanding throughout the region at an impressive clip.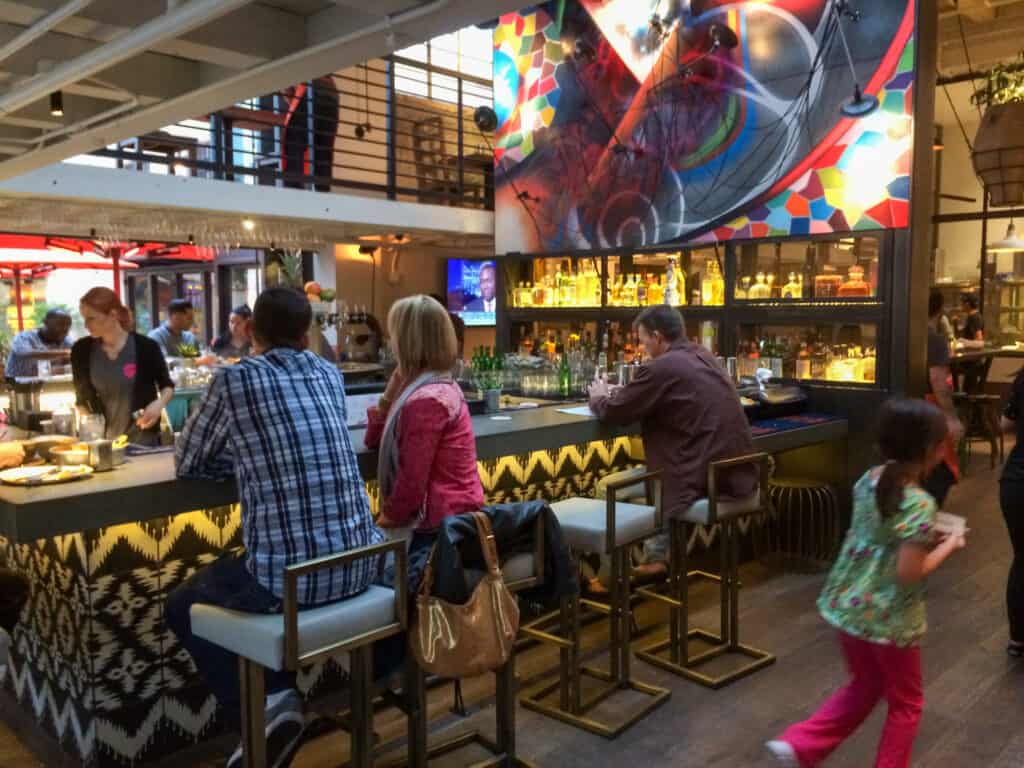 Puesto
Puesto is legendary locally for its upscale take on tacos, so much so that most people consider its signature menu item to be what they call a filet-mignon taco. Puesto itself has branded their renowned creations "Trophy Tacos," and it's hard to argue that they don't back up the boast. And if you're as interested as I am in the notion of combining fancy tacos with fabulous shopping, you'll have a couple locations in the area to choose from: the Puesto in La Jolla is just a block away from the high-end shopping of Prospect Street, while Puesto Mission Valley has a brewpub-style feel set in the midst of the sprawling Westfield Mission Valley shopping complex.
Blue Water Seafood
Blue Water Seafood is an acclaimed restaurant brand with a classic, wide-ranging, seafood-restaurant menu—that just so happens to be legendary for its fish tacos. Whether you're in the mood for beer-battered cod tacos or wild Pacific shrimp tacos, all Blue Water Seafood's fish-taco offerings are comprised of local, fresh catches meant to be enjoyed with one of their outstanding marinades. And when you're done dining at their charming Ocean Beach location, you'll have an unbeatable choice on your hands: walk one block this way for the scenic shoreline, or walk one block that way for the many indie stores of quirky Newport Avenue.
City Tacos
With over a half-dozen locations throughout the greater San Diego area, City Tacos is one of the bigger names on the taco scene here. City Tacos is an especially smart destination if you're traveling as part of a group—or have family members with divergent tastes—on account of its sizable, diverse menu that includes traditional fare like the Mexicali (grilled angus steak), fun offerings such as the Ahuevo Breakfast Taco (sunny-side egg and refried chorizo beans), and multiple vegan or vegetarian options. The portobello mushroom-based taco may be unconventional, but I dare you to try and not become an immediate convert.
Oscar's Mexican Seafood
Oscar's Mexican Seafood is another favorite of local fish taco devotees, though their non-seafood tacos are no slouch either—which is why many customers opt for their popular Surf & Turf Taco, which combines skirt steak and shrimp into one mouthwatering bite. When in doubt, regardless of what taco you go with, make sure and add one of their delicious ceviches to your order. The Hillcrest location of this popular brand is situated on University Avenue in the heart of one of the city's most vibrant neighborhoods.
Tacos El Gordo
The first Tacos El Gordo opened in Tijuana way back in 1972, before arriving in San Diego in 1998. Today, Tacos El Gordo is a local institution in the region, with restaurants spread throughout the city and beyond. The star of the Tacos El Gordo show traditionally is the Adobada taco—spicy pork with your choice of toppings—but that's far from the only item worth trying, of course. Tacos El Gordo is also famous for its distinctive ordering system, where you'll stand in a different line depending on which protein you want to serve as the foundation of your taco. Add it all together and it makes for a unique San Diego dining experience.
Tuetano Taqueria
Few food trends have made as big of a splash the past few years as birra, and there's arguably nowhere better in San Diego to go see for yourself what all the hype is about than Tuetano Taqueria. This much-lauded establishment is helmed by acclaimed chef Priscilla Curiel, and its bustling location in Old Town San Diego frequently has long lines of hungry patrons eager to sample her homemade birra. The wait—if there is one—will be well worth it.
La Vecindad Neighborhood Tacos
Another standout taco joint in Hillcrest, La Vecindad Neighborhood Tacos does Mexico City-style tacos as well as anyone in all of San Diego. Their made-from-scratch corn tortillas are as tasty as any you'll come across, and the ambiance here is warm and welcoming. La Vecindad Neighborhood Tacos is another establishment that has a vegetarian-specific section of their menu, ensuring that no one gets left out of the taco fun.
Lola 55
Halfway between The Gaslamp and Balboa Park is where you'll find the East Village neighborhood's Lola 55, whose slogan "Tacos & Cocktails" pretty much says it all. This stylish modern restaurant is known first and foremost for its pork belly al pastor taco, but plenty of locals swear by Lola 55's fish tacos, too. With a long drinks list, this is the kind of place where you can turn the joy of Taco Tuesday into an entire evening's worth of fun.