Ceasar Chavez once said, "From the depth of need and despair, people can work together, can organize themselves to solve their own problems and fill their own needs with dignity and strength." Those words reflect the decades-long community efforts that resulted in elevating Chicano Park from an embattled, undeveloped swath of land to a National Historic Landmark. Each April, San Diego celebrates the 1970 resistance that spawned the park on Chicano Park Day.
History, Culture, and Art at the Park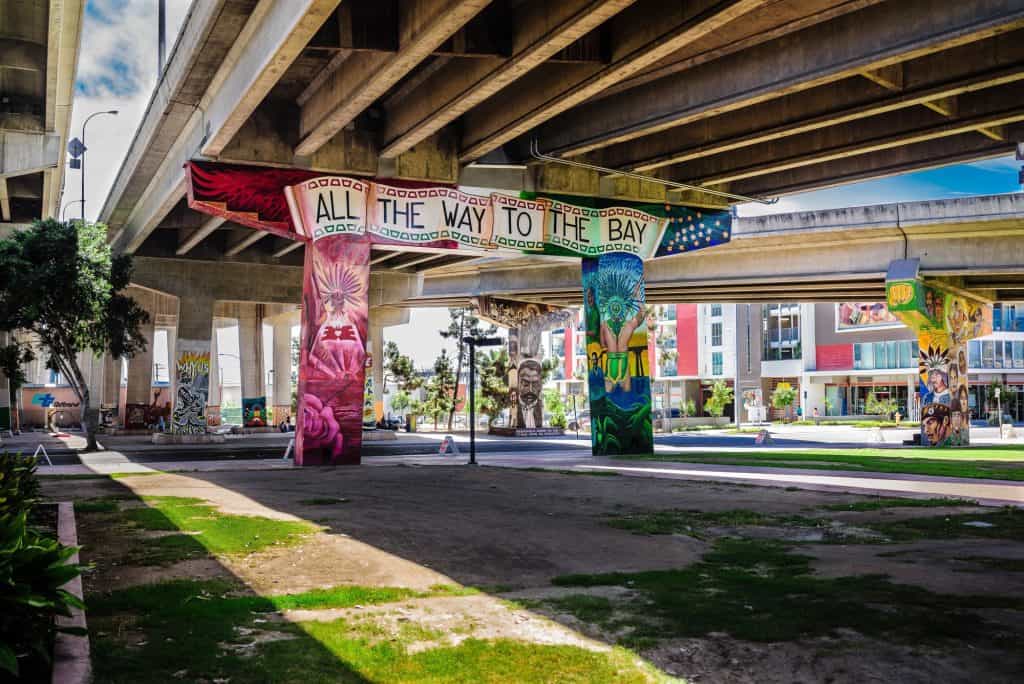 At the turn of the 20th century, the growing Mexican-American neighborhood at the southern end of Logan Heights became what's known as Barrio Logan. When San Diego needed a naval presence during World War II, they cut off the neighborhood's oceanfront access with military installations.
In the 1950s, San Diego rezoned the area to mixed residential and industrial creating noise and pollution, then razed 5,000 homes and businesses to build Interstate 5 down the middle of it in the early 1960s. This was followed by building the elevated onramp to the Coronado Bridge in the neighborhood in 1969.
Like so many other minority neighborhoods across the country, Barrio Logan had fallen victim to eminent domain following the 1956 National Interstate and Defense Highway Act. Other communities across the country with more money and better connections like Cambridge, Beverly Hills, Princeton, and New Orleans' French Quarter, staved off highways with a "freeway revolt" at the expense of their less well-to-do neighbors.
San Diego struck a deal with the Barrio Logan community to create a park under the Coronado Bridge as compensation for the grove of cold concrete pillars holding up the bridge that marred the neighborhood landscape and destroyed homes and businesses.
On the morning of April 22, 1970, the community was surprised to discover San Diego city workers clearing way for a California Highway Patrol station on the land designated for the park. They immediately mobilized and stopped bulldozers with human chains, and then occupied the park for 12 days until the city agreed to honor the park deal.
In the decades since that day of resistance, Barrio Logan residents, under the direction of and in cooperation with several prominent local artists, have captured the history and culture of Mexican-Americans and Chicanos with a series of murals, including several from a 21-day mural marathon.
Forty-nine park murals feature Aztec divinity, historical and legendary leaders, civil rights activists, prominent Mexican artist Frida Kahlo, the Virgin of Guadalupe, and several themed murals that address immigration, Mexican colonialism, and other concerns.
One pillar features a larger than life mural of Emiliano Zapata, the inspiration behind the agrarian movement. Beneath the figure, it reads: Es major morir de pie que vivir de rodillas, which translates into English as, "It's better to die standing than to live on your knees," a testament to the community's dedication to their park. Another that reads "All the way to the Bay" celebrates the neighborhood's reclamation of their San Diego Bay waterfront.
The Park becomes a National Landmark
Chicano Park was listed on the California Register of Historical Resources in 1997, and on the National Register of Historic Places in 2013. Just months before the community's 47th Annual Chicano Park Day, the park was designated a National Historic Landmark on January 11, 2017. To receive such high status, the site must contribute to the national story, not only the state's history. The designation is also special because only eight percent of National Historic Landmarks in the entire country reflect minority groups. Chicano Park stands alongside 16 other National Historic Landmarks in San Diego County.
The Annual Chicano Park Day
Despite being a national treasure, Chicano Park isn't a well-known tourist attraction. For those who've missed out, the Annual Chicano Park Day toward the end of each April is a great opportunity to become familiar with it. The all-day celebration is a family-friendly event open to the public, and it's free.
Visitors may wander throughout the seven-acre park and experience the world's largest collection of Chicano mural paintings in a fun and festive atmosphere. There are musical performances galore, including traditional folkloric and Aztec Indigenous dances. Auto fanatics will love the low-rider cars on display.
No alcohol is allowed at the event. The only pets allowed are service dogs.
Other Things to See and Do in Barrio Logan
Visitors shouldn't limit themselves to Chicano Park when visiting Barrio Logan. The art scene permeates nearly every aspect of this neighborhood. Another good place to check out murals is the Mercado del Barrio, which also has live music during summer. There are artists' workshops and galleries spread across repurposed warehouses in Barrio Logan to keep art lovers busy for days.
When hunger strikes, or a hankering for coffee or a cold brew, the neighborhood has a vibrant culinary scene too. For an organic coffee or tea in a down-to-earth coffee shop, visitors should stop by Café Moto or Café Virtuoso.
Border X Brewing is a stylish taproom and beer garden with artistic flair. They serve their own craft brews like the Abuelita, a chocolate stout with 8% alcohol content, and a tasty hibiscus beer called Blood Saison.
For home-style Mexican fare, especially breakfast and brunch, Las Quatros Milpas is the place. Salud is a hip neighborhood favorite serving authentic Mexican street cuisine. Fans love the variety of fresh tacos, yummy salsa bar, craft beer, Chicano art, and outdoor patio. Other favorite neighborhood eateries are MishMash, La Fachada, and for dessert, Paleo Treats.
Chicano Park and Barrio Logan definitely belong on your vacation bucket list.